World Championship Of Online Poker 2015
The World Championship of Online Poker is the most prestigious poker tournament series anywhere online. Each year, thousands of players compete for the biggest tournament prize pools in online poker – including the $10,000,000 guaranteed Main Event – and the chance to call themselves a world champion. Now it's your turn. Register now and play for your share of $45,000,000 in guaranteed prize money!
WCOOP satellites are available from as little as $0.11, or just 1 FPP, giving you the chance to win your seat for less. WCOOP 2015 winners will receive special WCOOP bracelets.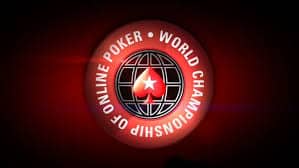 Schedule
1. WCOOP-02: $215 NL Hold'em [6-Max, Sunday Warm-Up SE], $1M Guaranteed 06 Sep 11:00
2. WCOOP-03: $10,300 NLHE [High-Roller, Heads-Up], $300K Guaranteed, No Late Registration 06 Sep 12:30
3. WCOOP-01: $109 NL Hold'em [WCOOP Kickoff, Phase 2], $1.5M Guaranteed 06 Sep 13:30
4. WCOOP-04: $215 NL Hold'em [Sunday Million SE], $1.5M Guaranteed 06 Sep 14:30
5. WCOOP-05: $215+R NL Hold'em [6-Max], $500K Guaranteed 07 Sep 11:00
6. WCOOP-06: $700 PL Omaha [6-Max, Monday PLO SE], $300K Guaranteed 07 Sep 14:00
7. WCOOP-07: $700 NL Hold'em [Progressive Super-Knockout], $750K Guaranteed 07 Sep 17:00
8. WCOOP-08: $700 NL Single Draw 2-7 Championship, $50K Guaranteed 08 Sep 11:00
9. WCOOP-09: $1,050 NL Hold'em [Super Tuesday SE], $1M Guaranteed 08 Sep 14:00
10. WCOOP-10: $215 FL Hold'em [6-Max], $75K Guaranteed 08 Sep 17:00
11. WCOOP-11: $215 NL Hold'em [Progressive Super-Knockout], $400K Guaranteed 09 Sep 08:00
12. WCOOP-12: $700 NL Draw Championship, $50K Guaranteed 09 Sep 11:00
13. WCOOP-13: $320 NL Hold'em [Heads-Up], $300K Guaranteed, No Late Registration 09 Sep 14:00
14. WCOOP-14: $215 NL Hold'em [Big Antes, Optional Re-Entry], $200K Guaranteed 10 Sep 08:00
15. WCOOP-15: $215 PL Omaha [1R1A], $200K Guaranteed 10 Sep 11:00
16. WCOOP-16: $1,050 NL Hold'em [Progressive Super-Knockout, Thursday Thrill SE], $1M Guaranteed 10 Sep 14:00
17. WCOOP-17: $700 NL Hold'em [6-Max,3-Stack], $200K Guaranteed 11 Sep 11:00
18. WCOOP-18: $1,050 7-Card Stud Hi/Lo Championship, $50K Guaranteed 11 Sep 14.00
19. WCOOP-19: $320 NL Hold'em [Turbo, Zoom], $400K Guaranteed 11 Sep 17:00
20. WCOOP-20: $109 NL Hold'em [Optional Re-Entry], $500K Guaranteed 12 Sep 11:00
21. WCOOP-21: $530 NL Hold'em [Progressive Super-Knockout], $750K Guaranteed 12 Sep 14:00
22. WCOOP-22: $1,050 NL Omaha Hi/Lo Championship [6-Max], $75K Guaranteed 12 Sep 17:00
23. WCOOP-23: $215 PL Omaha [Knockout], $250K Guaranteed 13 Sep 08:00
24. WCOOP-24: $215 NL Hold'em [Sunday Warm-Up SE], $1M Guaranteed 13 Sep 11:00
25. WCOOP-25: $10,300 NL Hold'em [8-Max, Optional Re-Entry, High-Roller], $2M Guaranteed 13 Sep 12:30
26. WCOOP-26: $700 NL Hold'em, $1.5M Guaranteed 13 Sep 14:30
27. WCOOP-27: $215 PL Omaha [6-Max, Progressive Super-Knockout], $200K Guaranteed 14 Sep 11:00
28. WCOOP-28: $320 NL Hold'em [6-Max], $200K Guaranteed 14 Sep 14:00
29. WCOOP-29: $700 7-Card Stud Championship, $50K Guaranteed 14 Sep 17:00
30. WCOOP-30: $215 PL 5-Card Omaha H/L [6-Max,2R1A], $ 100K Guaranteed 15 Sep 11:00
31. WCOOP-31: $1,050 NL Hold'em [Super Tuesday SE], $1M Guaranteed 15 Sep 14:00
32. WCOOP-32: $1,050 FL Omaha Hi/Lo Championship [8-Max], $75K Guaranteed 15 Sep 17:00
33. WCOOP-33: $700 FL Badugi Championship, $50K Guaranteed 16 Sep 08:00
34. WCOOP-34: $320 NL Hold'em [6-Max, Optional Re-Entry], $200K Guaranteed 16 Sep 11:00
35. WCOOP-35: $320+R PL Omaha [6-Max], $250K Guaranteed 16 Sep 14:00
36. WCOOP-36: $215 NL Hold'em [1R1A], $300K Guaranteed 17 Sep 08:00
37. WCOOP-37: $320 8-Game, $100K Guaranteed 17 Sep 11:00
38. WCOOP-38: $1,050 NL Hold'em [Progressive Super-Knockout, Thursday Thrill SE], $1M Guaranteed 17 Sep 14:00
39. WCOOP-39: $700 Triple Draw 2-7 Championship, $50K Guaranteed 18 Sep 11:00
40. WCOOP-40: $530 NL Hold'em [6-Max, Shootout], $250K Guaranteed, No Late Registration 18 Sep 14:00
41. WCOOP-41: $320 NL Hold'em [Ante Up], $150K Guaranteed 18 Sep 17:00
42. WCOOP-42: $215+R NL Hold'em, $400K Guaranteed 19 Sep 11:00
43. WCOOP-43: $320 HORSE, $75K Guaranteed 19 Sep 14:00
44. WCOOP-44: $215 NL Hold'em [4-Max], $400K Guaranteed 19 Sep 17:00
45. WCOOP-45: $1,050 NL Hold'em [6-Max, Ultra-Deep], $500K Guaranteed 20 Sep 08:00
46. WCOOP-46: $215 NL Hold'em [Sunday Warm-Up SE], $1M Guaranteed 20 Sep 11:00
47. WCOOP-47: $51,000 NL Hold'em [8-Max, Super High-Roller], $1M Guaranteed 20 Sep 12:30
48. WCOOP-48: $2,100 NL Hold'em, $2M Guaranteed 20 Sep 14:30
49. WCOOP-49: $530 NL Hold'em [Optional Re-Entry], $500K Guaranteed 21 Sep 11:00
50. WCOOP-50: $215 NL Hold'em [Knockout], $500K Guaranteed 21 Sep 14:00
51. WCOOP-51: $1,050 PL Omaha Hi/Lo Championship [6-Max], $50K Guaranteed 21 Sep 17:00
52. WCOOP-52: $530 PL Omaha [6-Max,3-Stack], $100K Guaranteed 22 Sep 11:00
53. WCOOP-53: $2,100 NL Hold'em [Super Tuesday SE], $1.5M Guaranteed 22 Sep 14:00
54. WCOOP-54: $1,050 Razz Championship, $50K Guaranteed 22 Sep 17:00
55. WCOOP-55: $320 PL 5-Card Omaha [6-Max,1R1A], $150K Guaranteed 23 Sep 08:00
56. WCOOP-56: $530+R NL Hold'em, $500K Guaranteed 23 Sep 11:00
57. WCOOP-57: $2,100 PL Omaha Championship [6-Max], $150K Guaranteed 23 Sep 14:00
58. WCOOP-58: $530 NL Hold'em [Ultra-Deep], $150K Guaranteed 24 Sep 08:00
59. WCOOP-59: $215 NL Omaha Hi/Lo [6-Max], $100K Guaranteed 24 Sep 11:00
60. WCOOP-60: $2,100 NL Hold'em [Progressive Super-Knockout, Thursday Thrill SE], $1.5M Guaranteed 24 Sep 14:00
61. WCOOP-61: $700 NL Hold'em [1R1A], $500K Guaranteed 25 Sep 11:00
62. WCOOP-62: $320 PL Omaha H/L [6-Max], $100K Guaranteed 25 Sep 14:00
63. WCOOP-63: $1,050 FL Hold'em Championship [6-Max], $100K Guaranteed 25 Sep 17:00
64. WCOOP-64: $700 PL Omaha [Heads-Up], $150K Guaranteed, No Late Registration 26 Sep 11:00
65. WCOOP-65: $700 NL Hold'em [6-Max, Progressive Super-Knockout], $1M Guaranteed 26 Sep 14:00
66. WCOOP-66: $2,100 HORSE Championship, $200K Guaranteed 26 Sep 17:00
67. WCOOP-67: $215 NL Hold'em [8-Max, Optional Re-Entry, Sunday Warm-Up SE], $1M Guaranteed 27 Sep 11:00
68. WCOOP-68: $10,300 8-Game Championship, $500K Guaranteed 27 Sep 12:30
69. WCOOP: $5,200 NL Hold'em Main Event, $10M Guaranteed, $1.5M+ Gtd to 1st! 27 Sep 14:30
70. WCOOP-70: $1,050 NL Hold'em [Turbo, Optional Re-Entry], $1M Guaranteed 27 Sep 18:30