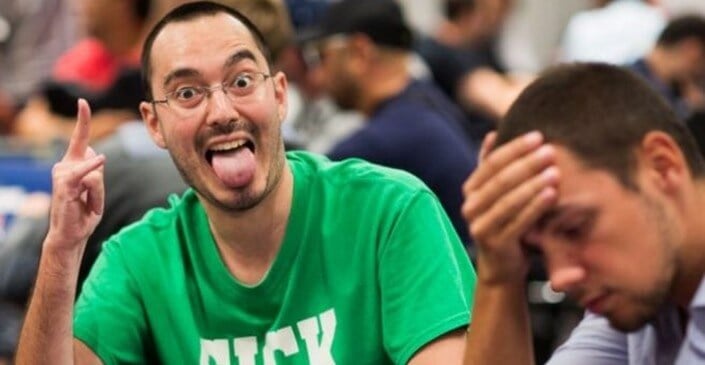 Well known poker player, coach, and WSOP 2018 Player of the Year contender Shaun Deeb surprised many when he announced on Twitter earlier this week that he had "received a message" saying that William Kassouf had been caught palming (i.e. stealing) £100 chips while playing roulette at the Grosvenor Casino Leeds Westgate. Kassouf was apparently there engaging in some admittedly drunken off-time gambling while participating in the GUKPT.
Just got a very interesting message about @WilliamKassouf getting caught palming 100$ chips at roulette table and getting banned from all properties and dropped by his sponsorship shocked to hear it but now we know where his buyins were coming from #goodriddence

— poy phish (@shaundeeb) September 16, 2018
Kassouf came out of virtual obscurity to make a name for himself in the poker world after an impressive run in the 2016 World Series of Poker Main Event, where he pulled off his now-famous "Nine-high, like a boss" bluff against Stacy Matuson.
When asked to provide some kind of proof of the incident, Deeb responded, "People are confirming it, and his silence should be a pretty strong admission of guilt. You know he's always on twitter hoping to get mentions."
Several people came forward in defence of Kassouf, basically saying that it wasn't Deeb's place to make such an announcement without more concrete proof that the incident actually happened. Will Davies responded to Deeb's tweet saying, "Shaun, I don't think it is your place to start spreading stories and rumours based of a 'text' and consequently tarnishing someone's names when you don't know the full story if there is one at all. Please consider the damage your tweet does and remove it until you know more."
Shortly after Deeb's tweet, a thread appeared on the Two Plus Two poker forum where one member shared a screen capture of a Facebook post from Michael J. O'Mahoney, who was at the casino when the incident in question happened. O'Mahony explained that their group was drunk and one of them had won about £4000 playing roulette. The happy winner then gave the others some single £100 chips and told them to place some additional bets for him.
"We put a bet on that won another £2800 and Kassouf started celebrating and grabbing the £100 chips which myself and mates took back," O'Mahoney continued, "But in the ensuing betting he was seen pocketing some. That's when argument happened." O'Mahoney went on to say that the group tried to keep the matter between themselves, but members of the GUKPT media apparently overheard the argument and reported the incident to casino management. He closed out the Facebook post stating, "It's not my place to write this really but sick of people defending him saying must be mistake. Definitely wasn't and he'll have to accept the consequences as well as lose friends."
On Tuesday, September 18, Kassouf released a statement himself through Twitter. The tweet begins, "It is with great sadness that I write the following statement but I feel it necessary to clarify the situation now that I'm at liberty to do so."
Attached to the tweet are two images that continue with, "Last weekend, during the course of a drunken night playing roulette with friends, I made an error of judgment which I greatly regret; something I accept full responsibility for. I have apologised and will apologise again to all my friends who were with me that night for my foolish behaviour. As a result of this embarrassing incident, my sponsor Grosvenor Poker and I have mutually decided to part ways." He then goes on to apologise to friends, family, followers, and fans and says that he would just like to move on and continue "bringing the fun and entertainment factor back to poker."
It is with great sadness that I write the following statement but I feel it necessary to clarify the situation now that I'm at liberty to do so. pic.twitter.com/x7vvhTMMUE

— William Kassouf (@WilliamKassouf) September 18, 2018
With Twitter being the merciless and often sarcastic platform that it is, his statement was very quickly met with insulting memes and responses saying that he clarified absolutely nothing — which really is true. Nowhere does he state what he's actually apologising for, or why he and his former sponsor decided to go their separate ways.
It would seem that if you're just going to apologise to friends or people involved in the incident, it's best done in private, and if you're going to apologise publicly, you should at least state what it is that you're apologising for. It remains to be seen how the professional poker community will ultimately accept his apology and his presence at the tables in the future.