Poltava Flames of War slot review
| | |
| --- | --- |
| Online Slot Machine | Poltava Flames of War |
| Slot Provider | Elk Studios Casino Software |
| Jackpot Slot | No |
| Reels | 5 |
| Win Lines | 40 |
| RTP | 96.40% |
Elk Studios is out with their new game Poltava. For those not in the know Poltava itself was a battle(also a city) fought between the Swedish and Russian empires during the 18th century. It was the turning point in Sweden's history, and a defeat that resulted more or less into the neutral and happy nation that the country is today. As you can guess, or as you know, Elk Studios is a swedish game designer, which no doubt influenced the decision to pick this subject.
The game studio has half a dozen games out by now, all of great quality. Poltava is a welcome addition at first look with great graphics and an amazing intro. For those familiar with the studio's games you should know that this one features less wins than usual, but the ones you get are considerably higher. In other words an extremely high volatility slot. Elk Studios is a mobile first developer, meaning that the game is optimized across all platforms.
Poltava at a quick glance
Produced by Elk Studios
Released in June 2016
Free spins, wilds and up to 180 000 coin main pot
High volatility with RTP of 96.40%
5 reels in 4 rows and with 40 paylines
The wild lion of the north
Swedish kings were long considered the lions of the north, and no doubt this is why the bonus symbol in the game is a golden lion. In addition to this we have the ten to ace symbols, the infantry, artillery and cavalry as well as the Poltava wild. The game is supposed to be high volatility, but this doesn't really show in the paytable. The game works with quite a simple paytable, that pays from 25% to 200% of the original bet back. This means that the highest payout from any single payline is twice your bet.
Of course there are 40 paylines, but in use it's quite hard to get more than one or two wins per spin. As such when comparing the game to even low win slots Poltava comes out short. In other words high volatility seems to mean you just end up losing a lot. The real money is in the bonus features and wilds. The main win is 180 000 euros, and I would guess this requires having every single reel and row full of wilds in free spin mode.
Poltava free spins
Once you hit three bonus symbols, the golden lions, on the reels they turn into sticky wilds and the Flames of War bonus game begins. This in turn means getting 3 free spins, during which bonus symbols can appear on all reels. During normal game the symbols only appear on reels 2, 3 and 4. All lion symbols are sticky wilds during free spins, and all new lion symbols appearing during free spins award one new free spin. This is naturally where the money is as the wilds substitute all other symbols. The Poltava wild is in the play as well, with a full line of wilds always paying the highest possible win.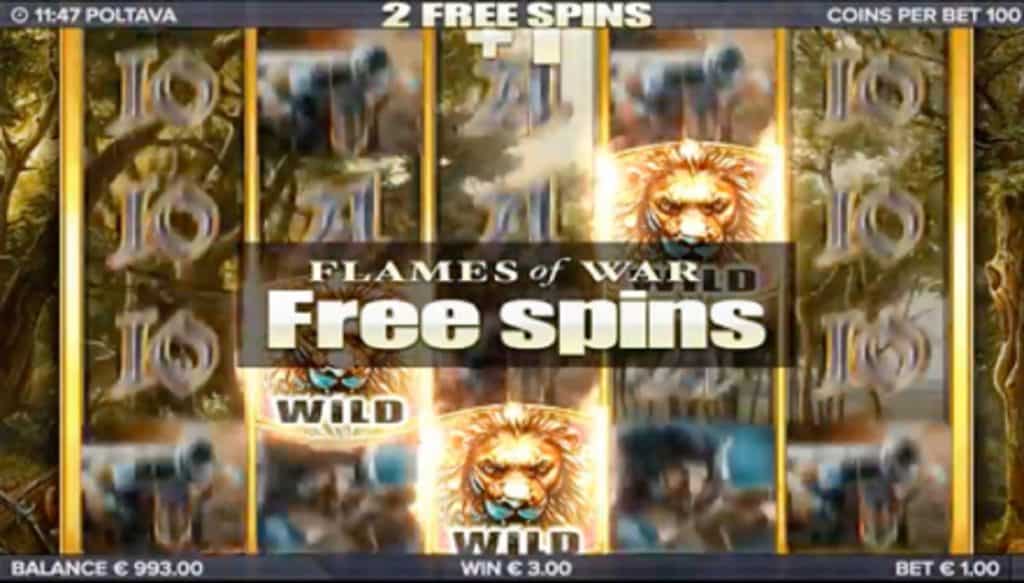 March to the sound of the guns
The most interesting feature in the game is the so called 'Marching reels'. As you can remember the main symbols in the game are the infantry, cavalry and artillery. These so called combat arms head on to crush the enemy, and shower you with cash in the marching reels feature. Whenever a reel is full of one symbol the bonus is activated, and the troops start marching forwards triggering a respin. The respins keep on triggering every time identical symbols land on the rightmost reels. The respins keep happening until the troops reach reel 5, or no more identical symbols land. All symbols that land in other reels are added in as reinforcements.
Ideally this would result in endless wins, but thanks to the low payouts even reels and rows full of identical symbols don't seem to hand out meaningful wins. I was expecting hundreds and thousands but got less than a hundred with one euro bet. Not something I was expecting from a bonus game. The feature itself is good and something I haven't really seen before; it's the money that is an issue. Wilds do not count during the feature.
Animations, graphics and music
Elk Studios knows what it is doing when it comes to graphics, music and animations. They are all without a doubt top notch, starting from intro and ending with the last spin. The background features occasional animations, as do the symbols depending if they activate or not and what they end up activating. The overall style is extremely impressive, and the company has certainly spent a lot of time and effort building up this game. This applies both to the desktop and mobile versions. As an added improvement the interface is extremely simple, with all options and buttons easily found and pressed. I am starting to think that Elk Studios should be producing video games and not slot with this kind of expertise.
Mobile friendly but a bit sluggish
This might be an issue with my personal computer, though it shouldn't be given that it runs most modern games, but the Poltava Flames of War was extremely sluggish at times. On top of that it caused Chrome to spend excessive time loading the site. I tried the game in several different casinos so it might be the game needs some optimizing done in order to get rid of these issues. Naturally this is a big minus as slot games should always run without any problems and without causing any issues even to older computer or smartphones.
Betting strategies
One more interesting feature added to the game is the possibility of using betting strategies. These are easy to activate through the settings menu, from where you can control other options like sound and music as well as showing coin amounts instead of monetary value. In essence the strategies mean changing the bet level as you play. If you are a heavy user of autoplay feature then these will come in quite handy. Currently there are four different strategies available:
Optimizer – always bet a percentage of the balance, from 1 to 10% per spin as chosen by player.
Leveller – raises bet 2 levels after 5 consecutive losses, resetting to minimum after each win.
Booster – raises bet after each loss to a maximum of 4 times the original level. Resets after a win.
Jumper – raises bet one level after each win for a maximum of 4 times the original level. Resets after a loss.
Summary
I struggled long and hard with this game. First of all the production quality is awesome, and we can expect great things from Elk Studios in the future. Secondly I am a history buff who has read a lot about the period, especially about the wars and military, and thus the slot is basically made for me. The features are all well done and interesting, and even the basic 5 reel 3 row has been remolded in an interesting way that perfects the marching reels feature.
But the high volatility and the ridiculously small wins make this game ultimately very boring. I can stand playing with small to no wins for quite a few rounds, but what I can't stand is receiving a pittance when I eventually win. All the best for Elk Studios, and hopefully their next game keeps up the production quality and manages to overcome this issue. In the mean time we suggest you try one of their other games, which are all quite well done and dish out bigger wins. Of course, there is the 180 000 euros to win for those wishing to risk it.
---