Shark School is another RTG casinos slots slot that comes with a wide variety of bonus games, 50 pay lines, and the chance to win big; or as is usual in Real Time Gaming slots 50 000 times the paid bet line. The game has five reels with 4 rows of symbols, and it originally launched in 2014.
Pay tables
Ideally with 50 pay lines you'd be raking in multiple wins at a time, making all those small wins count. This is not the case however, as more often than not you'll end up getting back a few pennies on your bet of few bucks, or ten to hundred times the bet back. Naturally this means that you should aim to play the long game, as well as bonus games, and cash out once you've gained your initial goal. In the long run, like in all slots, Shark School will devour your casino balance like piranhas would; one bite at a time. This is of course how most slots do it, but the main issue is that there's really not that much fun to be had out of the game compared to other big hit slots.
Shark School the theme
The major downside with this slot is that the design process has not been taken seriously enough. The slot feels unfinished in the sense that it is basically a fresh copy of the earlier slots with a different theme applied to it. The thing i
s though, "theme" should not just mean replacing graphics with brand new ones and calling it a day. Not to mention the music and sound effects, which I've heard in plenty of other RTG slots before. This might have been able to hold some players two years ago when it was published, but nowadays the slot is only good for a few spins to try out the features. Still, the bonus games did manage to hold my interest for a while, and if you play the slot wait until you get to chasing the fishes or trying out the other bonus game features.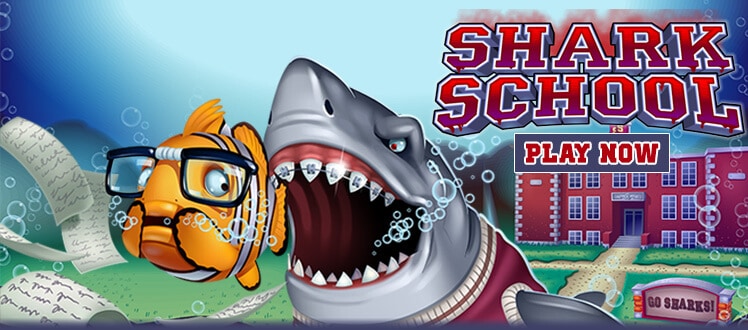 Graphics and bonus games
The graphics are not bad, nor do they really stand out. The slot has 3D printed on it, but this is just a buzzword in the industry. That's not to say the animations aren't well done, or the graphics would be outdated, but they are missing a bit of something. In addition the background graphics seem slightly outdated and the interface could do with some extra work. In addition some of the animations come with quite a delay, which makes watching them for the dozenth time a bit tedious.
The bonus games themselves are activated by the scatter symbol, which in this case is the school. Once you have 3 or more of them on the screen you can pick one of them, which will then launch the feature. Whether the picking actually makes a difference I do not know, but at least I got to try most of the bonus games in one go. They do in other words activate quite often. Below is a list of the features:
Swim Fishy, Swim! – A shark is chasing a poor fishy, whose only hope is to outrun the shark for all 25 rounds. Each time a shark appears on reel 3 the chances get worse however. All prizes are tripled during the free spins, and if the fish manages to escape you'll get a bonus of 200 times the triggering bet.
Bad sharky – you get 3 to 10 free spins, during which any fish symbol is eaten by sharks and replaced by them. A good feature for combos, if your luck is with you.
Don't eat the teacher – these sharks are a hungry bunch, always looking for something to eat. Again you get up to 25 free spins, unless the sharks devour the teacher before that. If they do not then each missed chance raises the prize multiplier with one. In addition you'll get 100 times the initial bet if you make it all the way to the end.
Summary
Shark School is an aging game, and if you want to try it you should do so before the game is replaced by something newer. The downsides of the game are quite apparent: it is a generic slot with a theme, or graphics, laid over it. That doesn't mean it's ultimately boring, or not worth playing, just that these kind of games tend to wear out after a while. My suggestion is to give it a go to see if you like it, and especially the bonus games, and if not then move onto some other slots.
5 RealTime Gaming casinos to try: