Tower Quest Slot (Play 'N Go) RTP 96.24
Stunning!
That single word is all we need to use to describe the new slot from Play 'N Go. The reels, the icons, the background, the gameplay, the features… all truly stunning!
This is what we like seeing, a slot developer really pulling out all the stops to bring us something truly unique and clearly with a lot of tender loving care.
This slot is based on the classic dungeons and dragons type of role playing game, with the Wizard bonus even being a very innovative card and die game. On top of that there are 6 mini features (free spins) that you can select when you want to trigger. You collect flasks of blue and red potion and depending on how high your potion meter climbs you can activate any of the following free spins:
The Blue Flask Free Spins Bonus Round:
Collect 5 blue flasks – Level 1 – THE TOWER: reel 3 is wild for 1 free spins and all wins are multipied by 2.
Collect 10 blue flasks – Level 2 – BATTLE OF THE WILDS: The five highest paying normal symbols are temporary wilds for 1 free spin.
Collect 15 blue flasks – Level 3 – TOWERS OF DARK POWER: Reel 1, 3 and 5 are all wild for 1 free spin.
The Red Flask Free Spins Bonus Round:
Collect 10 red flasks – Level 1 – EMPOWERED WILDS: all wild wins are multiplied by 3 for 5 free spins.
Collect 20 red flasks – Level 2 – WILD ADVENTURERS: the two highest paying normal symbols are wild for 5 free spins.
Collect 30 red flasks – Level 3 – EVER BURNING WILDS: a sticky wild is added on the reels at the start of each spin for 5 free spins.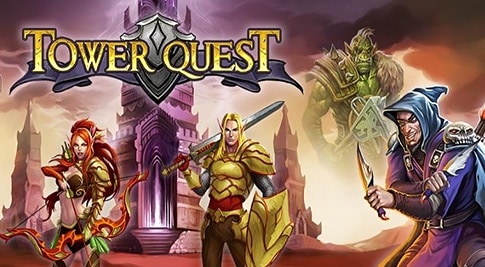 How does it play?
This is a reasonably low variance slot, meaning the small wins come in regularly. The medium wins (10x to 20x) also land often enough to keep your bank balance ticking along healthily. The big big wins are very few and far between so don't expect to be able to retire after a lucky session. But on the plus side you are not going to go broke very quickly on this slot either.
Is it worth playing?
This is an absolute must for a casual slot player. It really is one of the best looking slots we have ever seen and it's certainly engaging enough with the regular features and the option to choose when you cash in your flask features. And don't worry if you have a full vial of potion, even if you don't cash in, the potion will be stored up it more flasks drop in on top of a full vial. You aren't going to break the bank on this slot and as far as strategy goes it's one we haven't figured out yet, but maybe that's just because we were enjoying playing it so much we forgot to try and really figure it out! Highly recommended.
Where can I play it or practice it?