Zuma slot – Blueprint Gaming

Zuma is a major video game which has proven itself popular over the last decade. In fact, it has become so popular that it has found a second home in the online casino world, with Blueprint Gaming working hard to release a slot related to this popular game. Zuma features may memorable elements from the original video game, including characters and symbols. The only thing it is really missing to make it a truly award-winning replication is the actual Zuma gameplay which made the original video game such a hit.
Betting
The simply titled Zuma slot is always going to draw a crowd based on its name alone. The slot machine features 5 reels and 20 paylines of gaming action, and wagers are set to be as cheap as chips in this slot. Coin values are flexible, although not to a particularly great degree. Coin values can rise upwards from 1p per line per spin. None of the paylines can be adjusted, though, so players are ultimately going to end up wagering at least 20p per spin. If you do have more funds to splash, though, you could, in fact, end up wagering as much as £25 a game on this slot. That's not bad going at all, especially since the non-progressive jackpot is pretty nifty.
Prizes
We've seen plenty of video game turned video slots in the past, and few of them really offer what we would call substantial winnings. Zuma players are going to be able to snap up around 10,000 coins in total playing this game. That non-progressive prize is yours if you can land up 5 of the wild symbols on any active payline in this game. This is pretty standard fare for your typical online casino slot player, with the jackpot triggered in much the same way as any other video slot. Of course, with wild multipliers present in this game, the chances are that you are going to be walking away with a substantially larger prize than the 10,000 coins on offer. After all, wilds can multiply your winnings by 10x their normal value, and nowhere does Blueprint Gaming specific that this doesn't apply to five-a-kind wild combos.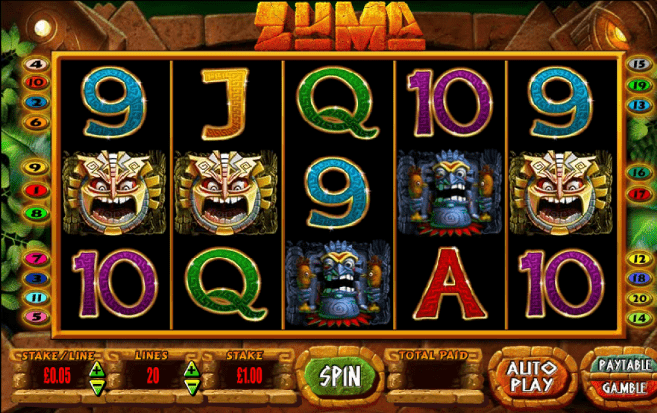 Special features
Zuma features a wild symbol in the shape of the Zuma logo. This icon can substitute for all other symbols in the game, although it cannot replace scatter symbols. As we've said, the wild is also the best-paying icon in the game, but it has another endearing feature. Wild symbols can multiply the total amount you can win by 2x up to 10x the total winnings. This is huge stuff and something that many other video games to video slot titles are missing out on.
Scatter icons appear in the slot as frogs, and these can not only dish out wins but also trigger a free spins bonus round when 3 or more scatters appear on the reel of the slot. It isn't as difficult as you might expect to land these symbols on the reels, and that certainly makes the Zuma slot more appealing than it might already be to players.
A gamble feature has also been worked into the design of Blueprint Gaming's Zuma slot. This gamble feature is standard fare, we're afraid. With it, players can choose to gamble their recently acquired winnings, in hope of winning something substantially better. We don't put much stock in bonus rounds such as this, though. Your chances of success aren't great and are at 50% at best.
Free spin bonus
If you are fortunate enough to trigger the free spins bonus round, you still have a bit of work to do. Before you can get to the free spins bonus round, you must tackle the Tiki monsters. This is the more Zuma-like aspect of Blueprint Gaming's Zuma slot, and it involves shooting the Tiki monsters. Every time you land a hit, you score free spins. By the time you have finished whacking the monsters, you will have acquired a decent number of free spins. Players will then be rewarded with a multiplier, which will then be applied to any winnings you happen to pocket in the game.
During the free spins bonus round, you can pocket other opportunities to take down the Tiki bosses with Zuma balls. Doing so will see you pocket further free spins. In fact, up to 50 free spins in all can be won in this manner.
Aside from the added free spins and multipliers applied to your winnings, everything else about the Zuma free spin bonus round is pretty standard stuff and shouldn't cause any players (rookies or veterans alike) any troubles.
Final thoughts

Blueprint Gaming's Zuma slot is the only one of its kind which you can play in the online casino world. It is true that IGT have developed a Zuma slot (sometimes known as Zuma 3D) for the land-based casino world, but this brick-and-mortar slot hasn't yet been made available online. There is every reason to believe that it will be launched in the very near future at online casinos offering IGT software, but for the moment that is not the reality.
Given that Blueprint Gaming's version of Zuma is all you can currently get your hands on without a long hike to a nearby casino, what do we make of it? Well, it is miles better than many other video game-turned-slot efforts, and it has been designed using all of Blueprint Gaming's skills. They have really come on as a developer of late, and this slot shows that. It offers decent features, very cheap bets and if you happen to be a bit of a Zuma nut (and many people are) it will undoubtedly deliver. The only real criticism we could have of Zuma is that it doesn't offer up enough Zuma-like feature for players.
Zuma Slot RTP = 95.5%