On this Seven Deuce Gaming Casino & Slots Page you will find:
Top recommended Seven Deuce Gaming casino sites.
7DG casino software information.
Seven Deuce Gaming slot rtp database & slot reviews.
Seven Deuce Gaming, often referred to simply as 7DG, has had a short but very fruitful career in the real-money online casino game development industry. Founded in 2014, the company attempts to stand out from the growing competition in this space. How do they do that? By specifically targeting the younger demographic among legal age gamblers and the mobile devices that are such a big part of their lives.
Their earliest efforts have already proven successful. They have made a big splash in both the real-money and social casino gaming channels. Their work can be seen through some of the largest and most popular gambling operators in the world. Just to name a few: The Stars Group, Betsson, Microgaming, Leander Games, Relax Gaming, and more.
All of the business is done out of 7DG's London offices, while the development team gets down to work in Colombo, Sri Lanka. In addition to creating original works of online gambling art on their own, the company also provides other services including conversion of Flash and land-based games to HTML5, and producing exclusive games for their partners.
Top Rated Seven Deuce Gaming Casinos
Rank
Casino
Bonus
Rating
Visit Casino
Seven Deuce Gaming (7DG) Slots RTP
Here we will list all their slots Return To Player (RTP) for you (listed alphabetically):
Fruits Go Wild = 96.1%
Mirror Masquerade = N/A.
Release the Kraken = N/A.
Royal Rush = N/A.
Thunder Wings = N/A.

From Players To Providers
Seven Deuce Gaming's first contributions to the online gaming world were based on different real-world table games, most notably, poker. The reason for this is simple. What brought the company's two founders together was a shared love of poker as well as quite a bit of success in that world.
Even the name of the company hints at their poker playing origins. In Texas Hold'em poker, the worst two card hand you can be dealt is a seven and a two — seven, deuce. Out of all the possible combinations of cards you can get, these two have the lowest chance of winning a hand.
Ali Masterman and Paul Conroy are two entrepreneurs who first struck out on their own playing poker and staking other players. Masterson racked up hundreds of thousands of dollars in winnings playing the game online while working for SharkStaking.com and Conroy was an avid player who founded Stake Me To Play. Eventually, they came together to combine their visions for a new online gaming experience through 7DG.
Working With The Best – Seven Deuce Gaming Casino
A testimonial to their work that very few other gaming companies can claim is the fact that 7DG was chosen to work with The Stars Group, the company behind the largest online poker network in the world, PokerStars.
PokerStars' Casino Rush was 7DG's first step into the social casino market. The app went live on the Google Play store in August of 2016 and immediately proved popular among play-money gamblers and poker players. The app was, obviously, optimized for mobile devices. It also combined two of the most popular gambling games in the world together; poker and slot machines. The four unique games within the app, Swap The Flop Poker, Hold'em Switch, All in Split, and Lucky Hands have created a loyal following.
Royal Rush Slot Only Available at PokerStars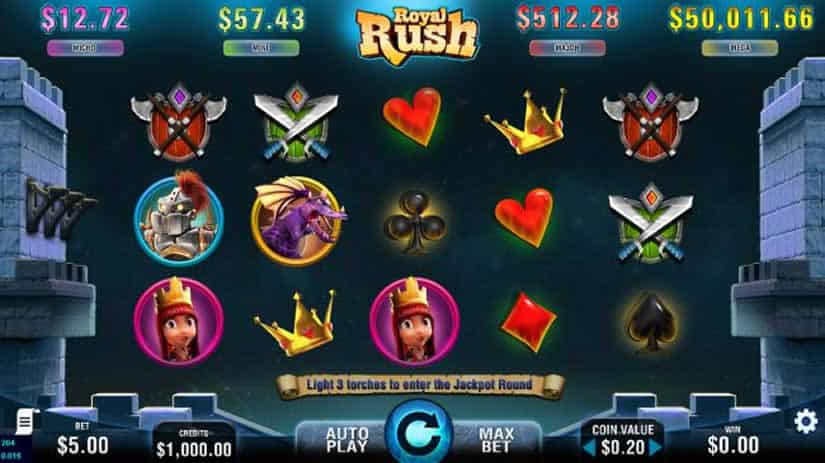 For PokerStars' real-money customers, 7DG put together Royal Rush, a slot machine which went live in February 2018. This video slot, available only through PokerStars, displays stunning three-dimensional graphics, includes retriggering free spins. Also adding a mind-blowing, incredibly tempting set of four progressive jackpots.
Quality Over Quantity
Although the company has been around for a few years now, their game catalogue is small when compared to other developers that have been working for the same amount of time. It is fairly obvious, though, that their games are not just your average quality, mass-produced, cookie cutter sort of games. It's easy to see that this development team is looking to make something outstanding before they'll put their name on it and let it out into the public view.
A Solid Future Ahead
Seven Deuce Gaming, even though the company's name is taken from the worst hand in poker, looks to have a solid chance at becoming a very stable and successful online casino game developer. They have already proven their worth to some of the biggest names in the industry. They will undoubtedly be called upon again to put their impressive skills to work on new projects.
We can only hope that with so much demand from the outside 7DG will still be able to create and release games of their own to be seen and enjoyed by an even larger audience.