Rainbow Riches is one of the most popular video slots series of recent years. The original game was launched in 2006 by Barcrest. Due to its popularity was followed by a dozen! sequels. Win Big Shindig, Drop's of Gold, Reels of Gold, Pick'n Mix and Rainbow Riches Leprechauns Gold slot which we will review here.
What's particularly interesting about Leprechauns Gold, besides good payouts and various bonus features, is that you can influence the game payouts in various ways. You can call it a cheat, but as you know we are really not into various fake "hacks" the internet is flooded with. These are just ways the developer provided and it's up to you if to use them or not.
The Basics
I'm not really into going over the basics as I want to pay more attention to covering the interesting parts, but just to cover them briefly.
Rainbow Riches Leprechauns Gold slot machines is a Barcrest slot. As you might know, Barcrest was acquired by Scientific Games and that's why you can see both logos on the game opening screen.
The game features 7 reels and 50 paylines. The layout and the reel's settings make it medium to high volatility slot. We will get into that more when covering the Big Bets option.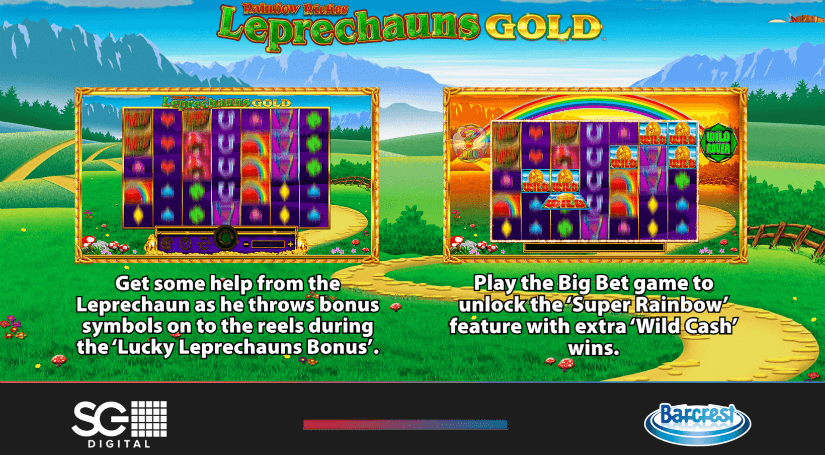 Regarding the theme, design and so on – you need to see for yourself. I'll just say that what I like about Leprechauns Gold slot is that the multiple bonus features, there are like 5 of them, really blend well into the game play. It's not one of those slots that every time the bonus comes up you happy that you won but annoyed that the play stops for 2 minutes. So that's cool.
And of course all those bonus rounds, wheels, free spins and the different ways in which they mix one with another, really keeps high level of adrenaline and fun.
Rainbow Riches Leprechauns Gold Slot Machine Bonus Features
So here the list is long, but as I said, it's really nice how they mix together. Generally speaking you got Wild Rollover, the "?" bonus and Free Spins. You can activate all of them through the Bonus Spinner (see below) or just randomly during the free spins.
Plus, there are two additional bonus stages:
Rainbow Ring Bonus Spinner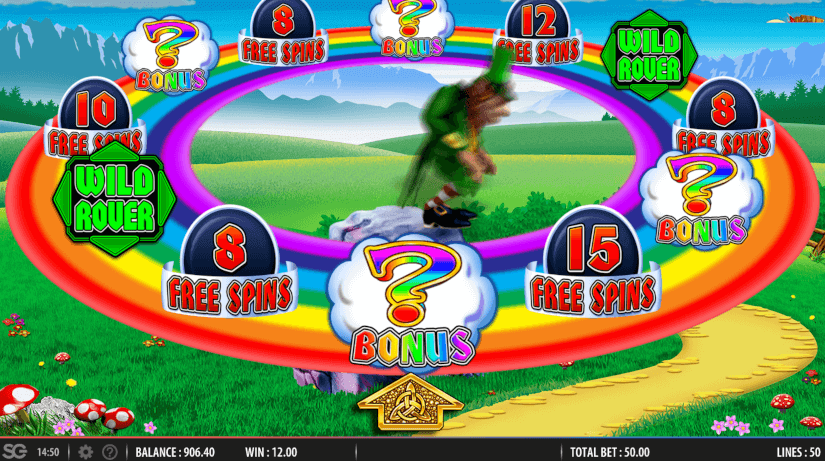 That's an entry gate to the bonuses. You get here after hitting 3 or more bonus symbols. Wheel of Fortune style where you can win all of the Bonus options we listed above. The free spins go from 8-25.
Wishing Well
That's the bonus wrapping the free spins. Basically a Pick Me style bonus. 3 coins – either you get more free spins, win multiplier or nothing. If you're lucky to win more free spins then after those end you will end on Wishing Well again.
Free spins are of course the most lucrative bonus feature, as it also serves as a gate for all the rest. A word about the unique bonuses – Wild Rollover and the "?".
Wild Rollover and ? Bonuses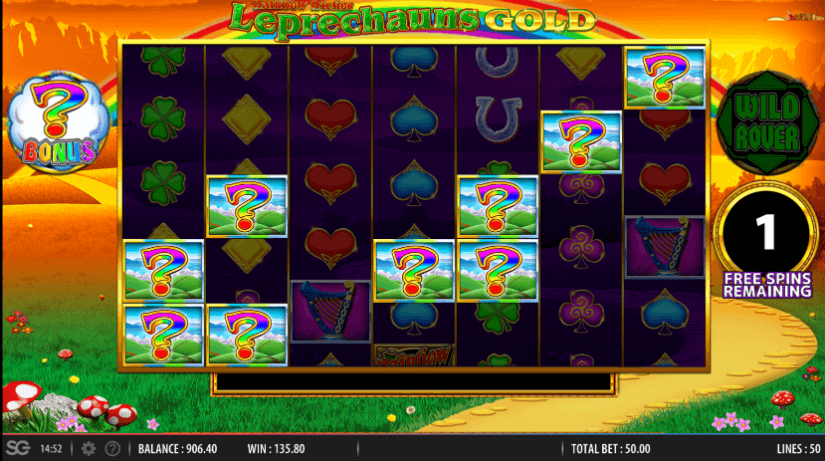 Generally speaking, they are similar in nature. Wild Rollover is an upgraded version of "?" bonus. The way "?" bonus works is when the bonus is activated, a number of spots on the reels turn into question mark and then all of them turn into a similar symbol, usually creating some winning combinations. Wild Rollover is pretty much the same just that the similar symbol is wild, which is of course more beneficial.
That should wrap the bonus part and give you an idea of how they work.
The Big Bets
Big Bet is highly popular feature which was later copied by various providers. It's something that you might've seen on various Barcrest casino slots, such as Monopoly Big Event, Monopoly for the Money and others.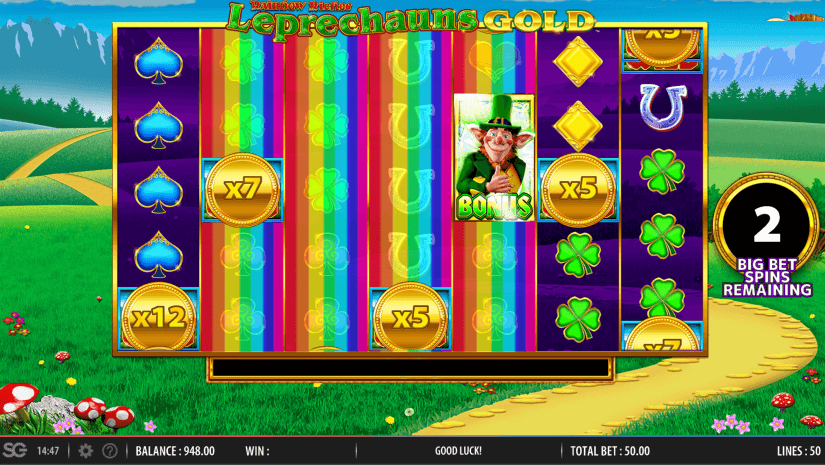 The idea is that you buy 5 spins with some bonus features already activated. Needless to say that you pay more for it. There are 3 levels here – £/$/€20, 30 and 50. That's indeed not cheap as we are talking £/$/€ 4-10 per spin, but for those of you that can afford it, it's definitely worth it.
What these big bets get you? The main things are the Super Rainbow Reel and Wild Multipliers. Based on the choose option you get a minimum of 1, 2 or 3 Rainbow reels per spin. Each multiplier that lands on the Rainbow Reel gives you its value in cash. And serve as a wild of course.
Rainbow Riches Leprechauns Gold Tips and Cheats
So now that everything is covered – I can get to the interesting part. How this slot should be played and how you can exploit the its settings and features.
As you can see on the Help screens, these are the official Rainbow Riches Leprechauns Gold RTP settings:
Bets bellow £/$/€ 2: 94%
Bets above £/$/€ 2: 96%
Big Bets: 97.75%!
So first, as you can see for low limit play, the payouts of Leprechauns Gold slot are below industry average, at least when we compare it to online slots as in land based casinos this considered pretty high. Does it mean that low limit players should avoid it? No. If you love this slot then have fun. But you should be aware that due to combination of mid/high volatility and lower RTP, in most cases it is likely to eat your budget faster then an average slot. The minimum bet btw is 10 cents/pennies.
Bets higher than £/$/€ 2 but without Big Bets feature: those I recommend to avoid. You already placing relatively high bets. Therefore, I would suggest either to play with low bets for recreational play or to go with Big Bets feature to increase your winning odds. Not in between.
Big Bets: as you can see, the RTP here stands on superb 97.75%. That's already enough to place it on the list of best paying slot machines online. But, you can push the odds even more in your favor. How so?
The 97.75% is the average for all 3 Big Bet modes, but they are not the same. First from simple math you can see that the cost of each Rainbow Reel is not the same. Of course it's not a linear thing but from our tests we see that the second and third levels are much more beneficial.
We can't verify for sure as we need to run the slot 1 million times to get the exact numbers but our educated guess is that the payout of £/$/€ 20 Big Bet mode is somewhere in 96.5% – 97% area, while the other two are closer to 98.5% – 99%.
Personally I don't think there is a big difference between the 30/50 modes in terms of RTP so if you are more comfortable with £/$/€ 6 per spin bet, you should go with that as I don't think that the difference is worth raising the stakes to 10.
Summary
First of all, even without taking the RTP under consideration, Rainbow Riches Leprechauns is an amazing slot. It's well made, fun, exciting, with nice balance between regular play and various bonus features.
Now add the expected return on top and you get one of the most lucrative slots machines you can find online.
Before we end, even with the best RTP possible, slot machines are a game of luck and the casino does have the edge. Remember that the most important thing is to play for fun and within your budget limits.
Where to Play