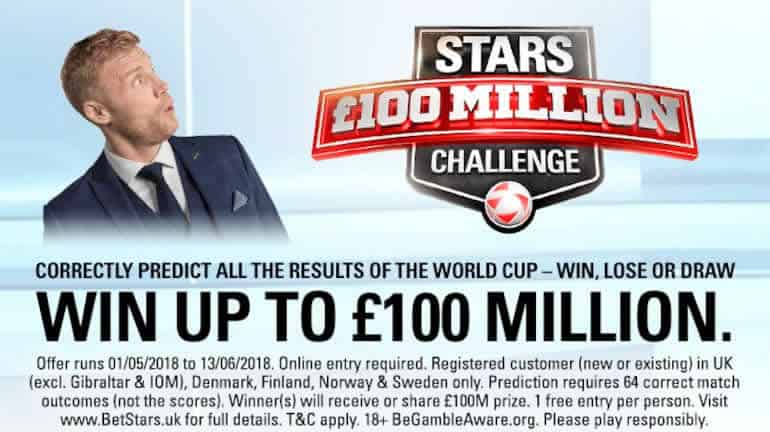 The Stars Group, probably best known to gamblers around the world for their PokerStars online poker room, has announced their biggest potential prize giveaway ever. In fact, if any lucky World Cup fan manages to snap up the reward, it will be one of the most substantial prizes ever to be won in the history of sports betting.
Brace Yourself For The Stars £100 Million Challenge
That's right, through their PokerStars, BetStars, and PokerStars Casino properties, the Stars Group will be awarding one lucky winner £100,000,000 (or local currency equivalent). To win this phenomenal, life-changing prize you only have to do one simple thing — predict the outcome of all 64 World Cup Tournament games that will happen between June 14 and July 15.
The top prize of £100 million will go to the (presumably only) person who can correctly predict the outcome — win, lose, or draw — for all 64 matches. Don't worry though, even if you're not a gifted psychic, it's still possible to win some sweet prizes without getting all 64 right.
More Prizes
The first place prize, going to whoever makes the most correct predictions, is $10,000 cash plus a PokerStars Players Championship (PSPC) Platinum Pass worth $40,000. The platinum pass includes a $25,000 buy-in for the PSPC event, six nights at the Atlantis Resort in the Bahamas, and $2,000 for food and drink.
Participants who land in 2nd through 1000th place will win free spins at PokerStars Casino, free Spin & Go tickets on PokerStars and free bets on BetStars.
How to Participate
The first entry for the challenge is free, and players can win more entries by completing special in-client challenges. Players from the United Kingdom (excluding Gibraltar and Isle of Man), Denmark, Sweden, Norway and Finland are eligible to enter. Entries will be accepted up until June 13.
Rafi Ashkenazi, Chief Executive Officer of The Stars Group said, "This summer we're living up to our ambition of becoming the world's favourite iGaming destination by offering our customers the chance to win one of the biggest prizes in sports betting history. The Stars £100 Million Challenge will also allow us to become part of the enormous global betting interest in the World Cup and will make The Stars Group the place to be while watching the action this summer."
In addition to this insane promotion, players will also find other slightly less mind-blowing events happening in honour of the World Cup across the Stars Group properties. Players can earn enhanced Stars Rewards, take advantage of Odds Boost options at BetStars, and take part in Football Frenzy and Spin & Goal game variants on PokerStars.
If you haven't played on your Stars account for a while, now is a great time to go back. If you've never tried the Stars sites, now is the perfect time to check them out. Even if you don't win the big prize, you'll still get some pretty awesome welcome bonuses.