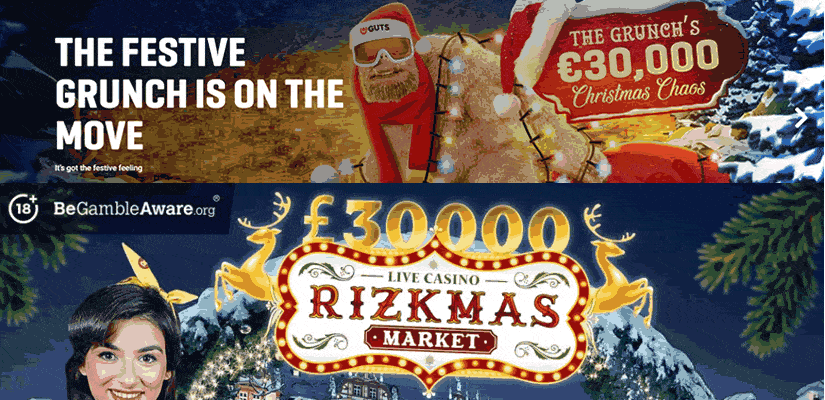 It's that time of year again! With Halloween and Black Friday behind us, the best holiday has its time to shine! Christmas is a time for family. To enjoy the comforts of staying warm inside. And a time to exchange gifts! So if you're looking for a little boost, the presents Rizk and Guts casinos have prepared will be right up your alley!
Merry Rizkmas
Is there anything Captain Rizk can't do? Not only does he have a wildly successful casino, but now he's swapping out for Santa for all loyal Rizk casino-goers! From the 28th of November until the 25th of December, he will give players a choice between three mystery gifts!
Gift Options
You can claim one gift every day during the allotted time period. Within, you'll find wager-free real money bonuses, reload bonuses, double speed chips, win-win chips, level-ups, cashback chips and free spins! That's a wide variety of goodies just waiting for ambitious gamblers to snag them!
And if you're confused what double speed and win-win chips are, we have you covered. Double Speed chips make each wager you spend count double in terms of increasing your casino level. You can use them on all games except for live dealer releases. And make sure to check how long they last: they come in 60 minute and 120 minute variants.
Win-Win chips are also limited to 60 or 120 minutes. Depending on which chip you're using, you must either play 50 or 100 game rounds during the time period. After the time expires, you will receive 10% of your net winnings as bonus money, provided you won more than you lost. Money received from this promotion is subject to 15x wagering requirement, and must be completed in 30 days.
The details of other promotions are listed there, too. So if you want to know the terms behind every goody you can get, we definitely recommend going through it. It's broken down into easy categories, making it incredibly easy to read and understand. Sadly, Swedish gamblers cannot participate in this bonus.
Rizkmas Market

Of course, one thing you'll notice about the previous promotion is that a lot of gifts don't apply to live casino games. And that's because Rizk Casino has a special Christmas extravaganza prepared for them! There are a total of €30,000 worth of prizes to be snagged across four different competitions. So get warm and comfy, and try your luck in the following bonuses.
Rizkmas Blackjack Lucky Cards
From December 2nd to December 9th, two lucky cards can appear to gamblers playing Rizk Blackjack 1 or Rizk Blackjack 2. The cards can only appear between 14:01 to 01:59 CET. To qualify for drawing these cards, you have to make at least a €10 wager!
In turn, you can receive either the Yuletide Yellow or Rudolph Red cards, worth €5 or €10, respectively. During the promotional period, gamblers can only occupy one seat on a single table, so there's no way to increase your chances. The awarded money is not subject to any wagering requirements.
Reindeer Roulette
After you're done with blackjack, it's time to try your luck on the roulette wheel. From December 9th to December 15th, players can score up to €5000 worth of prizes. To participate, gamblers have to bet at least €2 on straight number bets. Outside bets don't count.
So, starting from 10:00 to 23:59 CET, playing on Rizk Roulette or Evolution's Lightning Roulette will award leaderboard points. You earn one point for every €20 wagered, and 5 points for every straight-number win. From there, what prize you receive depends on your leaderboard position when the tournament ends. All awarded prizes are not subject to any wagering requirements.
Santa's €10,000 Grotto Gameshow Giveaway
With week two behind us, it's time to move onto week three of this Christmas party! And this time, the flavor of the week are gameshow releases! Much like roulette, you'll be competing against other players to place yourself as high as possible on the leaderboard.
Reach the top 30, and you'll have a shot at winning part of the €10,000 prize pool! The bonus will run from December 16th to December 22nd, from 10:00 to 23:59 CET.
Cookies For Santa
From December 23rd to December 29th, players will be able to really feel that Christmas spirit overwhelming them. Or maybe it's just the excitement of winning part of the €5000 prize pool. Who knows for certain? Once again, your skill and luck will be tested as you compete for one of the top ten spots on the leaderboard.
To earn leaderboard points, you're only allowed to play a narrow range of games. This list is comprised of Football Studio, Lightning Dice, Super Sic Bo, Side Bet City, Free Bet Blackjack and Three Card Poker.
All four live dealer promotions which are part of Rizkmas market are not available to Swedish gamblers.
Guts' Festive Grunch

Meanwhile at Guts casino, there are a total of seven mini-campaigns waiting for players to try them out. There are a total of €30,000 worth of prizes to be handed out, so opt-in to participate in the Grunch's many gifts!
€5000 Giveaway Grotto
From December 1st to December 4th, gamblers are challenged to maximize the wins from awarded free spins. To participate, you must deposit at least €30. Wagering a further €60 grants ten more free spins, and another €100 on top of that earns you 10 more free spins. With a total of thirty extra turns, you must compete in a different slot every day. These daily slots are as follows:
December 1st : Wild Chase: Tokyo Go
December 2nd : Big Bad Wolf
December 3rd : Hall of the Mountain King
December 4th : Polar Paws
Prizes are awarded for the top twenty positions on the leaderboard, with the number one spot taking home €1000. All awarded cash prizes are wager free, meaning you can use them as you wish without any extra requirements!
€3000 Snowball Windfall
The Grunch loves big wins, and so he's rewarding the biggest winners with even more cash! To play, you must opt into the bonus, and play the selected slot every day from December 5th to December 8th. Depending on how many points you accumulate, you will receive one of 20 cash prizes, with a total value of €3000. The slots you must play are as follows:
December 5th : Flowers and/or Flowers Christmas Edition
December 6th : Fruit Shop and/or Fruit Shop Christmas Edition
December 7th : Santa vs Rudolf and/or Jingle Spin
December 8th : Secrets of Christmas and/or Secrets of Atlantis
You receive 5 points for a big win (15x stake), 20 points for a mega win (30x stake) and 50 points for a super mega win (60x stake) on the above-mentioned slots. On top of that, gamblers can win 100 Mega Spins on Santa vs Rudolf if they meet the follow deposit + wagering requirements during the allotted time period.
Deposit + wager €250 or more to win up to 100 free spins played at €0.20 per spin
Deposit + wager €500 or more to win up to 100 super spins played at €0.40 per spin
Deposit + wager €1000 or more to win up to 100 mega spins played at €1 per spin
You must wager at least €0.50 per spin to participate in this promotion. Won cash prizes are not subject to any wagering requirements.
€5000 Symbol Hunt Hut
Now here's a fun little promotion the Grunch and Guts casino have cooked up. Once again, you're asked to score win to get part of the €5000 prize pool. But this time around, it's not the size of your win that matters, but the content! You earn points each time you get one of the required winning combinations. And the top 20 gamblers on that leaderboard receive fabulous cash prizes!
Qualifying games and symbol combination you must win are as follows:
Merry Xmas: a 3x Santa Claus win
Star Joker: a 3x Lucky Seven win
Doom of Egypt: a 3x Ramses win
Xmas Magic: a 3x Candy Cane win
Ankh of Anubis: a 3x Scarab win
Additionally, players earn 10 points every time they activate a free spins round in the above mentioned games. The minimum bet to qualify for this promotion is €0.50 per spin. And like before, all your winnings are wager free.
€5000 Reindeer Rooftop
From December 13th to December 16th, gamblers will have an opportunity to compete for a leaderboard position on several selected slots. On top of that, there's €1000 worth of cash prizes, super spins and free spins which can be used on Sweet Bonanza Xmas. To qualify for both bonuses, you make stake at least €0.50 per spin, and play one of the following releases:
Sweet Bonanza Xmas
Santa
Greek Gods
Aladdin and the Sorcerer
Wolf Gold
Mustang Gold
There are a total of twenty prizes on the leaderboards, with €4000 split between them. In addition, you can score one of 38 mystery prizes we mentioned earlier if you play Sweet Bonanza Xmas from 18:00 to 22:00 CET on December 15th and 16th.
€3000 Leaderboard Lodge
For the next three days, players will have to compete in three slot competitions! Each day brings a different leaderboard, and a chance to win part of the €1000 prize pool. If you're one of the top ten gamblers at the end of the day, you can win up to €400! You must compete in the following games:
December 17th : Razor Shark
December 18th : Jammin' Jars
December 19th : Fat Santa
To qualify, you must bet at least €0.50 each spin. Cash prizes are paid out by 17:00 the following day.
€5000 Christmas Cabin
The Grunch has even more amazing prizes for gamblers to grab. But if you want to snag them, you will have to complete three tasks from December 20th to December 23rd. You must complete these tasks in the lowest number of spins. The less spins you need, the higher your leaderboard position. The tasks you must complete are as follows:
9k Yeti: Collect 250 Yeti symbols
Age of Asgard: Start re-spins seven times from the base game
Dwarf Mine: Collect 50 free spin symbols
You must make a bet of at least €0.50 per spin, or else you won't qualify for the promotion. To earn a prize, you must be one of the top twenty ranked gamblers once the bonus ends. First place gets a juicy €1000!
€3000 Icicle Igloo
We wrap up Guts' Christmas gifts with a whole host of goodies you can win! No need to stress about leaderboards this time around. Simply play one of the following games from December 24th to December 26th to qualify for a mystery prize drop:
Xmas Magic
Ankh of Anubis
Book of Dead
Divine Showdown
You must wager at least €0.50 on each spin. There are a total of 165 prizes, broken up as follows:
100 prizes which award 10 Super Spins on Xmas Magic (€0.60 per spin)
50 prizes which award 10 Mega Spins on Xmas Magic (€1 per spin)
10 prizes which award €100 in cash
5 prizes which award €200 in cash
Please note that all promotions we listed are not available to Swedish gamblers.