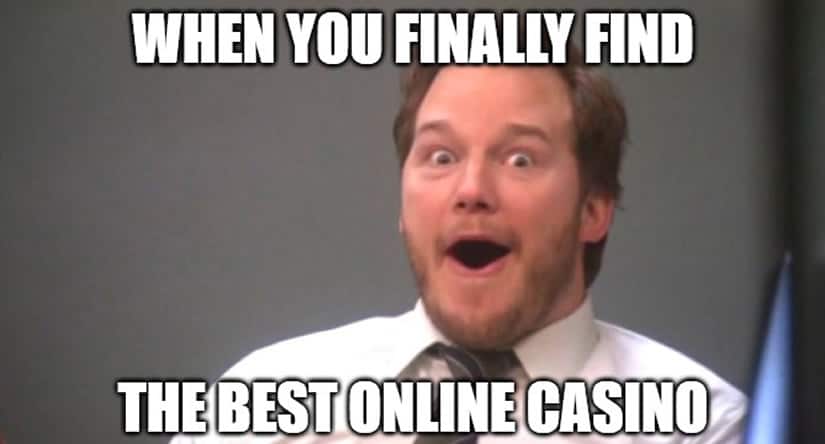 Most players know that they can find a lot of the same games at different online casinos. What many players don't know, however, is that you can get better deals on just about any game that you like by shopping around at different casinos to see what they offer.
There are all sorts of ways to pump up the payouts from whatever games you like, for everything from the latest video slots to the hottest table games. If you know what to look for, you can keep, and maybe even put more money in your pocket every time you play.
The key is not exactly what games you play, or even how you play them. And no, there's no cheating involved. The secret is to shop and compare, just like you would with anything else. Not all online casinos are the same and if you browse through just a few, it won't take you long to start noticing the differences. Let us show you what things you should be looking for and how you can use them to your advantage.
In the meantime, you can also check the best online casinos I found so far…
Casino Top Picks for the Year
Variable RTP Rates
RTP stands for "return to player". The return to player—or RTP—rate is the percentage of wagers that any gambling device will return to players over the long term. We're talking hundreds of thousands, if not millions of games played.
For example, most video slots have an RTP rate somewhere around 95%-96%. This means that for every £100 wagered on the machine, about £95 or £95 will be returned to players in the form of winnings. The other 5-6% is what the casino keeps—the house edge.
Now this, of course, doesn't mean that every time you sit and spend £100 on the slot, you'll get £95 back. Sometimes you might lose it all. Eventually you might end up somewhere in the middle. Or maybe you might end up walking away with a £10,000 prize. Over the lifetime of the slot machine, however, it will give back winnings that equal about 95% of the total money that was ever bet on the slot.
Many review sites publish the RTP rate of slot machines and other games within their reviews. What many players don't know, though, is that some slots are programmed with an RTP rate that can not be changed and others are adjustable. Unfortunately for those who write the reviews, it's almost impossible to know which slots are adjustable and which are not.
The reviewer usually only gets to look at a demo of the game and see how it plays and how the functions work. In reality, if we wanted to review all the video slots out there and see how they play with real money, we'd need an army of generous millionaires funding all the reviewers and review sites.
Look For The RTP At The Casino Where You Play
All electronic games that you'll find on online casinos have a specific RTP rate. This goes for everything from slots, to roulette, to blackjack and other games. Not all games publish their RTP rate publicly, but you'd be surprised how many of them actually do.
Slot machines for example, usually have two information screens, one with the features, symbols, and payouts, and another with the more technical "rules" of the game. On that second screen full of technical information, you'll usually find the RTP rate of the game listed somewhere near the bottom. It's worth checking.
In many places, you'll find the same RTP rate on slots, but some may have horrible rates that go down to 90%, 85%, or even lower. You certainly don't want to play a slot at a casino that uses an 85% RTP when you can play the same game somewhere else with an RTP of 96%.
Most table games list the same information in their terms or instructions somewhere. It's worth taking a few minutes to dig around and try to find these numbers. A straight blackjack game only has a house edge of about 2% or 3%. Special versions of blackjack online, however, come in many flavours with all sorts of different rules and side bets that can change the game quite drastically from the original. You'll find that some of these have a house edge of more than 10%. These are not the games you want to be playing if you want to get the most for your money.
Bonuses, Bonus Types, And Bonus Terms
Big bonuses make any deal seem sweeter. They are the single biggest lure used by the gambling industry to bring new customers into their casinos. It's important, though, to understand that not all bonuses are created equally and some may not even be real bonuses at all.
Welcome Bonuses
Big welcome bonuses will, of course, give you some extra cash to play your favourite games, but make sure you read all of the terms first. Many sites don't give you the entire welcome bonus all at one time. In many cases, you'll have to deposit two or more times in order to collect the full welcome bonus amount.
Make sure you know what you're getting into before you put any real money in an online casino account. Welcome bonuses, especially, often special terms that must be met before you can actually lay claim to the extra balance on your account. Most casinos, for example, require that you place wagers equal to 20 to 40 times the total amount of your deposit plus the bonus before you can keep the bonus.
Check the terms carefully to make sure you know what you'll need to do in order to claim the full welcome bonus advertised on whichever site you are considering.
Cashable And Sticky Bonuses
There are two main types of bonuses that you'll find. The casinos won't refer to them this way, but most industry insiders will talk about them as "cashable" and "sticky" bonuses. The difference is that sticky bonuses can never truly be withdrawn from the site, while cashable bonuses and be turned into real cash and withdrawn if that's what you want to do with them.
When you win a sticky bonus, the money from that bonus will remain on the site. You'll be able to use it to play games just as you would your real money, but if you try to make a withdrawal, you won't be able to withdraw this money.
With a cashable casino bonus, when you complete the terms and win the bonus, it is treated as cash. You'll see some sites advertise "Cash Bonuses". This means that when you get a bonus, it's as good as cash and if you should decide to make a withdrawal, you can withdraw the bonus money just as you would any cash you deposited or won playing.
You also have to watch out for terms that talk about maximum withdrawals on bonuses. There are sites that will advertise what looks like a cashable bonus if you win on some promotional free spins or something, but then in the fine print you'll see something like, "maximum withdrawal on bonus win £100." This means you could get lucky and hit a £1000 win and the most you're going to see of it is £100. Of course, that's better than nothing, but getting bilked out of £900 isn't a great feeling.
Outrageous Wagering Requirements
All casinos are going to have some sort of wagering requirements on bonuses. You'll have to place wagers equal to either a certain number of times the bonus, or the total of the bonus and the deposit that triggered it. These wagering requirements are most definitely not the same everywhere.
There are very few sites that will give out certain bonuses with no wagering requirements at all—you definitely want to sign up if you see one of these—but then there are also those where you'll see you need to bet 50 or 60 times the amount in order to collect. If you just deposited £100 for a £100 bonus and now you need to make (200×50) £10,000 in wagers in order to collect any bonus, what do you think your chances are that you're going to come out ahead? Unfortunately, in the end, something like that isn't a bonus at all. It's just a big money suck.
Regularly Running Reload Bonuses
More and more sites have started using regular reload bonuses as a way to keep customers coming back. They're usually set up so that if you make a deposit on a certain day (or days) you'll get anywhere from a 25% to 100% deposit match, and some sites offer free spins on the slots as well.
There will almost always be wagering requirements on these bonuses, but if you're going to be reloading your account anyway, You might as well take advantage of the extra money to play around with. You never know, it just might end up paying off. Why deposit on another day and get absolutely nothing when you can do it on special days and get some free extras for doing something you were planning to do anyway.
Look For Live Dealer Games
Many people prefer the solitude of playing online by themselves, but if you're a table game player, you must miss the fellowship of other players at least a little bit. Many casinos offer different games like poker, blackjack, roulette, and others with live dealers. The computer still controls the action and will tally the results, so you don't have to worry about human error getting in the way of your winnings, either. (Anyone who's ever had a blackjack dealer screw up a payout for a natural 21 will appreciate that).
You'll get to interact with the dealer and other players as you get into your favourite game. It's not quite the same thing as sitting at a table in a land-based casino, but it's pretty darn close and it adds a new dimension to the game that you just won't get with the single-player versions.
VIP And Gamification Programs
One of the best ways to take advantage of a generous casino is to get involved with VIP or gamification programs. VIP casino programs usually move you through several tiers, each offering better rewards, while gamification programs turn the experience into more of a game, moving you through levels and giving you points as you complete objectives and goals.
It will take some time to gather up the point you need to get rewards from either of these types of programs, but it's worth the effort to opt-in. In some cases, you won't even have to opt-in, you'll be automatically enrolled.
Moving through the levels of these programs can get you anything from small reload bonuses to big cash bonuses and some very special treatment from the casino. You may get things like regular free spins on slots, extra cash when you deposit, or even physical objects that you can order from the casino to use at home or in your car.
Especially if you play often and play games with a small house edge, using VIP programs is one of the best ways to actually turn things around and get the edge for yourself instead of the casino.
If your casino doesn't offer these programs, you should look for one that does. And of course, if you need any help, we have lists of plenty of casinos that are UK, Europe, USA, and Australia friendly that will be glad to get you signed up and ready to play.
Cheers And Good Luck!