| | |
| --- | --- |
| Online Slot Machine | Cat in Vegas |
| Slot Provider | Playtech Casino Software |
| Jackpot Slot | No |
| Reels | 5 |
| Win Lines | 30 |
| RTP | 92% |
We are not going to pay too much attention to this slot with our review. With an RTP of just 92.00% this is another of Playtech's recent slots that smells of taking advantage.
This slot has a great looking video and the bonus rounds are good looking too, but the payouts in any general scenarios are too poor.
The bonus rounds are regular but don't give much back.
This is another slot that is very much aimed at the new and casual player and designed to fleece the player but with the entertainment value to try and hook them.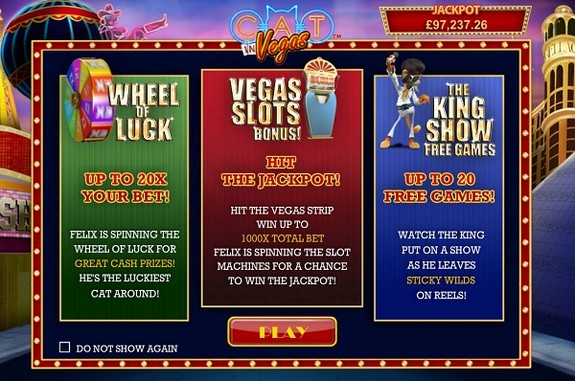 We hope you avoid this slot. We are also slightly worried about the direction Playtech are heading in with a number of their recent offerings.
We understand that the UK tax laws (among others) are going to start biting the industry quite hard, but Playtech are really giving off the impression they are targeting the casual player, trying to hook them and fleece them. Of course the aim of all casino operators and slot makers is to make a profit, but the way Playtech are going forwards it is far too obvious, targeted and they are not giving very much back at all.By all means have a play on this slot in demo mode but don't throw your hard earned cash at it in real money mode.
Practice it here: