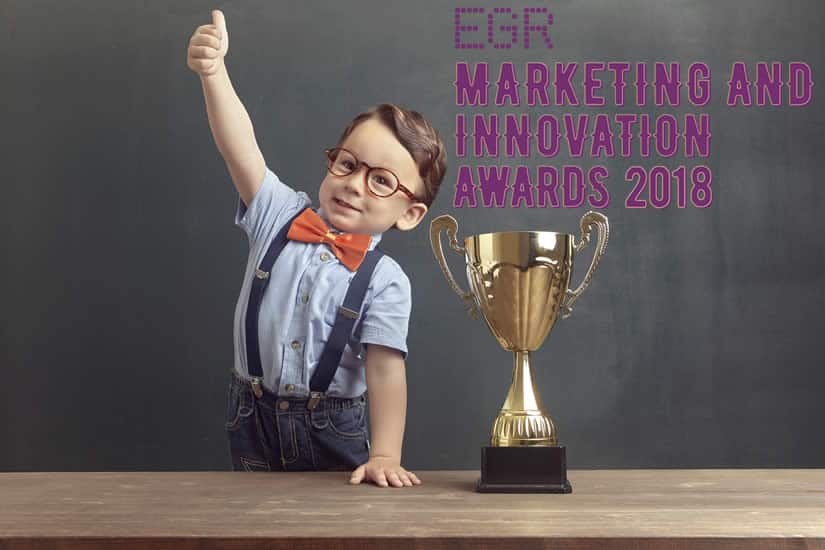 On June 20, 2018, eGaming Review held their annual EGR B2B Awards. Now, you might be wondering why you should be interested in awards handed out to business to business providers, but stay with us.
The EGR award winners are among the best in the online gaming industry. These companies are responsible for providing things such as the best of the top rated games, the most reliable deposit and withdrawal methods, and even the most reliable data centers. If you're looking for the ultimate in trust, reliability, and outright fun, check out the list of award winners below and look for their names at your favourite online casinos.
Gamevy Wins Best Skill Games Supplier
London based game developer Gamevy took the EGR award for best skill games supplier. Creating some of the most unique games available to online casinos, their catalogue includes lotto games, scratch-offs, bingo, game shows, table games, quizzes, and more. If you're looking for something more than just slots and table games, check with your preferred casino to see if they have Gamevy games. You won't be disappointed.
Top 3 Gamevy Casinos to Play at
NetEnt Wins For Innovation In Mobile
Anyone who's played at an online casino for more than a day or two is most likely familiar with the name NetEnt. EGR honoured the company with an award for innovation in mobile. It will probably come as no surprise to most players that NetEnt's extensive catalogue of games and slots play wonderfully on mobile devices and this award only proves that we can expect more great mobile releases from them in the future.
Top 3 NetEnt Casinos to Play at
Bede Gaming Wins For Best Bingo Supplier
Bede Gaming is one of the largest bingo and lottery system providers in the world, licensed by the UK Gambling Commission they are able to provide their games in the UK, as well as other areas around the world. If lottery gaming is your thing or you'd call yourself a bingo enthusiast, be sure to look for gambling outlets working with Bede Gaming.
Microgaming Wins For Best Poker Network
Probably best known for their broad portfolio of online video slots, Microgaming has also built one of the biggest poker networks on the Internet. If you're a poker player looking for quality software, great cash games and tournaments, and plenty of live action, check out any of the 26 poker rooms that share players across Microgaming's solid poker network.
Top 3 Microgaming Casinos to Play at
Playtech Wins For Best Poker Software
Playtech is another company that is primarily known for their quality contributions to online casino games. The company is also responsible, however, for developing the iPoker network which is currently ranked as the third largest poker network on the Internet. Their (now award-winning) software powers some of the most popular poker rooms online. Check out any of the iPoker powered rooms to see their software in action.
Top 3 Playtech Casinos to Play at
Inspired Gaming Wins For Best Virtual Sports Provider
Inspired Gaming creates some of the most incredibly realistic virtual sports game ever seen. They cover genres like horse racing, football (both American and European), cycling, dog racing, boxing, and more. If you're looking to make some sports bets whether there's a game on or not, look for Inspired Gaming's offerings at your favourite site.
Evolution Gaming Wins Best Live Casino Supplier
Evolution Gaming is another name that most of you have probably run across in your online gambling adventures. They are best known for their live dealer table games, and this award should say something about why that is. If you haven't experienced Evolution Gaming's live games, you really ought to give them a try. You'll find all the classics like Blackjack, Roulette, Baccarat, and more.
Scout Gaming Group Wins Best Fantasy Sports Supplier
If you like fantasy sports and pool betting, you need to be playing at an online casino that offers Scout Gaming Group's systems. Get in on wagers on any sport, value-added betting pools, and more. You just won't find a better fantasy sports experience online than with a casino running Scout Gaming's system.
Paysafecard Wins For Innovation In Payment Solutions
Payment solutions is a dull, technical term, but finding a casino that uses good payment solutions should be high on any gambler's list of qualifications. The better the payment provider, the faster and more reliably you can get your money in and out of the casino. So in this case, if you're in an area and playing on a casino where you can use Paysafecard and you're not using it, you should probably check it out. You might be able to get faster deposits and fast cashouts with less trouble.
Trustly Wins For Best Payments Company
Trustly allows residents of many European countries to make payments directly from their bank accounts. It's probably one of the easiest — if not the easiest — payment methods available. There's no need to transfer or load funds onto a card or mess with extra logins and passwords. You can get your funds straight to your favourite casino fast and easy — especially useful when you want to take advantage of big welcome and deposit bonuses.
Gamban Wins Software Rising Star
In what some might think a strange move for an awards ceremony all about online gambling and game developers, Gamban, a gambling prevention software, took the award for software rising star. Gamban works on just about any device, blocking all forms of online gambling and, as their webpage says, nothing else. If you or someone you care about has a problem with gambling, Gamban software is worth looking into.
Play'n Go Wins Best Slot Provider
Play'n Go took top honours for slot provider this year, and it's easy to understand why. The company has always been high on our list of slot machine developers, releasing many innovative and just plain fun slots over the years. It's great to see them getting recognition for their work, and we will eagerly wait to see what they will do in the coming year.
Top 3 Play'n Go Casinos to Play at
There were other more technical and "behind the scenes" awards handed out at the 2018 EGR B2B Awards, but the ones we've listed here are what we thought would be of most interest to our loyal readers. As always, we hope this helps you to find the best possible online gambling experience for you.
Stay tuned for more news and reviews right here at YesNoCasino.com!