Yggdrasil Gaming's flagship online slot is "Jokerizer" and they have just released a follow up to it "The Dark Joker Rizes".
We have to say that we are pretty disappointed in the latest installment. Graphically is does not have the depth of colour or the sharpness of the original as you can see in the below screenshots: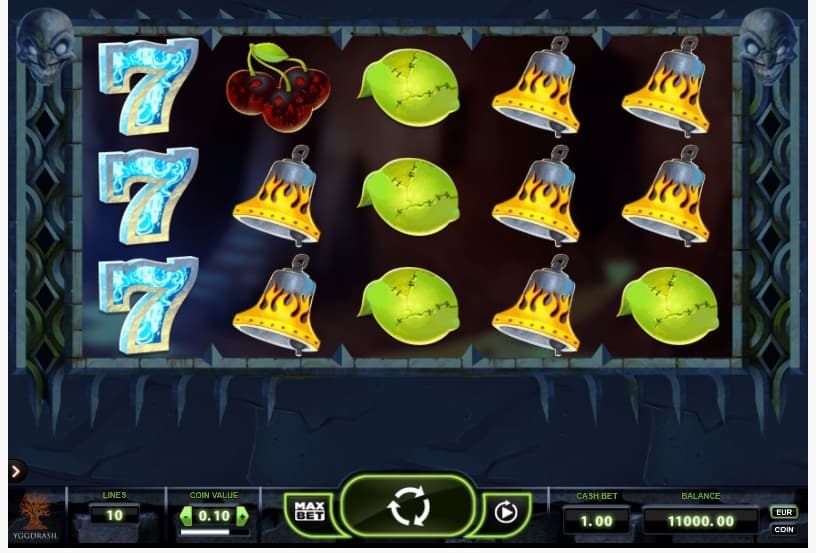 The idea is nice but this sequel just seems a bit rushed to us.
The gameplay is much of the same as the first one but with an added option to spin 200 coins instead of 20 in Jokerizer mode and have one guaranteed joker already active. From our testing this option doesn't really seem value for money.
The RTP does differ between the two games, with the base mode in The Dark Joker Rizes being far higher than that of Jokerizer. But unfortunately Yggdrasil have not listed the overall RTP but we suspect from testing that it is pretty close to Jokerizers RTP, making the Jokerizer mode round about 100%
Strategy
Jokerizer is not one of our preferred slots so we have not fine tuned a specific strategy as yet. What we do know is that for both of these games, the Jokerizer mode pays out at a higher percentage than the base game meaning if you can find a decent strategy, this is how you will exploit it, in particular the original Jokerizer with it's 106.1% RTP during Jokerizer mode.
Part 3) Progressive Jackpot: Joker Millions
Yggdrasil have just released their first progressive jackpot slot using their now familiar Jokerizer theme.
Joker Millions RTP = 95.3%
"Joker Millions is a Video Slot with 5 reels, 3 rows and 25 paylines that pay from left to right. There are seven regular symbols and a Joker symbol. The Joker symbols trigger the Jackpot Spin if five Joker symbols appear anywhere. The regular symbols win if three or more are lined up on a payline beginning from the leftmost position."
Joker Millions is a nice return to form for the series. Certainly better looking than the Dark Joker Rizes and the sticky wins feature in normal play as well as a proper bonus round makes this a far more accessible slot to the general public.
You can try out these games here: