The Breakaway Deluxe slot is an ice hockey lover's dream machine. This slot is the result of a collaboration between Microgaming and Stormcraft Studios. The design has a somewhat classic look, using flat icons and colours. You can tell right away that the designers were going more for a classic hockey look than a super modern slot look. There's nothing wrong with that, though. It definitely works. You can find all Yggdrasil Gaming slots at most UK online casinos.
Breakaway Deluxe is a five-reel, five-row slot that allows you to take your choice of playing on 18, 38, 68, or 88 pay lines. There are nine regular symbols on the reels plus wild and scatter symbols, giving us 11 overall. Among them you'll find several hockey players, a referee, and a few scenes you would expect to see at any ice hockey game. Almost sadly, the lowest paying symbol on the reels is the poor zamboni.
This slot also uses a cascading symbols function to give you an extra shot at more money with every win. Whenever you land a winning spin, the symbols involved in the win will be smashed off the reels, remaining symbols will fall down, and then new symbols will come in from the top. The process will repeat and continue each time there is a new win until no new wins are created.
Wagering & Payout
Setting up your bet on Breakaway Deluxe looks a bit more complicated than most other slots at first, but the process is still fairly straightforward. As we already mentioned, you have four different options for how many lines you want to play. You can also choose the value of the coins to use and how many coins you want to bet on each line. The minimum coin value is £.01 and the maximum is £.05. You can play from one to ten coins on each line. When we take everything into account, that gives us a minimum bet of £.18 per spin and a maximum of £44.
Play the Breakaway Deluxe Slot at These Casinos
Yes – Why To Play The Breakaway Deluxe Slot
This slot delivers a great mix between slot classic styling and modern gameplay. It should appeal to a fairly wide audience.
There is a quite generous return to player (RTP) rate on Breakaway Deluxe. It varies slightly depending on how many lines you are playing, however. To maximize it, you'll need to play all 88 lines. The lowest is 96.18% and the maximum is 96.88%.
The game has some great sounds and even voice-overs that really help maintain that ice hockey atmosphere. It's a very unique theme that has been executed very well.
Microgaming casinos work under tight legislation, therefore is highly likely that you will find a Microgaming casino that also offers quick payouts.
No – Why Not Play?
The hockey theme is a bit spot on and hockey is also one of those sports that people either love or hate. If you're in the latter group, you might find that this slot doesn't offer enough in the way of bonuses and extra action to really hold your attention.
The odd wagering amounts created by the combination of pay line and coin choices is somehow off putting. The actual numbers seem to have been chosen with no real meaning behind them and it gives a slight sense of confusion.
This is a high volatility slot machine which means players should be sure they have the stomach and the bankroll to withstand a somewhat bumpy ride as they go for the big wins.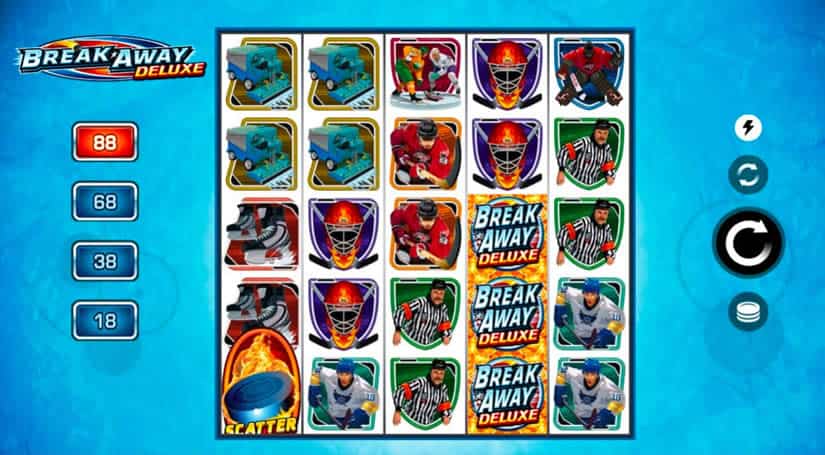 Breakaway Deluxe Bonus Features
There are few simple but very effective bonus features on this slot to help put some extra padding into your bankroll. Here's how it all works.
Rolling Reels
The paytable refers to the cascading symbols feature as rolling reels. As we mentioned above, whenever you win, winning symbols will be removed and new symbols will fall onto the reels, giving you extra chances to win more.
Smashing Wilds
This feature triggers randomly during the base game. When it triggers, a hockey player will appear on the screen and turn reel two, three, four, or five completely wild for a guaranteed win. The reel will also remain wild for any following symbol cascades.
Free Spins
Landing three or more scatter symbols on the reels will trigger the free spins feature. You'll be given 12 free spins to start and both growing wilds and the multiplier trail will be activated for the duration of the spins.
Growing Wilds
As in the base game, wild symbols are stacked on the reels. During free spins, however, with each spin, the stacks of wild symbols will grow by one.
Multiplier Trail
You'll see the multiplier trail to the left of the reels during free spins. It will move up by one step for each roll (cascade) triggered by a winning spin. You'll get the following multipliers:
One roll – Two times multiplier.
Two rolls – Three times multiplier.
Three rolls – Four times multiplier.
Four rolls – Five times multiplier.
Five rolls – Eight times multiplier.