The Copy Cats slot has been put together for us by veteran slot design company, NetEnt. As you've probably already guesses, this slot follows a cat theme — a cartoon cat theme to be more specific. On the reels you'll find four different colored cats (red, pink, blue, and gold), each with their own personality. Spinning along with them are items that any cat would love like jingling bells, bottles of milk, fish bones, and more.
Copy Cats is a five-reel, three-row slot, with 25 fixed pay lines. As far as betting goes, coin values can be set from €.01 up to €.50 and players can bet from one to ten coins on each line. If we do the math here, that gives us a minimum bet of €.25 and a maximum of €125.00.
There are plenty of big prizes to be won from these cool cats, too. The highest paying symbol, the red cat, pays out 200 coins for five of a kind. NetEnt also added several good bonus features to make sure that players can multiply their wins to sky-high numbers.
Best Netent Casinos to Play:
Yes – Why Play Copy Cats Slot
The cats are cartoons, but it works without seeming too childish. Copy Cats slot is really enjoyable to play.
There aren't a lot of bonus features, but the ones that are there are designed to make some big winning combinations.
As with most NetEnt slots, this one has a great RTP rate of 96.76% to give players plenty of value and play time for their money.
No – Why Not Play?
The bonus features are completely automatic. If you set this slot on autospin, you only have to click when going into or coming out of free spins. If you like more interactive mini-game type bonus features, this one might not be for you.
Maybe you're a dog lover. If you're not a big fan of cats, the theme might not float your boat ;).
Copy Cat Slot Bonus Features
This slot is certainly not overloaded with bonus features, but as I said above, the features it has can create some really big payouts. You will, of course, find your standard wild symbols and free spins, along with a special Copy Cats feature. Here's how it all works.
Copy Cat Bonus Feature
If a full stack of any cat symbol, or the wild symbol, lands on reel one, the Copy Cats feature is triggered. When this happens, all cat symbols on the remaining reels will change to match the symbol on reel one. All symbols will return to their previous state before the next spin occurs.
Free Spins
When three bonus symbols (the cat bells) land on the reels, the player is awarded ten free spins. Bonus symbols can appear on reels one, three, and five. It is also possible to win ten additional spins if the three symbols land during free spins.
During free spins, there are no cat symbols on the first reel except for the golden cat — the wild symbol.
Wild Symbols
The golden cat is the wild symbol and will substitute for all other symbols except the bonus symbol. If a stacked wild appears on the first reel in either the main game or during free spins, the Copy Cats feature is activated and all other cat symbols showing on the reels become wild.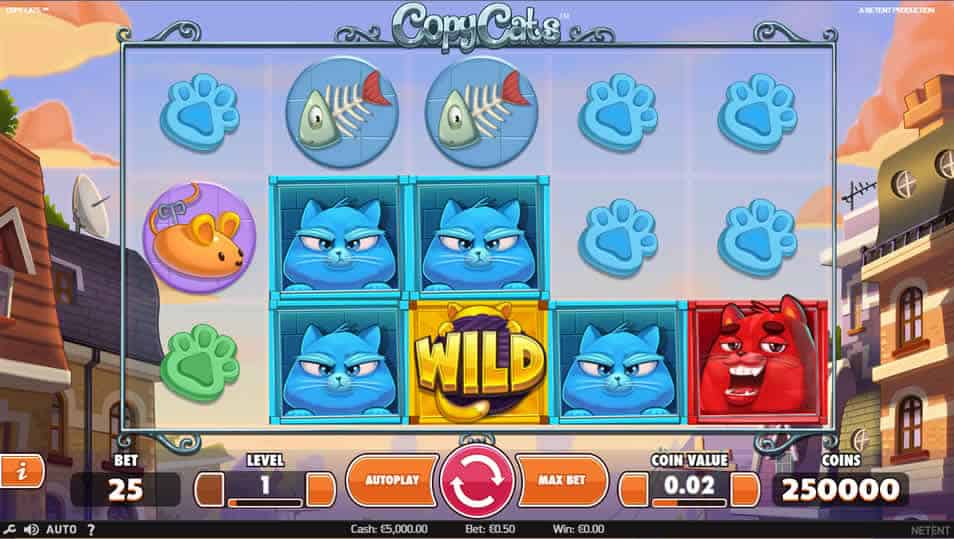 Our Verdict
The Copy Cats slot is a lot of fun to play. The visual design of the game is great, with high resolution graphics and interesting animated cat characters. Payouts and bonus features seem to trigger often enough to keep the adrenaline going and hold interest. The Copy Cats feature can make some high paying combinations when it hits. If it is triggered by a stacked wild, look out!
I'd say this one gets a good recommendation for anyone looking for a new slot to try out, unless, of course, you hate cats. There are plenty of opportunities for big payouts and a lot of fun to be had.
If you liked this review and would like to know more about alternative slots with similar RTP, you can visit our RTP slots guide. Besides that, you can also visit our latest slot reviews for more information and newest games to play.