The Dragon Shard slot comes to us through a collaboration between StormCraft Studios and Microgaming. We haven't seen a release like this from Microgaming for quite some time. This is not one of the run of the mill slots that they've been putting out lately. It's got a unique theme, intricate design elements, and even a different layout than we see on most of their games.
Dragon Shard has dungeons and dragons style fantasy adventure theme that plays out on a five-reel, five-row grid. Both symbols and background images are detailed and pay homage to the fantasy genre of illustration beautifully. There are five high-value symbols made up of the fire queen, the ice king, two dragons, and a dragon egg. There are also four low-value symbols which are the four playing card suits. You'll also find a wild and a scatter symbol.
The basic game pays on 40 pay lines but this slot has a win booster feature that will allow you to double your bet in exchange for some extra features that basically turn it into an 80 pay line game. With bonus features and the win booster, it's possible to hit some highly impressive payouts.
Wagering & Payouts
Placing wagers on Dragon Shard is a fairly straightforward process. You can set both the value of the coins to play and the number of coins to place on each line bet. The coin value can be set between £.02 and £2.00. The number of coins per line can be set from one to twenty. Even though there are 40 pay lines on this slot, coins per line are calculated on 20 lines. So, with those parameters, you end up with a minimum wager of £.20 and a maximum of £400 per spin. As usual, you can find this  and other Microgaming slots at most UK online casinos.
Play Dragon Shard Slot at These Casinos
Yes – Why To Play The Dragon Shard Slot
Fans of the fantasy adventure genre of video or table games will almost certainly find many things to like in the artwork of this game. Although not three-dimensional, the symbols and imagery of this slot are finely detailed.
The fact that the game has 40 pay lines but coin values are set as if there were 20 lines basically gives players 20 lines for free which, of course, enhances value.
Players will find a lot of value for their wagers with the combination of the win booster option and the generous return to player (RTP) rate of 96.77%.
Microgaming works with high standards, therefore you will probably find their games at online casinos offering fast payouts!
No – Why Not Play?
This game offers good bonus features, but there is nothing overly innovative about the game mechanics. If you're not a fan of fantasy adventure art or games, this slot might not hold your interest.
This slot appears to be a high volatility slot which can definitely send your bankroll into a downward trend before big wins hit. Make sure you have a sufficient amount to withstand cold streaks.
It's hard to say exactly what it is, but this slot just feels like it's missing something. The theme lends itself to the idea of epic battles that could have translated into some more unique bonus features or perhaps even just some more entertaining animations.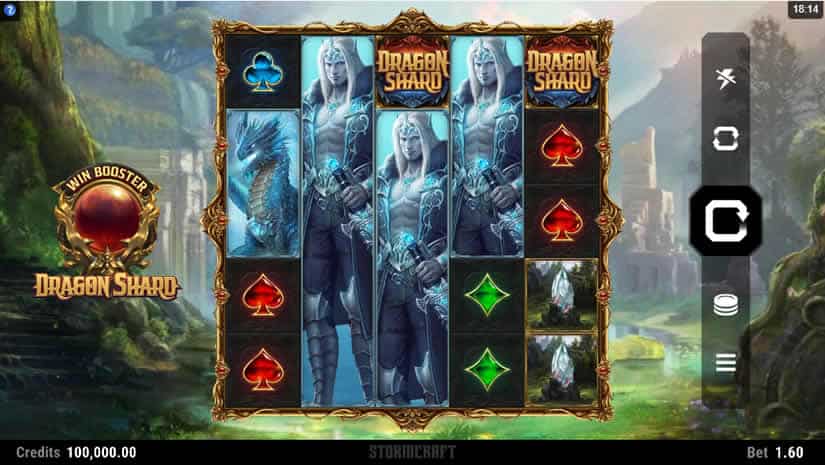 Dragon Shard Slot Bonus Features
There aren't a lot of bonus features on this slot, and unfortunately nothing interactive, but the features that are available can provide some generous prizes. Here's how they work.
Stacked Mystery Symbols
Mystery symbols appear stacked on any of the reels. In normal mode, mystery symbols will reveal a wild or any high or low-value symbol. With the win booster function enabled, they will only reveal wild or high-value symbols.
Free Spins
Free spins are triggered when you land three or more scatter symbols anywhere on the reels at the same time. The feature will begin with ten free spins. During the free spins, some reels will convert completely to mystery symbols depending on how many scatter symbols triggered the feature. If you land three, four, or five scatter symbols you'll get one, two, or three mystery reels respectively.