The Finn's Golden Tavern slot from NetEnt is the sequel to the very popular Finn And The Swirly Spin slot. In addition to using the same starring character, it uses the same basic game mechanics, but also incorporates some new features to avoid just being a copy of the original with a new skin. Anyone who was or is a fan of the Finn And The Swirly Spin slot should definitely enjoy Finn's Golden Tavern as well. As usual, you can find all the fantastic Netent games at most UK online casinos, but not in U.S nor Australian brands.
Finn's Golden Tavern plays on a five by five grid where symbols move on a square spiral starting at the bottom left corner of the screen and moving into the centre of the grid. There are four regular symbols, each a different type of tavern drink, and four different coin symbols along with a wild and free spin symbol. Each time you "spin", symbols will fill the playfield starting from the bottom left and filling in along the spiral path to the centre.
Wagering & Payout
There are no traditional pay-lines on Finn's Golden Tavern slot. Instead, wins are paid when you match any symbol three or more times, either vertically or horizontally, anywhere on the playfield. After a win is counted, the symbols making up the win will be removed, remaining symbols move forward along the spiral, and new symbols come in from the beginning giving chances for several extra wins on the same spin. There are never wild symbols present on the initial spin, but each time symbols are removed for a win it is possible that one or more wild symbols will appear.
Setting up wagers on this slot is quite a simple affair. The only option you'll need to fiddle with is setting the value of the coins you'd like to play. The coin value is automatically multiplied by ten to set the total stake for each spin. The coin value can be set from £.01 up to £50, making for a minimum wager of just £.10 and a maximum of £500.
Play the Finn's Golden Tavern Slot Here
Yes – Why To Play The Finn's Golden Tavern Slot
The graphics on this slot are superb. The theme is built around a relatively simple concept but everything is very detailed and rendered in high definition. If you like high-end, three-dimensional graphics and super modern slots, you'll love this one.
The game mechanics on Finn's Golden Tavern slot add much more excitement to the game than you might initially think. With the large playfield and wins counting in both vertical and horizontal directions, it makes for a lot of possible combinations. It's also somehow quite satisfying to watch the symbols move around the spiral when wins occur.
The ability to match coin symbols of different denominations breaks up the monotony that you fall into with some slots. Since it's possible to match four or five different coins with different values, you never quite know how much a win will be. It's almost like in addition to a wild symbol that can generate matches, there's a wild component to the payouts as well.
As you may know, NetEnt is one of the most popular casino software providers. Their games are present at most reputable online casinos, therefore you can choose. Take this advantage and go for online casinos offering fast payouts and also cashable casino bonuses. Why settle for less when you can choose the best?
No – Why Not Play?
The basic game on Finn's Golden Tavern is fun to play, but it seems quite hard to trigger the free spins feature, which gets a bit frustrating fairly quickly. Those with little patience might find themselves looking for another game. Game stats say that free spins will hit an average of once every 180 spins.
The free spins feature itself is somewhat disappointing when it finally hits. Don't take that the wrong way, it can result in some great payouts that make it worth it, but after all the waiting, one kind of expects more from it. You'll only get five spins and the win multiplier feature really takes quite a bit of luck to get it to charge enough to move past 1x.
This is not the highest of NetEnt's high volatility games, but it's not a low volatility slot either. Players may be in for a rocky ride. Make sure you have the bankroll to weather some ups and downs as you play.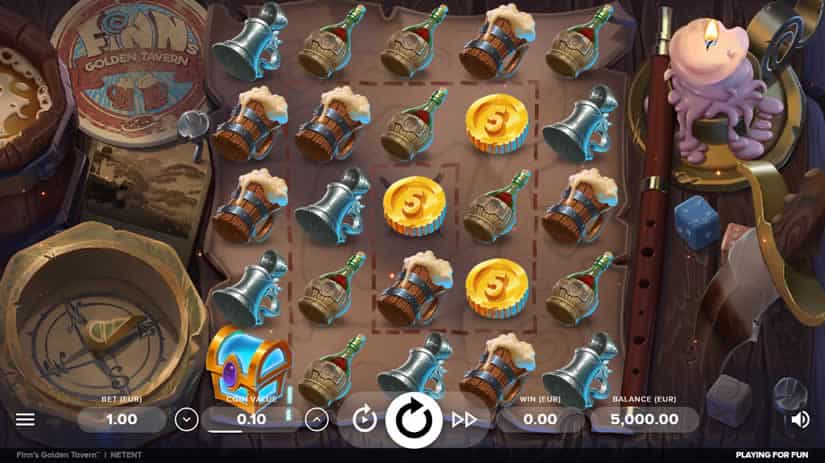 Finn's Golden Tavern Bonus Features
The bonus features on Finn's Golden Tavern are not all obvious at first, but there are several there to help add some coins to your balance as you play. If you land a spin where some of them combine with each other, it can make for some significant payouts.
Wild Symbols
The most obvious bonus feature in the game are the wild symbols. Whenever you land a win, wild symbols can appear as the combination(s) of winning symbols is removed from the board. Wild symbols can create matches both horizontally and vertically and even form overlapping wins on the same row or column. You'll also see them pop up multiple times when you get multiple wins on the same spin.
Fist Slam Feature
The fist slam feature triggers randomly under certain conditions on a non-winning spin. When it occurs, Finn will slam his fist down on the playfield and generate an automatic coin win for you.
The feature can trigger on any losing spin where there are at least three coins on the playfield with two being next to each other and the third sitting separately. When the fist slam happens, the lone coin will swap places with a low-paying symbol to match three coins in a row and generate a win.
Random Coin Feature
The random coin feature is another randomly triggered feature. This one, however, triggers after winning spins. When a winning spin completes, if the feature triggers, one or two low-paying symbols will be chosen from the centre position or the ring of symbols that surround it and turned into coin symbols with random values.
Free Spins
The final bonus feature on Finn's Golden Tavern is free spins. As was mentioned above, this feature will trigger an average of once every 180 spins. Here's how it works.
At the start of every spin, the "free spins chest" will be the last symbol on the chain that makes up the spiral. If you get a win and symbols are removed, the free spins chest will move up along with the other symbols and new symbols come in behind it. The object is to get the chest all the way to the middle of the spiral, which will trigger the free spins feature. You will, obviously, need several winning matches on a single spin for this to happen.
When the feature triggers you will be given five free spins. Free spins work basically the same as regular spins but a win multiplier is added in. The multiplier starts at 1x and moves in small steps to higher numbers each time a new wild symbol appears on the playfield. You'll need five wild symbols to move from 1x to 2x, five more to go from 2x to 3x, and so on. Needless to say, again, with only five free spins you're going to need several winning matches on single spins to move the multiplier up before free spins run out.