The Gnome Wood slot is a brilliantly designed video slot from one of our favourite slot machine designers, Microgaming. It is a fantasy themed slot with beautiful high-resolution, 3D graphics. The five reels spin against a lush forest background as a magical gnome appears from time to time to grant bonuses and big payouts.
All of the action rolls out on a standard 5×3 grid with symbols including various stone runes, mysterious crystals, a book of spells, magical cauldrons, our gnome hero, and more. There are also some great bonus features which are sure to get your juices flowing as you watch those wins pile up.
Gnome Wood is a fixed 25 pay line slot with a minimum coin value of £.01 and a maximum of £2.00. If we crunch the numbers, that gives us a minimum wager of £.25 and a maximum of £50.00. The highest paying symbols will net you £2,000 for five of a kind when playing at max bet and special 2x multiplier wild symbols can double it. There's also a gamble feature that can be played up to five times after a win allowing you to win up to a maximum of £10,000 on just one spin.
Best Microgaming Casinos to Play:
Yes – Why To Play Gnome Wood Slot
The graphics and design on this slot are just stunning. From the symbols to the background, everything is three dimensional. It has to be one of the most eye-pleasing video slots ever released.
The bonus features can lead to big wins and can be re-triggered. During testing I hit a run of more than 50 free spins in a row.
The low minimum bet makes this slot very accessible for those with a limited bankroll looking for some excitement.
No – Why Not Play?
Microgaming has a bad policy of not including RTP information in their games. It's impossible to know what the return to player rate is on this slot.
The relatively low maximum wager might not be enough for those who really like to play big.
The design of this game is fairly CPU intensive, so it may cause problems with slower computers or especially older mobile devices.
Gnome Wood Slot Bonus Features
There are a few bonus features built into Gnome Wood that can trigger together and re-trigger to create super payouts and loads of free spins. Let's have a look at how they work.
Wild Symbols
The Gnome Wood slot has a standard wild symbol as well as a 2x multiplier wild symbol. Both of them can replace any symbol on the reels except for the scatter and can appear on reels two, three, four, and five.
When a 2x multiplier wild lands, the payout for the specific combination(s) made with that wild symbol will be doubled. It is also possible to land more than one 2x multiplier. In this case, the multiplier numbers will be added together and the payout will be multiplied by the total. For example, landing three 2x multipliers will result in a payout multiplied by six (2x + 2x + 2x = 6x).
Wandering Wild Bonus Spins
All wild symbols in Gnome Wood slot are wandering wilds. When either of the two wild symbols appears on any reel, it will trigger free bonus spins. During the bonus spins, all visible wild symbols on the reels will move over one reel to the left for each spin. Bonus spins will continue until all wild symbols have moved off the reels.
For example, if a wild symbol lands on reel five, bonus spins will start and continue for five spins until the symbol moves completely to the left and disappears.
During the bonus spins, it is possible for more wild symbols to land, extending the bonus spins. It is also possible to trigger the scatter bonus free spins feature, which will start after the bonus spins have completed.
Scatter Free Spin Feature
Landing three or more scatter symbols anywhere on the reels will trigger the free spin feature. The player will initially be awarded ten free spins.
During the free spins, it is possible for a wandering wild to land on one of the reels, which will trigger the wandering wild bonus spins. The bonus spins will play out and then the free spins will continue. It is also possible to hit three or more scatter symbols which will award ten additional free spins.
The combination of free spins and bonus spins from wandering wilds can lead to very lengthy runs of free spins and high payouts.
Gamble Feature
After a winning spin, the player has the opportunity to gamble for a chance to double the payout. If you choose to do so, you'll be presented with two cauldrons, one copper and one golden. Choose the right cauldron and your payout will be doubled. Choose the wrong cauldron and you'll lose it all. You can gamble up to five times or until you reach the maximum gamble payout of £10,000.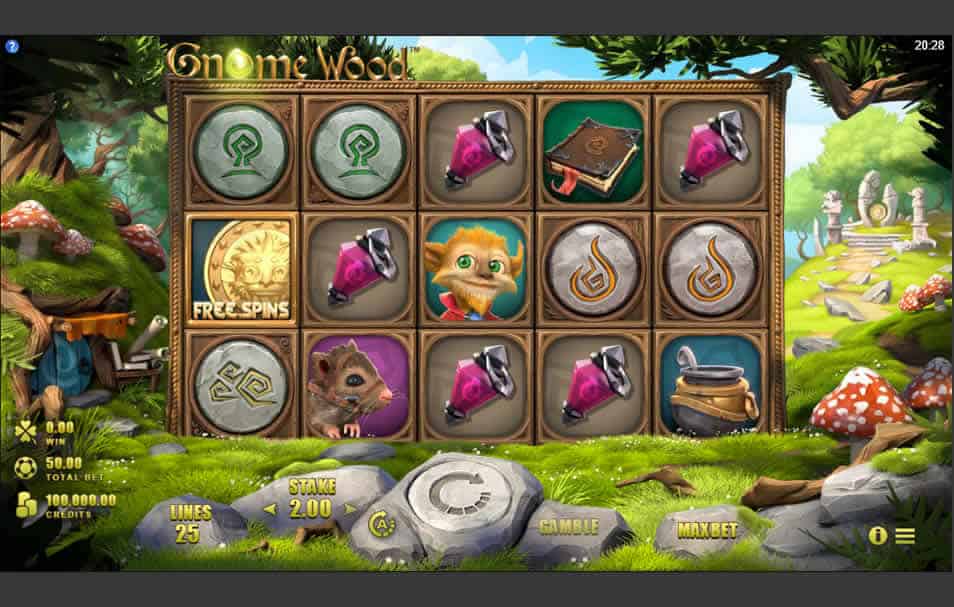 Our Verdict
The Gnome Wood slot is a sure winner. There's almost nothing bad you can say about this video slot machine. The graphics and animations, as I said, are just stunning. They would be considered good for any video game, let alone a slot machine.
The gameplay is also exciting and engaging. There is plenty going on to hold your attention and keep you interested in what is happening. When you throw in the bonus features and the possibility of hitting them at the same time and re-triggering, too, it's just the icing on the cake.
For anyone who's never played the Gnome Wood slot, I would highly recommend it. You're sure to have fun, and you also have some great opportunities for big payouts. You can try this amazing game at most online casinos available to UK players.