The Gorilla Go Wilder slot brings back Gary the purple gorilla for another round of monkey business. In this fun sequel to Gorilla Go Wild from NextGen Gaming, you'll find Gary hanging out on the beach sipping a cool drink under the palm trees as he watches you play. There are plenty of big prizes to be won as well as some interesting innovations that will keep players on their toes and coming back for more. Where to find it? Gorilla Go Wilder as well as other Nyx tittles are available at most UK online casinos.
Gorilla Go Wilder plays on five reels with three rows and 25 pay lines, but some features will take things all the way up to 200 pay lines. There are six low-value symbols on the reels with four high-value symbols plus wild and scatter, which also pay handsomely. Gary himself is the wild symbol with other high-paying symbols being made up of various jungle animals. The lower value symbols are playing card values nine through ace.
It's fairly obvious that the game designers weren't taking themselves too seriously as they put together the theme on this slot. You'll see plenty of funny animations from ol' Gary as he stands on the side and watches your results. He even scratches his butt sometimes when he thinks you're not looking. Everything is colourful and cartoonish and gives off a very lighthearted vibe.
You shouldn't have any problem at all setting up your wagers on Gorilla Go Wilder. Everything is preset, you'll just need to decide how much you want to bet on each spin and jump right in. There are 13 wager amounts available ranging from a minimum of $.30 up to a maximum of £150.
Try Gorilla Go Wilder at These Casinos
Yes – Why To Play The Gorilla Go Wilder Slot
If you're looking for a lighthearted game that's colourful and fun, you can't go wrong with this slot. The theme will surely put a smile on your face.
The expansion packs feature (see bonus features below) really allows you to mix things up and change the game as you play. It's a great way to pack a lot of bonus features into the slot and give players something to look forward to.
The return to player (RTP) rate on this slot is a healthy 97.04% which comes in a bit higher than most recent video slot releases. Players will definitely get good value for the money they put into this game.
No – Why Not Play?
Although there are a lot of bonus features available, it will take considerable time to unlock all of them. If you really want to see all the available extra locations, you'll certainly need to be patient.
While the theme is fun, it's a bit childish and very loosely held together. A lot of the characters and scenes don't really make sense to each other. If you don't like cartoony, goofy slots, you might not be so into this one.
With all the imagination that obviously went into the mechanics of this game, it feels like the symbols on the reels were somewhat left behind. With six playing card symbols, it's easy to see that there could have been at least a few more animals or other symbols that would actually add to the feel of the theme.
Gorilla Go Wilder Slot Bonus Features
NextGen came up with great new twists when they put this slot together. It has your basic bonus features like wild symbols and free spins, but the designers really wanted to push things over the top.
What really makes this slot unique is the use of so-called expansion packs. As you play and trigger the scatter feature you'll collect points that allow you to open new areas within the game. The more you play, the more new places you'll be able to go, up to 8 different locations—so far. Making things even sweeter, each new location has its own special bonus features. So, as you unlock new places to go with Gary Gorilla, you can play with the bonus features you like the most.
Shell Respins Feature
The shell respins feature can trigger randomly after any regular spin finishes. One or more shell symbols landing during the respin will award another spin. Respins will continue until no more new shell symbols stop on the reels. When the feature is over, each shell symbol will award a prize. As the feature is triggered more times, symbols with higher prizes will become available at the Gorilla go Wilder slot.
Gary's Gifts Feature
During regular base spins, Gary can randomly decide to trigger the bonus islands feature (see below). He can also randomly retrigger the current bonus islands feature during free spins.
Bonus Islands Feature
If not triggered by Gary, the bonus islands feature is triggered when three or more scatter symbols land anywhere on the reels. The player will be given ten free spins which will play out with the bonus features of the island selected. As this featured is triggered more times, you'll be able to unlock more islands where you can play. You'll be able to unlock the islands in any order you wish as long as you've racked up the required points to do it.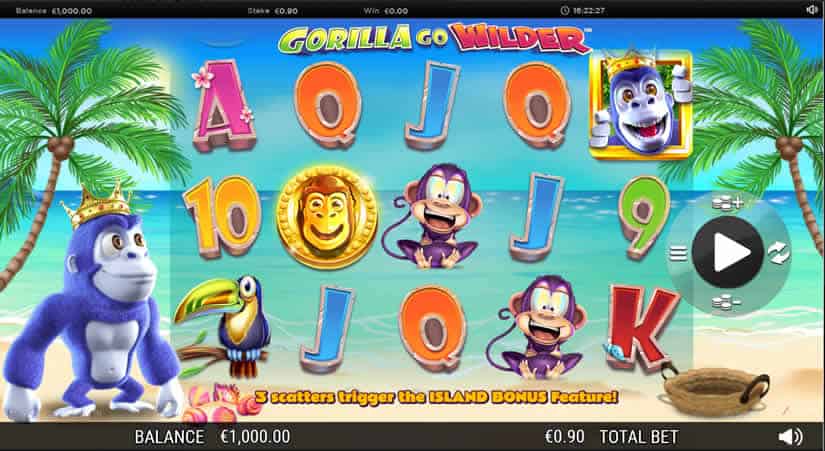 Following is a quick rundown of the available islands and their bonus features at the Gorilla go Wilder slot. The developers have already stated that more will be available in the future as well.
Crystal Cave – Mystery symbols appear on all reels and can transform into any symbol except for scatter.
Tiki Bar – All symbols except scatter payout at the power paytable rate. Match five for 1500 times coin value, four for 500 times, and three for 50 times.
Green Jungle – Any wild symbol that lands will expand to cover the entire reel.
Waterfall – All symbols on the reels except for scatter are stacked.
Volcano – Each free spin will be played on extra pay lines. Total lines can be any one of 50, 75, 100, 125, 150, 175, or 200.
Scary Forest – Selected symbols may change to wild symbols on any spin.
Purple Jungle – Two wandering wilds appear on the reels and wander with each spin. If both wandering wilds land in the same place, any win that includes them will be multiplied by ten.
Sunset Beach – A multiplier zone will appear on the reels, covering up to 15 symbols. Any wins that involve symbols within the zone will be multiplied up to 25 times.