Hound Hotel slot from Microgaming is a five reel, 25 pay line video slot that's full of action. In addition to the standard top playing card symbols, you'll encounter a Scottish Terrier with a pipe, a Bulldog sipping Brandy, and a speedy little Chihuahua who's there to provide room service, among others.
Players can set coin size from €.01 to €.10 and play from 1 to 15 coins. All bets are on all 25 lines, so there's a minimum bet of €.25 and a maximum of €37.50.
Once you place your bet, you've got a shot at hitting not just a win, but a load of fun and unusual bonus features to boost your bankroll even more. Hound Hotel is most certainly one of the most fun video slots I've had the pleasure of playing and reviewing.
Best Microgaming Casinos to Play:
Yes – Why To Play Hound Hotel Slot
The game is visually pleasing with a fun soundtrack that very quickly puts a smile on your face.
There are a lot of chances for wilds, scatters, and bonuses that can lead to some enormous payouts of up to 110,000.
Hound Hotel adds some extra interactivity that gives you the chance to affect the multiplier and number of spins you'll get from the scatter bonus.
A 97% return to player (RTP) gives you a lot of play for your money.
No – Why Not Play?
Some players may not like the fact that it's impossible to choose how many pay lines they want to play.
Free spins can not be re-triggered. Not a deal-breaker, but many modern slots allow for free spins to re-trigger.
Hound Hotel Slot Bonus Features
The creators of Hound Hotel certainly didn't hold back when it came to including bonus features. There are plenty of extra ways to win and boost your prize. This game might just have more ways to hit a wild symbol than any other out there.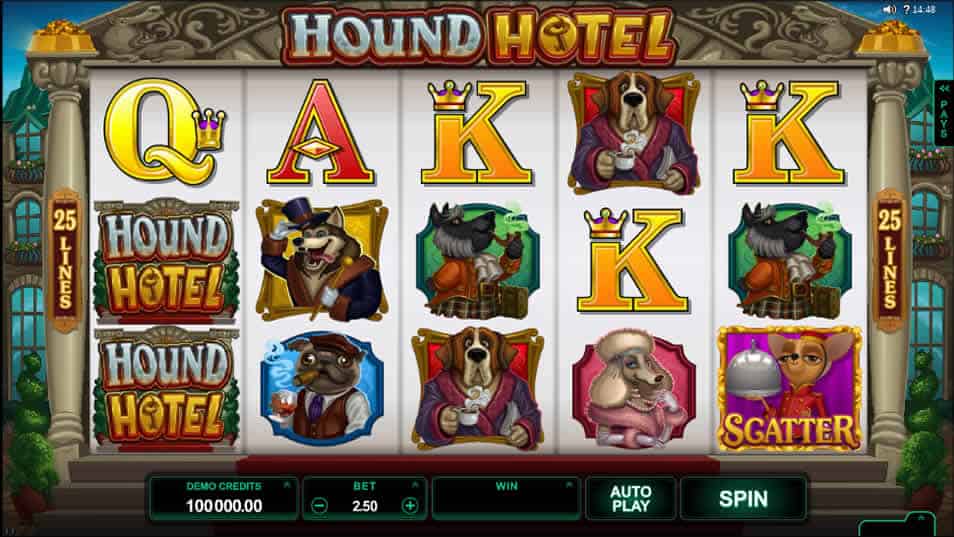 Wild Symbols In The Base Game
The "Hound Hotel" logo serves as the wild symbol in the base game. Wilds can occur on any reel, and it is possible to hit five wilds. You can also hit stacked wilds, where an entire reel is wild.
As if that wasn't enough, there is also a dashing wild feature that is randomly triggered. On any non-winning spin, three dashing wild symbols can land in random positions across the reels giving a second chance to hit a winner.
Free Spins Bonus
The free spins bonus is triggered when three or more scatter symbols stop on the reels. Adding a twist to the standard preset free spin award, Hound Hotel offers a quick minigame that allows the player to affect how wilds will appear, the size of the multiplier, and the total number of free spins that will be awarded.
Before the free spins begin, you'll be presented with a screen consisting of three floors of the Hound Hotel, with five doors on each floor. The door you pick on the first floor will determine the special wild feature. Your pick on floor two will set the payout multiplier that will be used. Finally, floor three will decide how many free spins you'll get. To make it just a little bit more interesting, floors two and three also have the possibility of awarding you an extra pick.
When making your pick on the first door, there are three possible wild features you can reveal:
Super Stacked Wilds – Wilds are stacked 20 high on reels 2 and 4.
Expanding Wilds – When a wild stops on any reel it will expand to cover the whole reel.
Wild Reels – Reels 1 and 5 are both wild.
If that's not enough for you, when in free spin mode, there are still more ways to hit wilds and inflate the payout.
Regular wilds can split in two. When they do, there is the possibility of a 6 of a kind win, which pays five times a 5 of a kind win.
On every spin, there is a chance that reel 2, 3, and/or 4 will turn wild.
A scatter symbol on reel one or five turns that reel wild.
A scatter symbol on reel one and five turns both reels wild.
Our Verdict
Hound Hotel is definitely one of the most fun and action-filled slots to be found in any online casino. No matter where you play, which UK friendly casino, you're bound to find this hot Microgaming slot if you look through their games.
The wide range of betting options make this slot suitable for just about anyone, and the variety of bonus features will keep you engaged and enjoying yourself. If you've been finding yourself getting bored with other slots, you should definitely take a look at Hound Hotel.