The Incredible Balloon Machine slot from Microgaming isn't quite a slot, but will definitely appeal to video slot machine players. The game comes through Microgaming partner Crazy Tooth Studio. It's a game of chance, just like a video slot, but re-imagined in a way that ads much more interactivity and player involvement in the results. What appears to be very simple at first will quickly become an addictive game that you won't be able to resist playing with. You can find this game at any online casino offering fast payouts, because Microgaming casinos cater to players from UK and other European markets.
The basic game mechanics are based on inflating balloons. For each wager you make, you'll get the chance to inflate a single balloon. A balloon may pop right away, resulting in an immediate loss, or it can show an initial payout amount.
If the balloon shows a payout amount, you'll need to decide what you want to do. You can take the initial payout; you can click to inflate the balloon just a bit more, or you can click and hold to continue to fill the balloon until you release. As you continue to inflate the balloon, the payout will increase. The balloon, however, can pop at any time. Whenever you stop inflating, you'll be given 5 seconds to decide if you want to add more air. If the five seconds expires, you'll collect whatever amount is shown on the balloon. You can also click on the green collect button at any time to stop and collect your prize.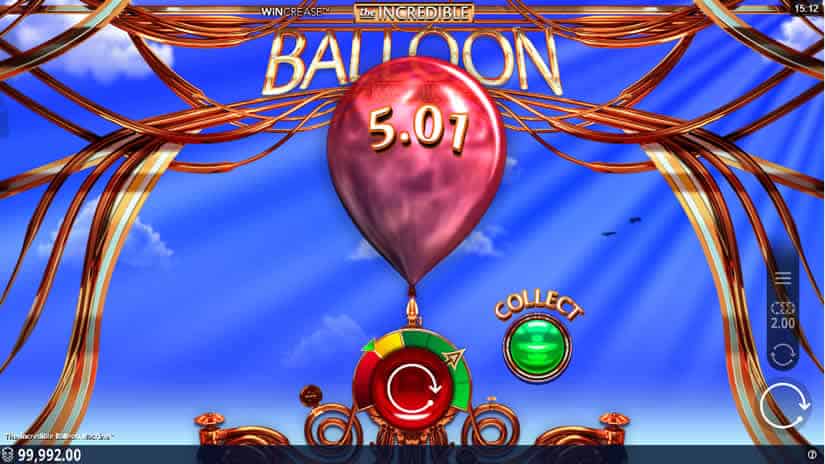 Recommended Online Casinos to Play At
How To Win On The Incredible Balloon Machine Slot
There are three basic ways to collect a win on The Incredible Balloon Machine:
Place a wager and collect the initial payout shown.
Inflate a balloon beyond the initial payout but collect before it pops.
Successfully inflate a balloon fully without it popping.
It seems to be somewhat rare that a balloon can be fully inflated without popping. So, in most cases, your best chance at a win is probably going to be to inflate the balloon past the initial payout but try to collect before you go too far and it pops.
Yes – Why To Play The Incredible Balloon Machine Slot
This game has a return to player (RTP) rate of 96.75%, which is actually a bit higher than most online video slot machines. Players will get great value for the money they on this game.
The concept of this game is very entertaining and the constant player involvement keeps boredom from creeping up. You'll be making decisions the entire time you're playing. No fear of zoning out like a zombie here.
Bonus features seem to pop up quite often, which just adds to the fun of it. It's refreshing to see a game where the bonus features trigger more than just once every few hundred spins.
No – Why Not Play?
Quite obviously, this is not the type of game that's going to appeal to slot machine purists. There are no spinning reels and no symbols to match. If you're looking for more classic action, you might not be so interested in this one.
The autoplay function doesn't appear to work the way one might expect. It seems to just try to inflate all balloons to their maximum which results in quite a lot of losses. It looks like the player still has to jump in and hit the collect button to get wins. The game will continue to place wagers on its own until the set number of spins has been made, though.
While some players will undoubtedly enjoy all of the interactivity here, others may want a game that they can play in more of an autopilot sort of style. If you prefer to just whack on the spin button to see what you've won or let autoplay run for 100 spins at a time, you'll probably find this game a bit annoying.
The Incredible Balloon Machine Slot Bonus Features
There are two basic bonus functions on this game. You'll run into random multipliers and also get chances at the interactive pick bonus.
Random Win Multiplier
On any spin where a balloon shows an initial win amount, it's possible that a random multiplier bonus feature will also be triggered. It's possible to get a multiplier ranging from two to ten times the total win amount.
You'll first need to successfully collect the win without popping the balloon and then the multiplier amount will be chosen randomly before you get your prize.
Pick Bonus Feature
Sometimes when you make a wager, the outline of a larger balloon will appear around your balloon and there will be no prize amount shown. This is your opportunity to try to trigger the pick bonus feature. All you have to do is hold down the play button to keep inflating the balloon. If it pops, you lose. If it reaches the size of the previously mentioned balloon outline, you go into the bonus feature. It's that simple.
The pick bonus feature can be up to eight rounds. With each round, you'll be presented with five balloons to choose. Each will hold either a prize amount or a 2x multiplier. Some will also contain the word "advance" or "complete".
If you select a balloon that has just a prize amount or the multiplier, you will get to pick another balloon from the same group. If you select a balloon that has a prize plus the word "advance", you'll get that prize and then move to the next round. If you select a balloon with a prize and the word "complete", you'll get your current total prize amount and the pick bonus will end.