The Jungle Jim And The Lost Sphinx slot comes to us from Microgaming, designed by their independent partner Stormcraft Studios. It is an Egyptian themed slot, as you probably guessed, but they've done an excellent job of making it not "just another Egyptian slot." It features smooth high-definition graphics, plenty of animations and cut-scenes, and great sound, too.
You can find this game at any online casino powered by Microgaming.
Jungle Jim And The Lost Sphinx is a five-reel, four-row slot with 35 fixed pay lines. There is, however, the possibility to convert the playfield into five reels and five rows with 50 pay lines if you hit the right combinations. It also makes use of a "rolling reels" effect which means that whenever you land a winning combination, the winning symbols will be removed and new symbols will fall in from the top to fill the gaps. This, of course, means possibilities for more than one winning combination on each spin.
There are eight regular symbols on the reels plus a wild symbol, a scatter symbol, and a special sphinx symbol that comes into play during free spins. Four symbols pay high values and four are low-value. High-paying symbols consist of Jungle Jim and some of the treasures that he's been after. The lower-value symbols are four different coloured gemstones.
Jungle Jim and the Lost Sphinx Slot Wagering & Payouts
Wagering on this slot is accomplished by choosing the coin value you'd like to use plus the number of coins to play on each line. For one reason or another, the bet multiplier works as if you were playing on ten lines. So, whatever coin size you choose will be multiplied by ten. From there you can choose to play from one to four coins on each line. The coin value can be set from £.01 to £.50. That gives us a minimum and maximum wager of £.10 and £20 respectively.
There is also a "win booster" feature built into the game that will allow you to increase the chances of hitting the free spins feature in exchange for a higher wager. (More on how this works below) With the win booster enabled, your bet will be multiplied by four. So if you want to play with this feature, the minimum and maximum wagers will rise to £.40 and £80.
Recommended Microgaming Casinos
Yes – Why To Play Jungle Jim And The Lost Sphinx Slot
If you're the type that likes lots of three-dimensional animations in your games, you're sure to like this one. The Jungle Jim character makes appearances throughout the game and there are even some highly detailed cut-scenes when the free spins feature stops and starts.
The multiplier feature in this game can turn ordinary wins into big paydays. In fact, it's possible to win up to 1,560 times your bet on just one spin.
Jungle Jim appears to have a volatility level somewhere between low and medium. Bonus features seem to trigger with a fair regularity which keeps the action moving and interest high.
The return to player (RTP) rate on this slot is right in line with what we'd hope to see. Users can expect to get great value for the money they bet with a regular RTP rate of 96.1% and a slightly higher rate of 96.3% with the win booster feature enabled.
No – Why Not Play?
Although a lot of the design work around the reels is extremely well done, the reels and symbols themselves look a bit forgotten and small on the screen. It's a shame that it appears as if all the work that was put into things like the character animation and cut-scenes didn't carry over to the most important part of any slot machine, the reels.
This slot is definitely accessible for those who like to play more conservatively but for those who like to play at higher limits, it might not provide enough excitement—even with the bet quadrupled by the win booster.
Bonus features can stack up to create worthwhile payouts, but they become a bit monotonous after you've seen it all a few times. Something extra to mix it up a little would have really helped it out.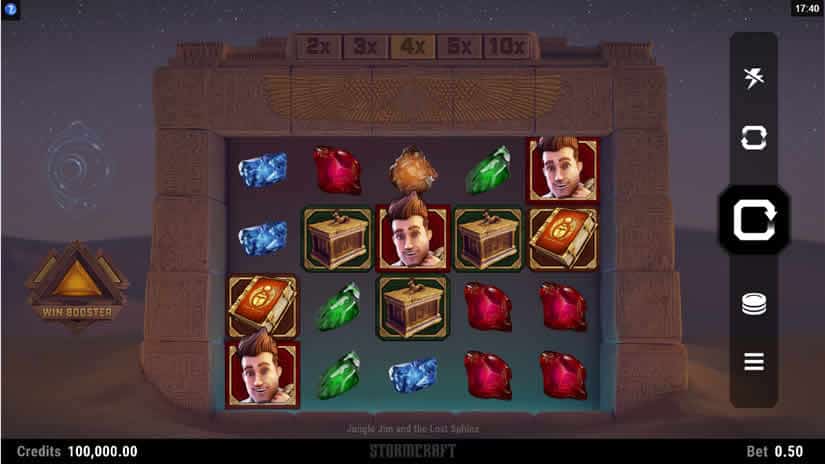 Jungle Jim And The Lost Sphinx Slot Bonus Features
As was mentioned above, there aren't a lot of bonus features on this slot, but those that are there can provide some very impressive rewards if you land the right combinations on the reels. Let's take a look at how they work.
Win Booster Feature
The win booster feature is simple:
It can be turned on at any time and will multiply your current bet by four.
Only increases your chances of hitting the free spins feature.
It does not increase regular win prizes or your chances of hitting regular wins.
When the win booster is on, a scatter symbol appears to the left of the reels. This has the effect of granting you one scatter symbol on every spin. So, with the booster turned on, you'll only need to land two scatter symbols and not three in order to trigger free spins.
Rolling Reels And Multiplier Trail
The rolling reels feature will remove winning symbols from the reels and allow new symbols to fall in, possibly creating new wins. There is also a multiplier trail along the top of the reels that will increase each time a new win is created by the rolling reels.
After an initial win, the multiplier will move to 2x for the rolling reels function. If another win is created, the multiplier goes to 3x. If a third is created, the reels will expand to five by five with 50 pay lines plus the multiplier goes to 4x. The next win will take the multiplier to 5x and if you manage to get to the highest level the multiplier will go to 10x.
In addition, if you get to the third rolling reels feature and no win is created, there will be a free respin to give you a second chance.
Free Spins Feature
When this feature is triggered, you will be awarded 12 free spins. All free spins play with the reels in the five by five configuration with 50 pay lines. The multiplier trail is also increased to the following values: 2x 3x 4x 8x 12x 20x.
During free spins there is a special sphinx symbol that can appear on the third reel. When this symbol lands, three things will happen. It will be removed from the reel and allow a new symbol to fall in from the top. It will also grant one extra free spin. Then, it will block off the lowest multiplier on the multiplier trail, making the next value the minimum win multiplier. So, for example, if you had five sphinx symbols land, all subsequent wins on the free spins would be multiplied by 20.