Lilith's Inferno from Yggdrasil is another welcome addition to the veteran game provider's catalogue. We're always eager to see what new slot releases we'll be graced with from month to month, and we certainly weren't disappointed to see the Lilith's Inferno slot. It has a decidedly dark theme, but doesn't take itself too seriously, so there's nothing too intense to drive away the squeamish. Help the demon Lilith get past the gatekeepers and she will reward you with riches. Where can you find it? Yggdrasil casinos are so popular! You can find this slot provider around the world, except specific geos like Australia and USA.
Lilith's Inferno is a five-reel, four-row slot where all winning spins pay based on 25 fixed pay lines. There are four high-paying and four low-paying symbols on the reels along with wild and scatter symbols. The most valuable symbols give out quite generous rewards with the largest being 24 times your bet for a five of a kind combination. Likewise, the low-value symbols can return some very low rewards. The smallest possible regular win is just 20% of your original wager.
As with most games, the really juicy rewards are in the bonus features and Lilith's Inferno has a few that combine to add an avalanche of coins to your balance. In fact, it's possible to win up to 3968 times your bet on a single spin.
As far as setting up your wagers, you shouldn't have any trouble there. The betting system on this slot is simple and straightforward. There are 20 preset bet amounts ranging from just £.10 per spin up to £100. Choose the amount you'd like to play with and you're ready for some action.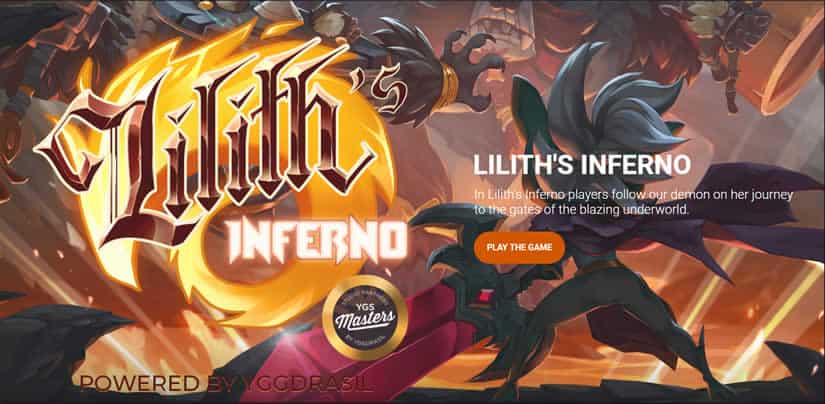 Where to Play the Liliths Inferno Slot?
Yes – Why To Play The Lilith's Inferno Slot
There's plenty of action in this slot that will keep you interested as you play. The gameplay is not quite as complex as some of Yggdrasil's other slots, but it is still clearly worthy of their name.
This slot is all highly detailed and rendered in high-definition graphics but seems to be far less power-hungry than many other slots from this company. It should play well on devices running on batteries such as laptops or smartphones. Yes! You can play it at your favourite mobile casino.
This is a great middle of the road slot for gamblers who are just getting into slot machines or playing with a more conservative bankroll. There's a low minimum bet at just £.10. The return to player (RTP) rate is 96.4% and the volatility is rated at 54 out of 100. That combination spells out excellent value for your money.
If you combine the bonus features with cashable casino bonuses, you will be extending your gameplay for hours!
Yggdrasil can probably be found at your favourite online casino.
No – Why Not Play?
While there is plenty of action, this slot doesn't quite have all the features that we're accustomed to seeing on Yggdrasil games. If you're looking for lots of different bonus features in one game, Lilith's Inferno might not do it for you.
The boss fight features are fun at first, but if you're the type who likes to play fast and see as many results as possible, this feature can get tiresome. You may find yourself wishing there was a way to set it on auto and let it go on its own.
Lilith's Inferno seems to be designed more with the conservative gambler in mind. If you're more of a casino high roller and looking for risk to get your heart pumping, you might find this slot a little on the slow side.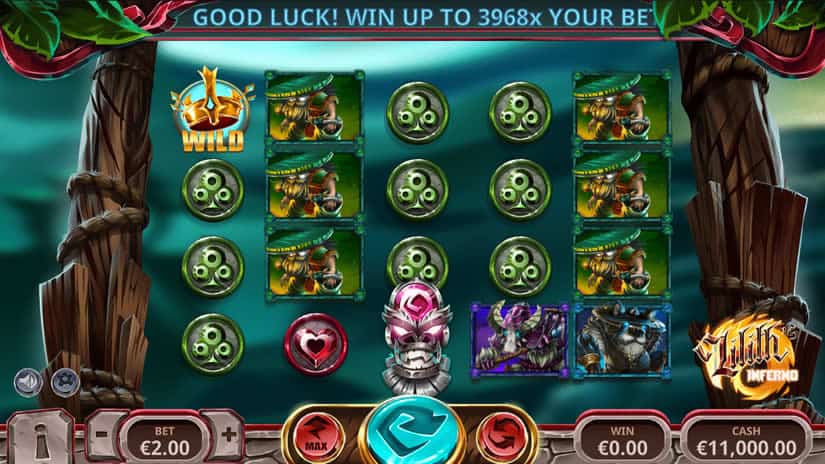 Lilith's Inferno Slot Bonus Features
The bonus features on this slot are fairly straightforward and easy to understand. It's possible to hit some great combinations that will add up to amazing prizes.
Free Spins
Free spins will start when you land at least three scatter symbols on the reels but the number of free spins you get will be different each time. Landing three symbols will get you 10 to 20 free spins. Four symbols will get you 15 to 30 free spins and five scatter symbols will award between 25 and 50 free spins.
When you trigger the free spins feature, you will be taken into a battle with the gorilla (the scatter symbol) to determine exactly how many spins you'll get. The more you manage to hit the beast, the more free spins you'll get.
There are also gorilla symbols present on the fifth reel during free spins. When they land in view they will be collected. If you manage to collect three, you will get four additional free spins plus a three times win multiplier will be added.
If the free spins feature ends and you have only one or two gorilla symbols collected, they will become wild and placed randomly on the reels at the end of the last spin.
Boss Fights
During the free spins, there are special Vs symbols present on the reels. If two of them land anywhere on a single spin, you'll be taken to a boss fight.
The boss fight will pit you against one of the bosses with each of you having a limited health meter. If you manage to get his down to zero before he does the same to you, you'll win and be rewarded. If you are victorious, you'll get two extra free spins plus all of that boss' symbols on the reels will become wild for the remaining free spins.