The Mining Fever slot is another in the series of successful releases to come out of collaborations between Rabcat Gambling and Microgaming. This slot is based on a fantasy dwarven race working deep underground in search of gems of indescribable value. The game has the potential to significantly boost your casino balance when you're successful in assisting our hard-working dwarven friends. Three special dwarves, each with their own unique talent, will lend a hand with the task of digging up these hidden treasures.
Mining Fever is a five-reel, three-row slot that pays out based on a 243 ways to win system. There are three high-paying symbols, three medium-value symbols, and four lower value symbols on the reels.
Mining Fever Slot: Wagering & Payout
The highest paying symbols are the wild and a jeweled golden crown, both of which will pay you 500 coins for five of a kind. Medium symbols will get you between 100 and 30 coins for five. The lowest paying matches will award you from 8 up to 25 coins if you land five of them.
The theme of Mining Fever has been put together very well. Everything is three dimensional and highly detailed. The high-definition graphics jump off the screen at you and there's plenty of movement to keep things visually entertaining. Rocks fall from the tunnels above and mine carts whiz past in the background as you try for those mega wins on the reels.
Setting up your wager on this slot is a piece of cake. The only value you can change is the size of the coins you'll be using to gamble. The amount you choose for the coin value will be multiplied by 20 to set the total bet for each spin. There are nine preset options to choose from which will give you possible wagers ranging from a minimum of £.20 up to the maximum of £40 per spin.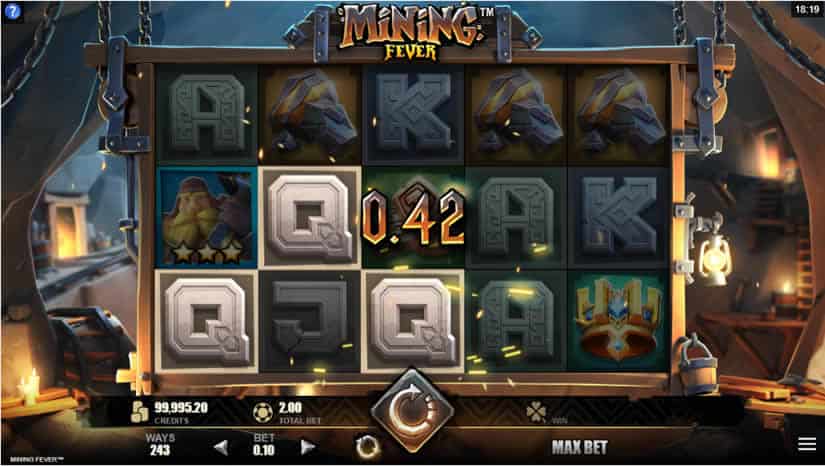 Yes – Why To Play The Mining Fever Slot
There are three different scatter symbols on the reels that can trigger four different types of free spins. Each of the different spin features has the possibility of giving out some handsome rewards. Best of all, most can be triggered by landing just two scatters instead of the usual three.
Mining Fever has a generous return to player (RTP) rate of 96.13% which gives players good value for the money and time they spend on this video slot.
The special wild symbol bonuses that are incorporated into the main free spins feature guarantee that you'll always get a good-sized prize when you hit those extra spins.
No – Why Not Play?
For those who crave the high-stakes rush of playing at higher limits, the relatively low maximum bet on this slot might not be enough to get the adrenaline pumping.
The bonus features on this slot can be generous but they all revolve around some form of free spins. Something slightly different mixed in would have made the game a lot more interesting.
Even though the mid and higher-paying symbols outnumber the low-value symbols on the payout table, those low-value symbols seem to be much more abundant on the reels, resulting in lots of low wins, which gets a bit frustrating at times.
Mining Fever Slot Bonus Features
As was mentioned above, the bonus features on this slot all involve some form of free spins. All are also triggered by the various scatter symbols.
There are three different dwarf scatter symbols: Driler, Bombur, and Thundar. Each of the dwarves has his own special power which translates into a special bonus feature. If two of the same scatter symbol land at one time, you'll trigger the bonus feature for that dwarf. If all three of them land, you'll trigger the main free spins feature.
Driler
Driler's skill, as you might have guessed, is the dwarven drill. When his bonus is triggered, a random reel from the first three will be chosen and Driler will drill down making the entire reel wild. You'll then get a single bonus spin.
Bombur
Bombur throws a dwarven bomb that will land randomly on reel two, three, or four and two bonus spins are awarded. During the first spin, the bomb symbol acts like a standard wild symbol. On the second spin, the bomb will explode and place either three or four wild symbols in random positions on the reels.
Thundar
Thundar will put his dwarven hammer to use and grant you one bonus spin. When Thundar swings his hammer, either reels one and two or reels two and three will be completely filled with the same randomly chosen symbol.
Free Spins
The main free spins feature will grant you eight free spins. During the free spins, the Dwarven Golden Train is activated. The train will start at the left and move one space to the right with each spin. The train is three symbols long and all cars act as a wild symbol. When it reaches the right side of the reels it will come in on the left side again and continue to move until the free spins end. The train may also move one row up or down each time it moves.