Yggdrasil Gaming continues its long-standing custom of creating beautifully designed video slot machines with the release of the Nikola Tesla's Incredible Machine slot. The game impresses right from the start with highly detailed, high-definition graphics and a concept that has been executed perfectly. The sparks are going to fly as you explore Tesla's greatest inventions and feel undeniable electricity in the air.
Nikola Tesla's Incredible Machine is a five-reel, three-row slot where all bets play on 25 pay lines. There are seven regular symbols on the reels with three high-value and four low-value. High-value symbols are made up of some of Tesla's tools and lower-paying symbols are made up of playing card values jack through ace. The highest paying symbol on the reels is the wild symbol, Nikola Tesla himself.
There are several different bonus features built into this slot that most certainly help boost the excitement level. You'll see sparks and waves of electricity flowing through just about everything on the screen. Nikola Tesla himself will even pop in from time to time in different areas, sometimes altering the reels to your benefit.
Setting up your wagers is quick and easy. There are 15 preset amounts that you can choose from when setting your stake. They range from £.01 up to £3.00. Your stake is then multiplied by 25 to give you the total bet on each spin. If you're following along with the math, that gives us a minimum of £.25 and a maximum of £75.00 per spin.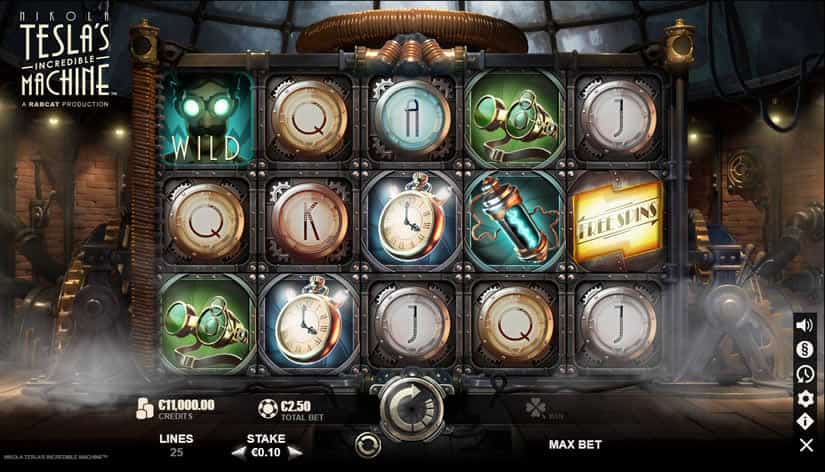 Play the Nikola Tesla Slot at These Casinos
Yes – Why To Play The Nikola Tesla's Incredible Machine Slot
The audiovisual aspects of this slot are just stunning. It's obvious that a lot of work went into the design and execution of the theme. The graphics are extremely beautiful, animations are flawless, and everything appears in crystal clear high-definition.
Bonus features seem to kick in more often than one would normally expect and when they do, payouts are great.
As with most Yggdrasil slots, this one has a good return to player (RTP) rate. Players can expect a return of 96.2% over the long term, which is an excellent value.
You can find the Nikola Tesla's Incredible Machine Slot at any UK online casino.
No – Why Not Play?
One of the drawbacks of all the high-end graphics and detailed animations is that this game uses a lot of computing power. That means that on desktop/laptop computers it's going to generate a good amount of heat on the CPU. For mobile devices, you can expect it to but a heavy load on your battery, too. If you're running on battery power, make sure you have a good charge before you get into the game.
The one weak spot in this slot is the symbols. With everything else going on, this one just screams out for something better than playing card symbols on the reels. There was plenty of room to put some more creativity into the symbols and really push this game over the edge.
Bonuses on this slot can boost wins significantly, but the biggest wins seem like they'll be very hard to come by. It's listed as a medium volatility slot, so players should expect that the majority of payouts will likely be on the lower end of the spectrum.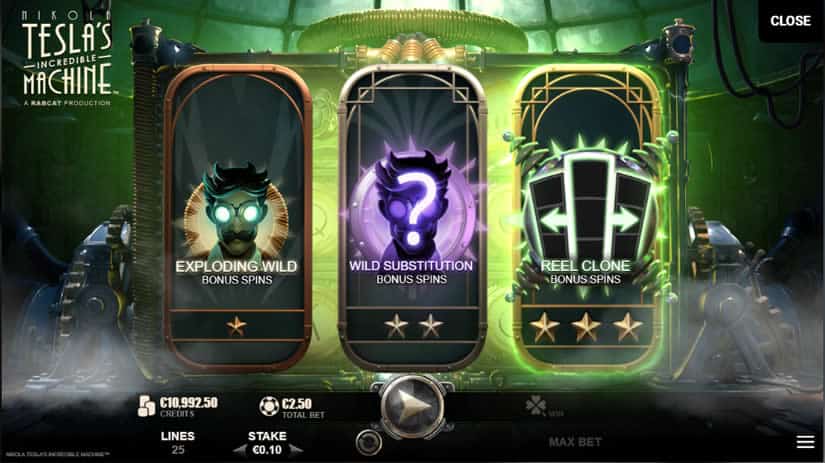 Nikola Tesla's Incredible Machine Slot Bonus Features
Yggdrasil packed this slot full of possible bonuses. There are actually six different bonus features that can all contribute to extra payouts for faithful players. Let's look at how they all work.
Energy Burst
The energy burst feature will trigger whenever three of the same symbol land on the centre reel. It will lead to free spins with one of three different bonus features randomly activated. If the triggering symbols are low-value, you'll get three free spins. If the triggering symbols are high-value, you'll get five.
Energy Burst Exploding Wild
When this feature starts, two or three visible symbols will be hit with bolts of electricity and become wild. Those wild symbols will stay in place for the duration of the free spins.
Energy Burst Wild Substitution
During this feature, one symbol out of the ace, capacitor, or goggles will be randomly chosen. Whenever the chosen symbol lands on the reels during the free spins, all of them will be converted to wild symbols.
Energy Burst Reel Clone
The reel clone feature will randomly select three reels from one of three configurations—1-2-4, 1-3-4, 2-3-4—to become clones. For the duration of the free spins, the three reels will always have the same symbols in the same place when they stop.
Free Spins
A free spins feature sounds simple enough, but this feature actually has two more bonus features buried within. Three, four, or five scatter symbols landing on the reels will award 8, 10, or 12 free spins respectively.
While free spins are active, payouts are altered so that you can win both ways. This means that winning combinations count if they go from left to right, as usual, but also going from right to left.
There is also a level system activated. When free spins start there will be a sticky wild symbol placed in the centre of the reels. During spins there is a "level up" symbols that will move you up one level each time it lands. With each level, one more sticky wild symbol is added to the reels. If you happen to get a level-up symbol on your last spin, the extra wild symbol will appear on the reels plus you'll be given one extra free spin.