The One Armed Bandit slot from Yggdrasil is a wild west themed slot that doesn't look like much at first, but really delivers some great gameplay. We've become somewhat accustomed to intricate graphics and animations as well as complex game mechanics from Yggdrasil, but this time the Norse design crew decided to go in a bit of a different direction. It might not be as visually over the top as some of their other slots, but it is still, by all means, the high quality and thoroughly exciting gaming experience that we've come to expect from this top online slot developer. Where to find it? Usually you can find Yggdrasil slot machines at most online casinos catering to UK players – and other European countries.
The One Armed Bandit is a five-reel, three-row slot that plays on 20 fixed pay lines. You are a wild west sheriff looking to put an end to the lawless career of the one armed bandit and his gang of outlaw cohorts.
Wagering & Payout
Along the way, you'll come across a collection of four high-paying and four low-paying symbols plus wild, scatter, and bonus symbols. High-pay symbols include your common cowboy gear such as guns, a whiskey flask and spurs. Low-pay symbols are made up of the four playing card suits. You can win as much as 80 times your bet for landing five of a kind of the sheriff's six-shooter.
There are plenty of bonus opportunities built into this slot and they're not all that hard to trigger, either, which adds a constant level of excitement and fun to it. Players should most certainly feel like they're getting their money's worth as they play.
Betting options are right to the point and easy to set up. All you'll need to do is select a coin value from £.005 up to £2.00. That will allow you to place an overall bet anywhere from £.10 up to £40 per spin.
Top 5 Yggdrasil Gaming Casinos
Yes – Why To Play The One Armed Bandit Slot
Yggdrasil did a great job of putting together a game that is very easy to follow but still fun and exciting to play. Both new and veteran slot players should really enjoy this slot machine.
Bonus features on this slot seem to trigger fairly frequently, which keeps the action moving nicely. There is always something extra waiting just a few spins away.
This slot has both a high return to player (RTP) rate and a low minimum bet, which makes it very accessible to those with a smaller bankroll or conservative gambling style. The RTP rate on this slot is 96.3%.
No – Why Not Play?
Although we believe this slot is as good as any Yggdrasil release, it is noticeably different from their recent high-intensity releases with more extensive storylines and complex play factors. If that is what you're looking for, you might find this slot a little bit on the dull side.
For those who really like big risks and big rewards to get their adrenaline pumping, the relatively low maximum bet of £40 per spin might not be enough. Find the best highroller online casinos to start big!
Although the bonus action on this slot can be lucrative, there is nothing interactive at all once you press the spin button. The theme just feels like there should be some sort of interactive bonus round to really make this slot everything it could be.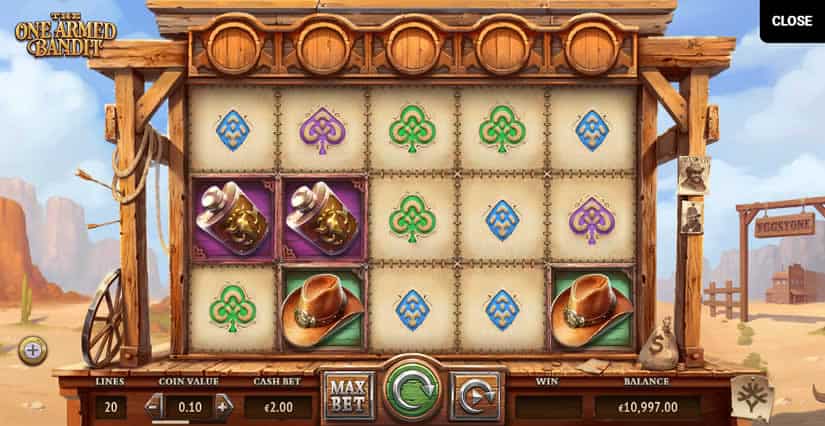 The One Armed Bandit Slot Bonus Features
The bonus features on One Armed Bandit don't get too complicated, but they can certainly stack up to create some colossal payouts when you get lucky. It all starts with the scatter symbol.
Scatters And Wilds
Initially, the only bonus symbols appearing on the reels will be scatter symbols. Whenever a scatter symbol stops on the reels, two things will happen. First, you will be given one free respin for each scatter that stops. Then, during respins, those scatter symbols will change to wild symbols with a 5x win multiplier.
If another scatter symbol lands during a respin, then an additional respin will be awarded. The respins will continue until no more new scatter symbols stop on the reels.
Free Spins
During the respin feature, a sheriff's star will be placed above each reel where a scatter symbol has landed. If you get a star above all five reels you'll be awarded ten free spins. If you happen to land more than five scatter symbols before the free spins start, you'll also get one extra free spin for each one over ten.
During the free spins, there is a base multiplier of 5x on all wins that can be increased as high as 20x. There are also wild symbols on the reels with an additional 5x multiplier.
Now, instead of scatter symbols, there will be bonus symbols on the reels. Each time one of them lands, one additional free spin will be added and you'll get closer to maximizing the win multiplier. Landing two bonus symbols will push the multiplier up to 10x. Two more bonus symbols will take it up to 20x. It is possible to combine a 5x wild multiplier with the maximum 20x win multiplier to achieve a full 100x extra payout for mind blowing wins.