NYX Interactive brings us the PolterHeist slot. The theme on this one is a somewhat odd mix of ghosts and wild west bandits. The design is more of a friendly ghost cartoon concept as opposed to a horror film sort of spectre. Full of glowing, translucent symbols, this slot aims to be entertaining and fun on a few different levels.
PolterHeist is a five-reel, four-row slot with a whopping (fixed) 100 pay lines. The high paying symbols on the reels are made up of five colourful ghosts, each with their own unique wild west cowboy style, with the highest paying 500 times your line bet — or ten times your total bet — for five of a kind. Lower paying symbols are the five playing card values from ten through ace.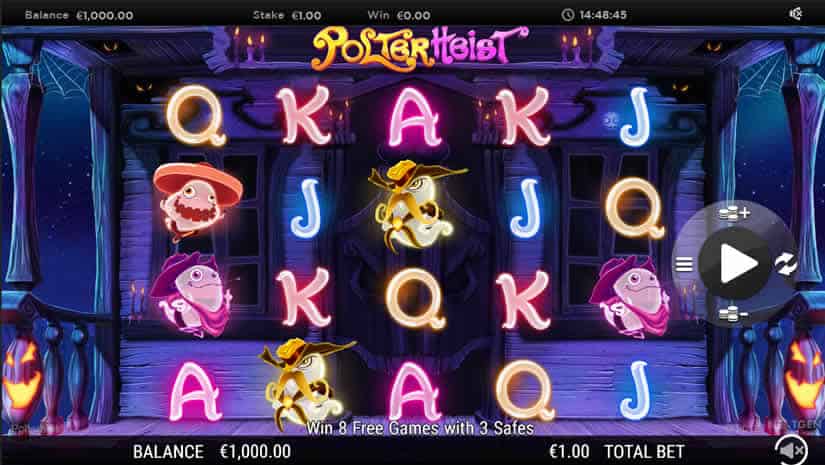 Betting System + Wager Info
The betting system is fairly straightforward, but the payouts can be a little confusing at first because of the way everything is set up. What doesn't quite make sense is that 50 coins play all of the 100 bet lines. If you don't read through all of the game rules and are unaware of this, the bets and payouts don't seem to match up correctly for a game with 100 lines.
The bottom line is that your overall bet is calculated as the coin value multiplied by 50 and your win on any of the 100 lines is multiplied by the coin value. So it's sort of like you're getting 50 lines for free.
Making your wager is as easy as it could get. You can either pull up the game settings and choose how much you want to bet from the menu or use the buttons above and below the spin button to raise or lower your bet in steps. The minimum overall wager is £.50 and the maximum is £50.00.
The best of all is that you can find Nyx Gaming slots at many gambling sites around the world, including online casinos in Australia and the best UK online casinos.
Recommended NYX Casinos to Play At
Yes – Why To Play The PolterHeist Slot
The theme on PolterHeist is light and fun. The characters are reminiscent of the Casper The Friendly Ghost cartoons. The overall design is bright and colourful without being overwhelming.
For those with slower devices, it is possible to adjust the graphics quality of the game to get better performance or save battery, etc.
Except for what we mentioned about the bet lines above, everything on this slot is very straightforward. Novice slot players will have no problem understanding how everything works.
There is a 96.2% return to player rate on this slot, which delivers good value to players for the money they are wagering.
No – Why Not Play?
For veteran players, PolterHeist might just be too simple to remain entertaining for long. There isn't a whole lot going on and other than hitting the spin button, there is no interactivity.
Payouts on this slot are seemingly purposely misleading and look high when you first glance at the payout table. When you do the math, though, they really aren't so good. For example, seeing the number 500 on the top symbol payout looks impressive. When you take into account, however, the fact that your overall bet is divided into 50 coins and you're only getting paid back on one coin, you're really only getting ten times your overall bet back, which is not so unusual or impressive.
PolterHeist Slot Bonus Features
There are a few bonus features in the game, although, unfortunately, none are very exciting.
As with most slots, there are free spins awarded for landing three scatter symbols. You'll get eight initial spins and then if you land more scatter symbols during those spins you can win one, five, or eight more.
There are also two random features that can trigger on any spin. In one case, a ghost will appear and add extra wild symbols to the reels as they stop. In the other, one of the ghosts will appear and add stacked symbols to the reels as well as turning all of the other ghosts on the reels into himself, creating much higher chances of landing a win.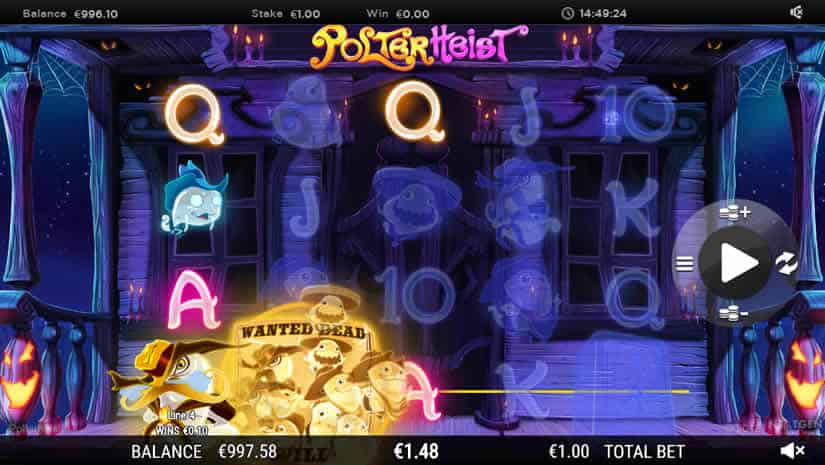 Additional Info
As it seems, Polsterheist is a beautiful slot machine with a decent payout rate but without many bonuses or interactivity. If you like this ghostly theme, you may want to check these online slots too:
Please remember that USA online casinos are not powered by NYX or other providers well known to Europeans. For more information about slots and softwares available in your country, you can visit Rival, RTG or Betsoft.
Cheers!