The PopRocks slot from Yggdrasil is the first in what will surely be a highly successful series of online video slot machines to use the company's new PopWins game mechanics. With a gorgeous theme and unusual new ways to win that can result in big multipliers and outstanding payouts, Yggdrasil has released a game that will undoubtedly spawn many lookalikes in the near future—and we think that's going to be a very good thing!
PopRocks starts out looking like a standard five-reel, three-row slot. After just a few spins, however, you're going to see that it's something quite different. Rather than standard pay lines, PopRocks uses the "ways to win" payout system. To get things started, instead of giving you 243 ways to win, which would be the standard for a five by three slot, this one will pay you for combinations starting from right to left as well as left to right. So, you end up with 486 ways to win.
The "rocks" mentioned in the name are sparkling jewels. As you make your spins, you'll see 13 different symbols plus an elusive, but very valuable, wild symbol. There are nine rocks on the reels with one of super high value, four of high value, and four of medium value. After that, you have five low-value symbols that are made up of jewelled versions of the playing card values ten through ace.
PopWins Feature – Yggdrasil
What really makes the PopRocks slot something special is the new PopWins feature. It's sort of a new twist on the cascading symbols concept that has become rather popular. With the PopWins system, however, you don't just get new symbols added to the reels after each win, you get more symbols added. To be more precise, for each winning symbol that pops off the reels, two new symbols will be added in its place. When a new win is created, the process repeats and then continues until no new winning matches occur.
Making things even more interesting, as winning symbols pop and new symbols are added, the number of ways to win goes up and there is a win multiplier that increases for every seven symbols that pop. Each reel will expand independently according to wins and replacement symbols.
Each reel can reach a maximum of seven rows and it's possible to get up to 33,614 ways to win. When all rows are fully expanded, winning combinations will result in wild symbols being added and the multiplier will increase by two steps at a time. If everything goes right, it's possible to win up to 72,188 times your bet!
PopRocks Slot: Wagering & Payout
Setting bets on PopRocks is not going to be any trouble. Each bet counts as 25 coins and the single coin value is used to determine your win amounts. The overall bet is set by simply selecting from one of the preset amounts built into the game. You can play for as little as £.10 per spin and the maximum is £10.00.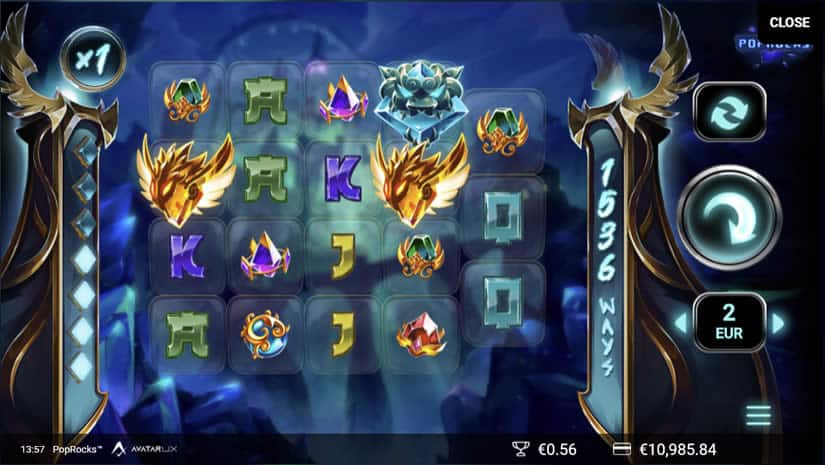 Top Rated Yggdrasil Gaming Casinos
Yes – Why To Play The PopRocks Slot
We probably don't have to say that this slot is worth checking out just because it's the first of its kind. If you've been looking for something completely new, we can guarantee that you haven't seen one like this before. Some players will undoubtedly fall in love with the new PopWins game mechanic.
PopRocks has an excellent visual appeal. Everything is well rendered and three dimensional. The dark colours of the theme also make it very easy on the eyes if you're going to be playing for more than just a few minutes.
The RTP rate (return to player rate) on this slot is high and gives players very good value for the money they spend playing. The listed return to player (RTP) for PopRocks is 96.4%.
No – Why Not Play?
PopRocks is rated at 237 on Yggdrasil's scale of volatility. That is quite high. Players should expect to see streaks with no wins or very small wins followed by bursts of big action and generous payouts. More conservative gamblers might find this type of play somewhat unnerving.
The maximum bet of just £10 per spin is most definitely not going to do a lot for high rollers who like to have a bit more invested in the game when they sit down to gamble.
Some symbols — the highest paying symbols — are not available on the reels during normal spins and can only appear as replacement symbols during the PopWins feature. This means you'll have to hit several matches during PopWins in order to get any of the larger prizes, which can get a bit frustrating.
PopRocks Slot Bonus Features
As fun as this game is, the only real bonus feature is the incorporation of the PopWins game mechanics. Wild symbols don't appear during regular spins and there are no free spins. Here's a breakdown of how it all works.
PopWins Feature
The PopWins feature is triggered every time you make a winning spin. When you win, all winning symbols will pop and be removed from the reels. For each one that pops, two new symbols will appear, adding a new row to the reel(s) in the process. If another winning combination is created, the process will repeat. The PopWins feature continues to repeat until no more winning combinations appear.
There is also a counter on the left side of the reels with a multiplier value on top. Each symbol that pops off the reels will add one to the counter. When the counter reaches seven, the multiplier value will go up by one and the count will start over.
All reels can expand up to a maximum of seven rows. When all five reels have expanded to seven rows, wild symbols will unlock and begin to appear if winning combinations continue. At this point, popped symbols will only spawn one new symbol and the multiplier value will jump by increments of two instead of one.