The Spinfinity Man slot is a wild new slot release from Betsoft with loads of ways to win and plenty of super crime-fighting action. Following in the footsteps of classic, slightly goofy superheroes, Spinfinity Man will use his superpowers as he chases Mr X through the city. The closer he gets to Mr X, the closer you get to big bonus features and potent payouts.
This larger than life slot plays out on a seven-reel, seven-row grid where wins pay out based on clusters of symbols ranging from 4 to 49 symbols. There are 11 different symbols on the reels. Spinfinity Man and Mr X both appear. There is one high-value symbol and three mid-value symbols which are all different types of crystals, and four low-value symbols which are playing card values jack through ace. A winning combination is any cluster of four or more symbols adjacent to each other horizontally or vertically.
There is a very wide range of possible payouts on regular spins as you might imagine with the possibility of matching up to 49 symbols. The smallest possible payout you'll see is 80% of your overall bet. The highest possible win for a regular payout is a whopping 5000 times your bet. When you throw in bonus features, there are chances to have some very happy times with Spinfinity Man.
Betting on Spinfinity Man is a simple affair. With the cluster pays system, there are no pay lines to account for. All bet amounts are fixed and preset. Just pick from any of the 11 choices between £.10 and £10 per spin and you're ready to get in on the crime-fighting action.
Try Spinfinity Man Slot These Casinos
Yes – Why To Play The Spinfinity Man Slot
There is plenty of action in this game to hold the attention of just about anyone. With so many symbols and the various bonus features, there's no time to space out and get bored.
The design and graphics on this slot are extremely well done. Everything is three-dimensional and the characters look like they could have easily come out of the latest 3D superhero movie.
Spinfinity Man slot has the popular double-up feature available after any winning spin. If you like that extra bit of gamble in your game, you can try to double your winnings on the flip of a coin.
You can find this slot at most UK online casinos. Try to aim for those gambling sites offering mutiple casino softwares, so you will have other tittles to choose from.
No – Why Not Play?
Rather than triggering free spins by landing scatter symbols as most games do, the trigger here is a function of collecting Mr X symbols. Ten symbols are needed to hit the free spins feature and they seem to land very infrequently. This can result in some very long waits to see the bonus feature.
The single high-value symbol doesn't seem to come up very often and the wild symbol comes up even less. This makes for a lot of low-value wins which make this a high volatility game that can get a bit frustrating if you're not patient.
It's plain to see that a lot of design work went into creating the background and the Spinfinity Man character, but the symbols on the reels somehow didn't get the same treatment. This slow definitely could have done with a bit more imagination behind the very simple symbols.
No return to player rate (RTP) has been published.
Spinfinity Man Slot Bonus Features
There are several different bonus features built into Spinfinity Man that will help push your winnings up a few notches. Mr X and Spinfinity Man both bring their own special powers to the table but you'll be the benefactor as they battle it out fo control of the city.
Cascading Symbols
The most basic bonus feature on this slot is the cascading symbols function. After any winning spin, the winning symbols will be removed from the playfield and new symbols will fall in from the top. The sequence will repeat as long as new wins are created.
The Fan Girl
Spinfinity Man's biggest fan is always following and watching. She loves to see him work. If you rack up five or more cascades on one spin she'll make her presence known and blow a random number of additional symbols off the board to boost your winnings.
Free Spins
Free spins are triggered by collecting Mr X symbols. To the right of the reels, you'll see a "villain trail". Each time a Mr X symbol lands, the trail will advance by one. When it reaches ten, the free spins feature will begin.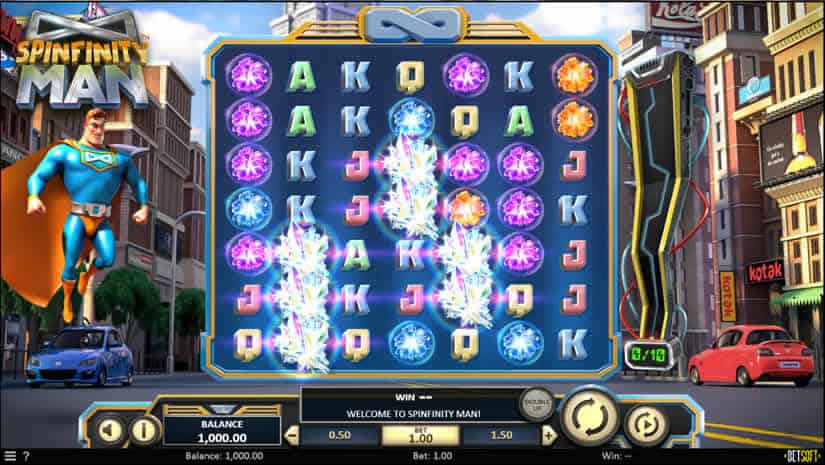 Spinfinity Man Powers
Spinfinity Man has three different powers that can trigger at any time during regular spins. When his special 2×2 symbol lands on the reels, one of the following three superpowers will take effect.
Laser Eye Beam – A single laser eye beam will destroy either two rows or two columns of symbols. If it's a double laser eye beam it will destroy two rows and two columns. Both cause a cascade of symbols as well.
Icy Blast – A single icy blast will shatter a small cluster of symbols. If a double icy blast triggers, a larger cluster of symbols will be shattered. Again, both functions will also cause a symbol cascade.
Telepathy – Spinfinity Man will use his mental powers to remove one symbol completely from the playfield. A symbol cascade will follow.
Mr X Powers
During the free spins feature, Spinfinity Man symbols are replaced by Mr X symbols. Mr X has his own set of powers that will crank your winnings up a bit higher each time his symbol lands. You'll get an additional free spin, too.
Laser Arm Cannon – Burns away two rows or two columns.
Super Arm Cannon – Burns away two columns and two rows.
Destruction Bomb – Blows up a small cluster of symbols.
Devastation Bomb – Blows up a large cluster of symbols.
The X-Ray – Zaps all symbols of a single type completely off the reels.