The Take The Bank slot from Betsoft combines a fun and highly detailed theme with a unique take on some classic bonus features to create a game that sure to become a favourite among slot machine enthusiasts. As a robber with a taste for explosive entry methods tries to evade the police, it's you that's going to get away with all of the loot.
Take The Bank is a five-reel, four-row slot featuring an incredible 75 fixed pay lines. The game features one high-value symbol, five mid-value symbols, and six low-value symbols plus a scatter symbol and uniquely implemented wild symbols. We'll get into more about the wild symbols and how they work a bit further down.
The top-paying symbol is a big and brilliant diamond. The mid-level symbols are made up of other treasure you might find in a bank vault along with some of our bank robber's tools. Low-value symbols are the playing card values nine through ace. The top possible payout on this slot is 225 times your bet.
Setting up your wager on Take The Bank is a piece of cake and really couldn't be any easier. There are 11 preset bet amounts to pick from. Simply choose the amount that's right for you and you're ready to rock the reels. You can spin for as little as £.20 or put down as much as £20.
Play Take the Bank Slot at Betsoft Casinos
Yes – Why To Play The Take The Bank Slot
Betsoft created quite an interesting game by adding a unique twist to the way they've implemented wild symbols. It's worth playing to see how this works and how it compares to other more traditional video slots.
Take The Bank has a great combination of action, simplicity, and a low betting structure. For new players or those who prefer to be more conservative in their gambling style, it's a very accessible game.
The return to player (RTP) rate on this slot is solid at 96.08%. Players will get good value for the money they put down to play.
Betsoft games can be found at most casino sites catering to players around the world. Call it U.K online casinos, U.S casinos or Aussie casino brands, you will find them. They are very popular in the igaming space.
No – Why Not Play?
This slot is definitely easy to understand and play for new players, but it may become a bit too simplistic and predictable for veteran players that are looking for a bit more flash and diversion.
The fairly low maximum wager of £20 is probably not going to be enough to get the adrenaline pumping for those that like to play higher limit games.
Even though there are a lot of pay lines, there are also a lot of symbols which makes it a bit more difficult to hit high-paying winning combinations. It can take quite a few spins before you see any significant wins. Be ready for that.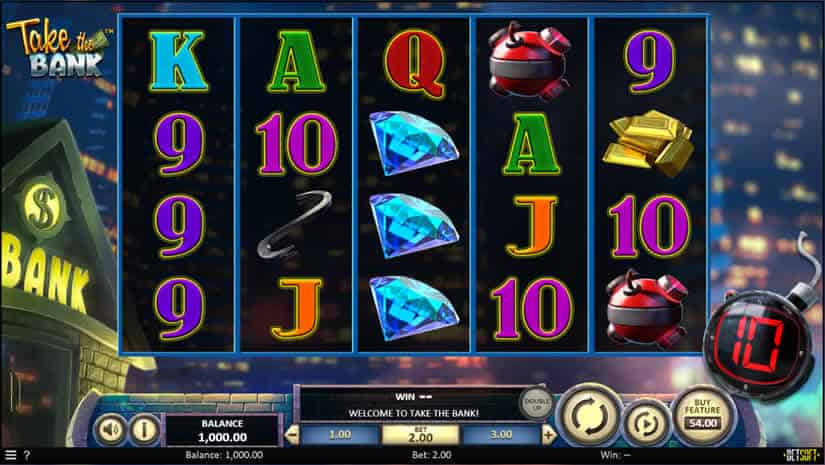 Take The Bank Slot Bonus Features
There are only a few bonus features built into this slot, but they have the potential to make some monumental matches when the conditions are right. Here's how they work.
Wild Symbols & Bombs
Betsoft uses the term "Progression Game" to describe how they've implemented the wild symbol features into Take The Bank. Everything is based on rounds of ten spins.
The game will start with a master bomb counter on the bottom right of the screen which starts at 10. With each spin, the counter will decrease by one. During spins, whenever the bank robber lands anywhere on the reels he will leave behind a bomb that sticks in place over the reels. When the master counter reaches zero, all of the bombs on the reels will explode and the symbols under them will become wild.
You could end up with just a few wild symbols or they could be covering most of the available symbols. There is always the potential for some very large payoffs. It's also nice to know that you are definitely going to get a bonus feature every ten spins without waiting for something to trigger.
Free Spins Feature
The free spins feature will trigger when three police cars land anywhere on the reels. When this happens you'll be awarded 15 free spins.
Free spins don't advance the bomb counter, but they will be played with plenty of wild symbols. When the feature is triggered you will see five, seven, or ten wild symbols placed randomly on the reels. The symbols will stay for the duration of your free spins. They will shuffle around and be placed in new positions with each spin.
The Double-Up Feature
Like many Betsoft slots, Take The Bank incorporates a double-up feature that will let you gamble your prize after any regular win. If you choose to do so, you can wager either all or half of your win and try to predict whether a spinning coin will land on heads or tails. If you're correct, you'll win back double your wager. You can continue to gamble as many times as you like—or until you lose the winnings you've been betting with.
Buy Free Spins Feature
You can also buy into the free spins feature directly, although most gambling experts would recommend that you stay away from this type of very bad bet. When you buy into the feature you'll be given 15 free spins.
The cost to play free spins with five wild symbols is 27 times the current bet. You can also play with seven wild symbols for 50 times the current bet and ten wild symbols for 95 times the current bet.