The Troll Hunters 2 slot from Play'n Go is an exciting nordic adventure full of wild symbols and prize multipliers that is sure to have you sitting on the edge of your ice-chilled seat as three mighty Vikings make their way through the snow in search of a giant troll rumored to be guarding a trove of riches that would make any man risk his life through the harsh cold weather to find it.
The theme of the game is extremely well done with a cartoonish style, but a powerful look is given to the three troll-hunting champions of this video slot. They will stand sternly by your side as the reels spin, the symbols fall, and your winnings pile up.
Wagering & Payout
The slot is a five by five reel setup with ten different symbols plus three extra wild symbols that will add multipliers on top of the multiplier counters that can go off just as you're making your regular spins. You'll hit a win for matching any three of the same symbol in a row either up or down anywhere on the board.
The game also uses an avalanche type function, where winning symbols are removed from the board and the remaining symbols above will fall to fill in the spaces. No new symbols will be added on top, however. The empty spaces remain empty. You can, however, continue to rack up wins and the feature will repeat a few times. You'll also get bonuses for clearing off specific portions of the playfield with a special bonus of £1,000 for clearing the entire grid. That's not all though, you can win up to 5,000 times your bet on a single spin.
You can get in on all the action for as little as £.20 per spin or go up as high as £100.
Play the Troll Hunters 2 slot at Play'N Go Casinos
Yes – Why To Play The Troll Hunters 2 Slot
The theme and design of the game are extremely well done. The graphics and sound are great and there's a lot more going on than just watching the symbols come down on the reels.
Many symbols will turn into wild symbols during the avalanche feature which makes it a lot more likely that you'll hit more wins, and in turn have chances at even more.
The troll hunters that help you along in your quest will change from time to time, and each brings their own special way of helping when they show up next to the reels.
No – Why Not Play?
This game is rated at "VERY HIGH" volatility by Play'n Go. That means you may have to sit through some periods of very few wins before hitting anything worthwhile. This could prove exciting for some, but if you haven't got the stomach for it, you may start to feel like all you're doing is watching your bankroll dwindle.
Clearing the sections of the board necessary to trigger the free spins feature can be difficult. This can become frustrating when you come within one or two blocks of triggering it a few times and then end up having to wait quite a while for the feature to hit.
The RTP (return to player) rate of this game is 96.50%, which is a great RTP rate as far as any game goes. It's important to remember, though, that some Play'nGo games can have their RTP rate adjusted by the casino. So, wherever you decide to play, make sure to check the individual game so that you know what you're dealing with.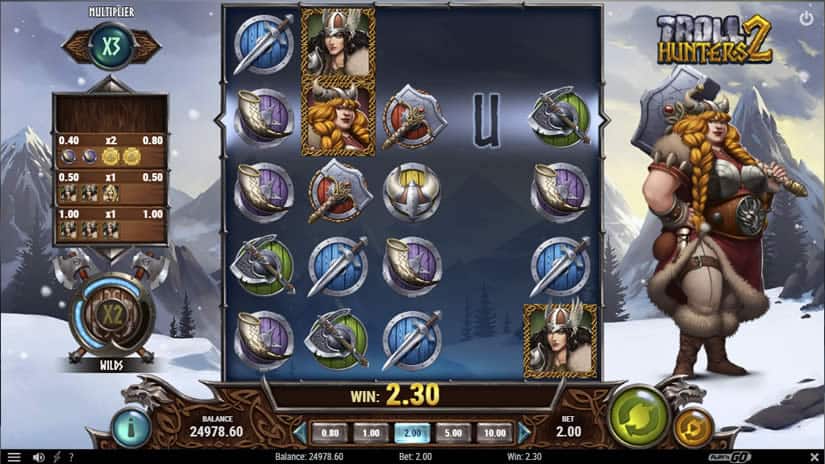 Troll Hunters 2 Slot Bonus Features
There are plenty of good bonus features built into this slot that can help boost any win by several times on any spin. You're sure to see quite a few of them in action within just your first few spins. Here's how everything works.
Multiplier Wilds Feature
You'll see a shield with two axes on the bottom left of the screen that keeps track of the multiplier wilds feature. It contains three sections that fill when you make matches with any of the Troll Hunter symbols. Three will fill one section, four will fill two sections and five will fill all three.
When all three sections are filled, one or two multiplier wilds will be added to the reels. Multiplier wilds can multiply your win by either two or three times.
Free Spins Feature
As you play you'll see the word "BONUS" behind the symbols on the reels. The word will move to a new row with each spin. If you manage to clear the entire word, you'll be given your choice of three different free spins modes. In order to trigger free spins, the "bonus" word must remain completely uncovered. That is, it does not count if you uncover it and then falling symbols cover any part of it again.
Free spins are where you'll finally find the troll. You can choose from one of three modes with nine, seven, or five free spins. During the free spins, it will be the troll who stands beside the reels and deals out his influence. He will throw out two by two troll symbols that then become wild. When you pick nine spins, his symbols become regular wilds. When you choose seven spins, his wilds will add a two times multiplier. Finally, if you choose five spins, his wild symbols will multiply wins by three.
Win Spin Feature
During free spins, there is also a chance you'll hit the troll's win spin feature. In this case, a two by two 3x multiplier troll symbol can appear. There is a five-part multiplier charger that will retrigger the feature without resetting the multiplier if you manage to fill it!