Best global online casino 2016
Winner: Rizk
Where to place Casino Rizk was a really tough call. Newcomer of the year section or casino of the year section? In the end after a lot of deliberation we have awarded them the casino of the year award in the casino of the year awards. With an excellent loyalty program (the wheel of Rizk), excellent customer service and innovative little features like the Withdrawal Lock, Rizk have shown they are ready to battle it out with the big boys. Coming from the same team that brought us GUTS but completely brought up to date with all the 2016 trimmings, this is definitely the stand out casino. Not bad for a (sort of) newcomer! If things keep going the way they are going they are the casino to beat again next year!
Runner Up: Leo Vegas
Leo Vegas continue to be trend setters in the industry and 2016 was yet another remarkable year for them. With the introduction of their sports book they made one small step but it was their being first to bring the world authentic gaming that was their one giant leap. Authentic gaming if you didn't know is live dealer casinos at real populated land casinos. So rather than playing against an empty room you are in fact playing and seeing the real players on the casino floor. Aside from all of this, Leo Vegas continue to improve and add to their slots collection and are one of the very biggest in the industry!
Honourable Mention: InstaCasino
InstaCasino offers a very simple and intuitive interface along with a wide selection of online casino games. Top notch customer service and reliability which is what you would expect given the stable they are owned by. Sometimes no frills is best if done properly and InstaCasino have absolutely nailed this one on the head. It might not be everyone's cup of tea but it has a huge following and fully deserves our runner up spot in this years casino of the year awards. Editors note, InstaCasino have suffered a dramatic fall from grace in 2017 and whilst not rogue, we certainly no longer hold them in such high regard.
Best USA facing online casino 2016
Winner: Ignition
Ignition appears to be the new flagship site from the team behind the powerhouses Bodog and Bovada. In fact Ignition is taking over the entire poker section. With a beautiful interface and a good selection of slots, we are hoping for big things over the coming years from Ignition.
Runner Up: Winaday
Last years runner up maintains their position this year. They still have the best wagering requirements on the planet, however we'd like the casino chain behind them to start being a bit more ambitious and take a chance on integrating some new software to enhance the offering. Do that and they could finally claim top spot!
Honourable mention: Vegas Crest Casino
Vegas Crest are ready to completely take over the USA slots market. Having started life with Rival games on top of their parents Vista games, they swiftly added Betsoft to their ranks. Having subsequently added Saucify slots to their portfolio they have now added the excellent Habanero slots to their ever expanding collection. I've played Habanero at a couple of other non USA friendly casinos and didn't realise they were US facing till Vegas Crest released them. Aside from a good reputation within the industry, This collection of slot software makes VC completely unique and a worthwhile destination for US and non US players alike.
Best casino newcomer 2016
Winner: Rizk
Rizk we have already won the casino of the year award so were not going to allow them to enter the newcomer of the year award. But in the end we decided they were worthy of two positions in this years awards. That's how good Casino Rizk is!
Runner up: Shadow Bet
Casino Shadow Bet arrived with gamification, a trusted and honest platform, a good selection of games, a beautiful website and interface and they came with a welcome bonus featuring a deposit match and 10 free spins every week for a year! What more do you want?
Honourable mention: Tipbet
Our honourable mention award for newcomer of the year was really tough to pick. But we have decided to go with Tipbet, not necessarily for their casino but actually for their eSports betting. They are streets ahead of anyone else when it comes to seeing the potential of eSports betting and we really feel this kind of foresight should be admired and rewarded!
Best new online slot 2016
Winner: The Rift (Thunderkick)

Thunderkick are THE innovators in the online slot machine sector coming out with some truly unique slot games. But it was the release of a more standard slot that really grabbed our attention this year. The Rift is perhaps the single best looking slot we've seen with amazing graphics and animations. Really well and truly HD quality! But it is not just the graphics but the game play that makes this slot a real winner. We prefer slots where you actually have the chance of coming out on top and the potential in the free spins round with it's unique extra wilds and sticky wilds means you should never go home empty handed from the free spins round and quite often you will land over 100 times stake which is the benchmark for a good paying slot. We've had free spins wins in the 200-400 times stake range and there's definitely potential for far more. The final little twist this slot offers is in the mini Rift Spin for landing two scatters. A really well thought out touch that just proves these guys know what the players want.
Runner up: Paranormal Activity (iSoftbet)

At last! A slot that is very much "adult" in game play. We have been banging on about there being too many cutesy slots on the market and virtually none that are really aimed at adults. So few genuinely scary slots but iSoftbet have really nailed it with their Paranormal Activity slot. From the brilliant graphics to the creepy overall mood, the sounds and the very interesting features. But all this would be in vain if the game didn't pay out and here once again iSoftbet seem to have found the right balance with a lot of bonus rounds coming in above the magic 100 times stake mark. Top marks!
Honourable mention: Wild Toro (Elk Studios)

Wild Toro has only just been released by Elk Studios as I write this but it is already a firm favourite. This is a slot with a unique respins system and "free spins" trigger using the matador and the bull (or the Toro from the title). You need to play it for yourself really to see the fun. Best of all though, when the slot is hot it throws up quite a few good wins over the course of a session. In fact in my first 100 spins on this slot I landed a 190 times stake win and 3 wins in the 50+ range. Of course there are good long barren streaks but overall this is a slot that pays its fair RTP and is a heck of a lot of fun and that's what counts!
Best online slot developer 2016
Winner: Thunderkick
The Thunderkick team spent 2015 away from developing new slots in order to focus on converting all their existing slots to the mobile and desktop platform of the future. But having seen what they have come out with this year it seems they also spent a lot of time plotting, planning, designing and preparing as well.
Thunderkick are the most original of slot providers and their return this year has been something else entirely. Frog Grog is probably their least original release of the year but it is title's like Babushkas, Zoom and Spektra that make this team stand out from the crowd. Throw the ice cream sequel Sunset Delight into the mix and top the year off with the online slot of the year The Rift and you have a company who know how to innovate, develop and program! Geniuses.
Runner Up: Playtech

Who would have thought it this time last year, that Playtech would be winning awards in 2016. Credit where credit is due though, they faced an uphill battle to restore pride and their reputation and have come back all guns blazing. More on them later on on this page!
Honourable Mention: iSoftbet

This was one of the hardest awards to choose from this year with Genesis Gaming and Yggdrasil Gaming showing great care, attention to detail and innovation in their brand new slots in 2016, but our honourable mention has to go to iSoftbet. They started the year with the Mario Brothers inspired Mega Boy slot. During the course of the year they added other great new slots including the unique Cloud Tales, the epic Skulls of Legend but the slot that sealed the deal was the recent release of Paranormal Activity which we have mentioned already.
Mobile casino of the year 2016
Winner: Red Queen Casino
Red Queen are incredibly focussed on their mobile casino platform. So much so that they never release a new slot onto their desktop casino if it is not mobile ready! This is the only online casino we know of where the mobile and desktop variations are identical in their offerings. It is this kind of attention to detail that we love about RQ.
Live dealer casino of the year 2016
Winner: Codeta Casino
This award is a complete no brainer as Codeta was set up specifically to be the best live casino in the world rather than a normal online casino with a live add-on. With 2 live dealer casinos expanding to 3 with the addition of Authentic Gaming, this is the biggest and the best by far.
But not only that, their welcome bonus of 10% cashback on all losses or 10% extra winnings is awesome. During testing one of our team won €1,350 profit and received €135 extra on day 8. With that extra money he made another 6k profit and received another €600 on top the following week. Incredible stuff.
Fair play award 2016
Winner: No Bonus Casino
This is a hard award to pick as there are some very very good operators out there. But we are going to give the Fair Play Award to No Bonus Casino as they really don't mess around. No Bullshit is their motto and that's exactly what you can expect. Simple, fair, no bull crappy bloody bonus terms.
Phoenix from the flames award 2016
Playtech are the only possible winners of this award this year. Having earned themselves our 2015 "Must do better" award, Playtech have absolutely stormed it this year. Aside from their acquisition of Quickspin which was a very smart business move, Playtech have signed major deals with the likes of Warner Brothers and DC Comics.
But most notable has been their relentless release of quality slots. Not only have they improved their Marvel series of slots with the Age of the Gods replacements, they have been releasing innovative and impressive slots like The Flintstones, Space Invaders, Ace Ventura, Buffalo Blitz, Jekyll and Hyde, Neon Life and the two Batman slots to name but a few.
Online casino hall of shame 2016
All AffPower Related Casinos:

Atlantic Casino Club
Casino Blu
Casino Bordeaux
Cosmik Casino
Crazy Casino Club
Deuce Club
Euro Moon Casino
Magik Casino
Ocean Bets
Osiris Casino
Park Lane Casino
Ramses Gold
Slots 500
Jo Reels
And many more…
These casinos were already on our blacklist in 2015 for their bad (dodgy) practices and but things got much worse for them in 2016 when it was discovered that they had been using illegally stolen and tampered with online slots from providers like Playtech, NetEnt, etc. Criminal activity like this deserves to be highlighted and they are worthy losers of our hall of shame 2016.
Must do better in 2017
Slot developer:

This award could have easily gone to Microgaming who have spent yet another year releasing uninspired clones of their own slots but worse still their big release was Jungle Jim, a virtually identical clone of Gonzo's Quest. Very disappointing indeed. The only silver lining was the end of year release of Lost Vegas though even this hasn't really pulled up too many trees.
But the winner this year has to be NetEnt because we expected so much more from them. This year saw them heading into the clone space as well with some weak clones of their classic slots. NetEnt also mastered the art of marketing with a good number of massively hyped slots which failed to perform. Lazy on the innovation, boring game play, a few very poor slots graphically (by their standards) and a clear business path to simply try and cash in as much as possible. Worst of all though, NetEnt have been developing a new mathematics model which seems to have been very carefully planned and designed in order to get the players to lose as much money as possible.
Highlights from this year were Wild Wild West, Secrets of Atlantis and the bomber feature in Motorhead. I know a lot of players liked Guns n Roses but even that I feel had too many flaws. Low lights though came in abundance with the awful Jimi Hendrix slot, everything apart from the bomber feature in Motorhead, the pathetic Euro 2016 cash in Football Champions Cup, the dull as dishwater Drive Multiplier Mayhem, the badly thought out Theme Park and the bankroll swallowing Joker Pro.
Come on NetEnt, let's get back to winning ways and try and get some entertainment back into your slots. And for goodness sake start using focus groups to test your slots while they are in development.
Casino chain:
Oh how the mightly have fallen. Last years casino of the year Slotty Vegas and sister site BETAT promised so much going in to this year, radically improved bonus and loyalty schemes, huge number of new slot providers, etc. Alas we have seen virtually nothing happening this year and both casinos seem to be a little bit slower than their competitors when it comes to releasing new slots by existing providers.
Of course it is entirely possible that the reason for all of this is that they have spent the year planning and preparing so that they can release everything perfectly in one fell swoop. If this is the case then that's all fair enough. Fingers crossed!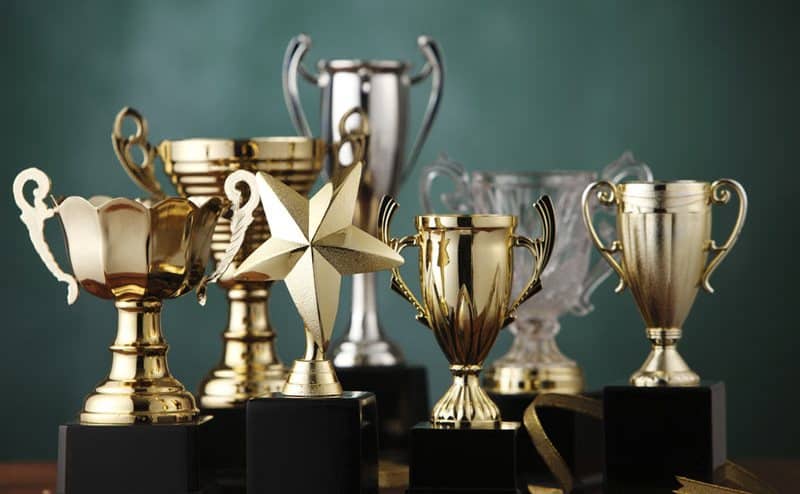 How did last year's winners fare? Slot and Casino of the year 2015
How did they fare in 2017? Slot and Casino of the Year 2017