| | |
| --- | --- |
| Online Slot Machine | White King |
| Slot Provider | Playtech Casino Software |
| Jackpot Slot | No |
| Reels | 5 |
| Win Lines | 40 |
| RTP | 90.05% |
Playtech White King Slot Review
Playtech recently released a much anticipated new slot "White King". This is a gorgeous looking slot and with it's 40 lines and stacked wilds we were expecting something along the lines of the high variance "Cat Queen" slot.
And indeed the feel of the slot is quite similar but there is one major difference between the two, the RTP for the Cat Queen slot is 93.60% while the RTP for the new White King slot is a disgraceful 90.05%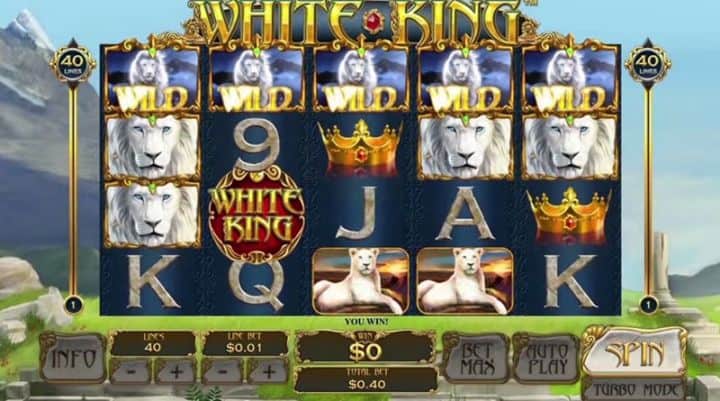 Daylight robbery
How on earth Playtech can look at themselves in the mirror after this release I do not know. We always look for the RTP before playing a slot but most people do not and by having a new high profile slot with such a ridiculously low RTP, lots of people are going to get burned very hard and very fast.
5 free spins
We think the issue with the low RTP is basically down to the bonus feature which in this instance is a paltry 5 free spins (albeit with extra stacked wilds). Had there been the usual 15 or even 10 free spins then we could be talking about a top quality new addition to the Playtech catalog but alas a slot with a 90% RTP is one that we will never play.
Our verdict
AVOID THIS SLOT
Below is a screenshot of a typical free spins win we had during practice mode: Under $150 from a $10 stake? Not good value for money! There is just no way of overcoming such a huge house edge, no matter how well you play and how lucky you get, not in the long run anyway.
Bai Shi UPDATE!
Playtech have sneaked a new version of this slot out to a handful of casinos. This version is called "Bai Shi" and has an RTP of 95.99%. This new version is totally worth it and how this slot should have been released in the first place!
| | |
| --- | --- |
| Online Slot Machine | Bai Shi |
| Slot Provider | Playtech Casino Software |
| Jackpot Slot | No |
| Reels | 5 |
| Win Lines | 40 |
| RTP | 95.99% |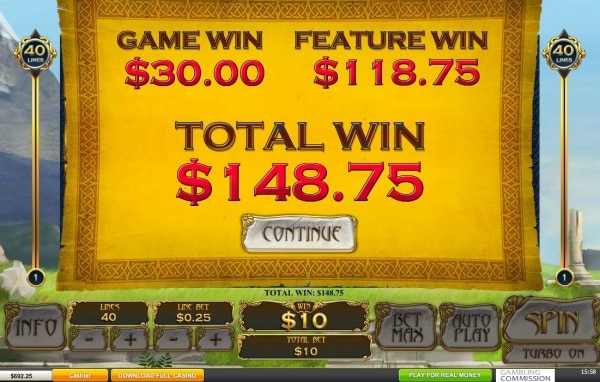 Practice it here: