Playtech look to have outdone themselves this time. With a brilliant slot based on Seth MacFarlane second most successful adult cartoon: American Dad. Two things stand out from this slot:
This slot is feature packed – and features which are a little twist on the norm
Playtech have clearly actually watched American Dad with the "Wheels and the Legman" feature standing out as the characters have only appeared in a small handful of episodes. Though it seems their popularity have made the Wheels and the Legman episodes a regular in each of the past few seasons.
This slot looks fun. And fun is what we really want to see otherwise why bother with online casinos at all?
Yes – Why to play American Dad Slot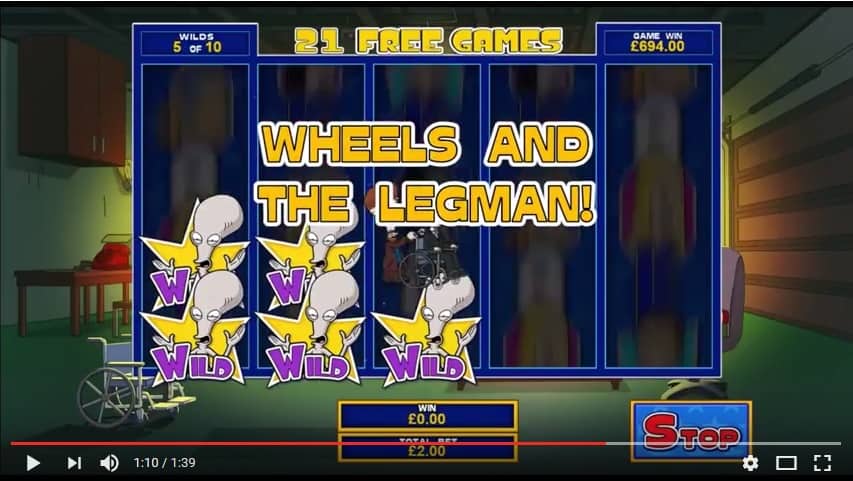 True to the original material. When basing a slot game on existing material, it is important to stay true to the movie or show in question.
Based on an ultra-popular cartoon. American Dad has been going on for over a dozen seasons now, and it's extremely popular with audiences all over the world.
The main feature consists of five different options. Instead of just giving away free spins, the American Dad main special feature includes bonuses tainted with added Wilds, win multipliers and stacked symbols, among other interesting items.
No – Why not to Play?
Most of the jokes and character references will probably be lost on players who are not hardcore fans of the show.
Could benefit from a higher RTP, as it stands at 94.14% by default.
Bonus Features
Schmooblydong Bonus Wheel
Named after a bizarre statement from Roger after a hallucinogenic meal, the Schmooblydong Bonus Wheel can award you a re-spin if you land two of them, one on reel 1 and another on reel 3. The third one, on reel 3, takes you directly into the Free Spins round, but before that, some things need to be determined:
Wheel on reel 1 – decides which character feature will be played in the main free spins bonus
Wheel on reel 3 – powers up each feature in a specific way
Wheel on reel 5 – determines the number of free spins awarded
Free Games
Each character offers a particular mix of features and win-boosting items which are added to the number of freebies.
Stacking Stan – stacks of the Stan symbol will be added to the reels, while the size of the stack will be determined by the wheel on reel 3
Hayley's Progressive Multiplier – an initial win multiplier is set by the wheel on reel 3 and during free spins Hayley will collect signatures, increasing the multiplier on each spin
Wheels & The Legman – Steve and Roger move across the reels on each free spin, leaving a trail of Wilds behind them. The number of extra Wilds is set by the bonus wheel on reel 3
Roger's Random Wilds – Roger vomits extra Wilds on each spin. The number of added Wilds is determined by the wheel on reel 3.
Francine's Holy Grail – the idea is to help Klaus reach Francine's Holy Grail. Francine needs to land on a position with a Klaus patch on it. She will then become an expanding symbol. The number of patches and their positions are set by the wheel on reel 3.
Our Verdict
For players not familiar with the series, the America Dad slot may be a bit too much. The graphics are basic and the special features are overwhelming. However, for all you fans of the comedy series out there, the Playtech slot is just the game you were looking for. IGT has released Family Guy, and NetEnt has South Park, so it's a real battle between giants out there, TV shows and software providers includes.
Where to play American Dad