You may or may not have heard of GameART. They are a rapidly growing company providing an entire online casino solution for the likes of Casino Ventura. They are really starting to grow more and more popular with their custom casino platforms, great range of games and quality interface. But not only that, they are also the provider of a good number of top class online slots like Tesla, Atlantis World, Wild Dolphin and of course Crystal Mystery.

So let's get down to business with our first GameART slot review: Crystal Mystery.
In Few Words
This is a 10 line video slot with a crystal skull wild + scatter symbol and 10 Free Spins to be won by landing 3 or more crystal skull symbols. Free Spins can be retriggered (and often does) during the bonus round. The bonus round plays like the classic Book of Ra where a random symbol is chosen which becomes an expanding scatter.

Base Game
Crystal Mystery slot base game itself can be a little tiresome, as with most slots with a low number of winning lines, the wins in base play are few and far between. So you can be sure this is a high variance slot. This is played out in the bonus round where you can look forward to some big and very big wins. Whilst writing this review I let the slot run for 500 autospins at a time at a nice round €1.00 stake. Within the first 20 spins I landed the feature which gave me the Q symbol as scatter, it retriggered twice and game a healthy €183 win (I was hoping for 5 Queens to land but had to settle for a few 4 x Q wins). Not a bad start right?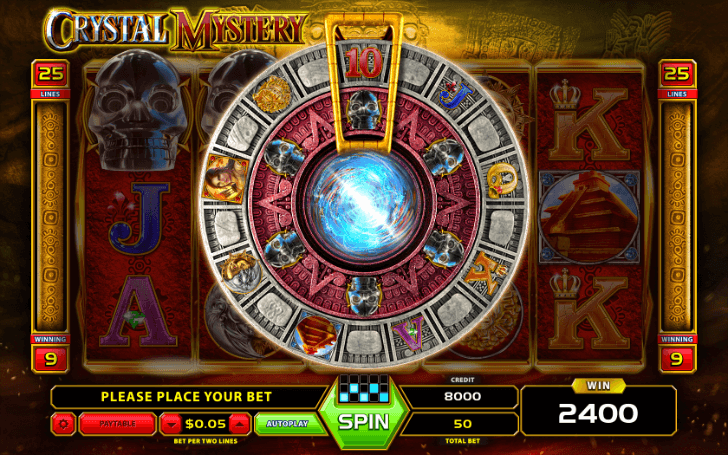 Well after that bright start the slot has just gone 500 spins without hitting the bonus round, in fact not hitting much at all. So from an early profit of €180 I am now actually €140 down as I set off on another 500 spins. I am just going to autospin now till the feature lands again so I can give another concrete example.
Overall this is a classy slot but one that definitely requires patience. If you enjoy high variance slots then this could well be one for you. It has a 96.00% RTP and bonus round wins can be anything from as little as 10x your stake right up into the hundreds and hundreds. If you are more of a lower variance kind of player then GameART has you covered as well but I'll be reviewing more of their slots at a later date.
Crystal Mystery slot Autoplay test
Autoplay test update: Well it took another 303 spins to land the feature. This time giving the big pyramid symbol as the scatter so lots of potential there. Alas no big win and no retrigger and a paltry 19.50 return this time. Oh well, you win some, you lose some! Obviously I wasn't going to go down without a fight though, and the next feature landed within 50 spins giving the 10 symbol as scatter and a nice 84.50 win to round this slot review off with!
Where to Play