Even though Lightning Box was launched in 2004, some still refer to them as a boutique slot developer. They are not. Before they started with their line of branded Lightning Box slots, these guys have been developing and designing games for the biggest companies in the industry, such as IGT, Aristocrat and others.
In fact, even if you haven't heard their name, most likely that you have played some of their slots. So it seems to be a good time for proper introduction.
Here you can find:
Main facts about the company
List of top Lightning Box casinos
Special slots and features
Ranking of all Lightning Box slot machines by RTP (returns)
In Few Words
Lightning Box is based in Sydney Australia and you can clearly see the influence of Aristocrat, Australian biggest slots developer, on LB games (Chilli Gold and Three Pandas slots are a good example). However, when it comes to design and sounds, Lightning Box slots are far more edgy.
In terms of popularity, we would say that Druidess Gold, Frogs 'n Flies, Dolphin Gold, More Monkeys and Lost Temple stand on top. However, you should pay attention to the RTP of the games before you play them for real money.
In general, Lightning Box online slots do pay well – their expected return varies between 95% to 97%. Check out Arabian Rose, with its 97.5% RTP is one of the loosest slots you can find online.
Best Lightning Box Casino Sites
Stellar Jackpots
One of Lighting Box most popular lines is the Stellar Jackpots, such as Stellar Jackpots Serengeti Lions, Stellar Jackpots Dolphin Gold and others. These offer similar design and bonuses as their predecessors (Serengeti Lions and Dolphin Gold in this case), but with one additional feature on top.
Stellar Jackpots are a bonus game of its own which consists of 6 levels. If you pass those 6 levels, you reach the Jackpot stage. Here you are guaranteed a jackpot win, the question is which one, as there are three of them: Mini, Minor and Major.
Those are not progressive jackpots, so you don't need to worry about them having lower RTP (as it is common with progressive slots).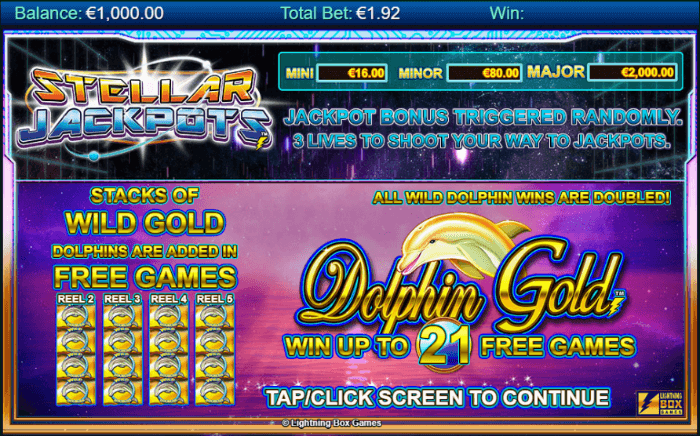 These are not progressive jackpots and the total amount is based on your bet level. Mini goes from $16 to $400 , Minor: $80 – $2,000. Major: $2,000 – $5000. One interesting thing to notice is that in terms of winning multipliers, with Mini you will get x6.66 your original bet, Minor x 33.33, Major x 833.
However, if you go with the minimum $0.48 bet, the win multipliers rise to x33.3, x166 and x4,166, but with lower winning odds. So, it's up to you to choose: higher winning odds or higher multipliers. Either way, it's a nice way for you to affect slot's volatility.
Lightning Box Slots by Return
| | |
| --- | --- |
| Arabian Rose | 97.50% |
| Moon Temple | 97.02% |
| Serengeti Diamonds | 97.01% |
| Serengeti Lions (Stellar Jackpots) | 97.01% |
| Frogs n Flies | 97.00% |
| Lost Temple | 97.00% |
| Samurai Princess | 96.99% |
| Chilli Gold | 96.80% |
| Dolphin Gold Jackpot | 96.32% |
| Diamond Tower | 96.32% |
| Angels Touch | 96.31% |
| More Monkeys | 96.22% |
| Druidess Gold | 96.15% |
| So Hot | 96.05% |
| Respin Rhino | 95.62% |
| Dragon Palace | 95.58% |
| Mild Rockers | 95.57% |
| Lightning Horseman Slot | 95.52% |
| Panda Pow | 95.51% |
| Tiponi's Wilds | 95.50% |
| Queen of Legends | 95.47% |
| Viking Fire | 95.47% |
| Five Pirates | 95.47% |
| Astro Cat | 95.44% |
| Pixie Gold | 95.42% |
| Blazing Goddess | 95.39% |
| Fortune 8 Cat | 95.38% |
| Fu Star | 95.38% |
| Chilli Gold x2 (stellar jackpots) | 95.32% |
| Redroo | 95.30% |
| Dolphin Gold | 95.30% |
| Silver Lion | 95.27% |
| Dragons Spell | N/A |
| Jungle Reels | N/A |
| Jack Potter and the Golden Temple | N/A |
| Heart of Africa | N/A |
| Fortune Pays | N/A |
| Double Dancer | N/A |
| Double Bungah | N/A |
| Dinosaur Up | N/A |
| Cashpot | N/A |
| Bidding Wild | N/A |
| Baseball Bucks | N/A |
| Aztec Sun | N/A |
| Mad Hares | N/A |
| Pioneers Gold | N/A |
| Pyramid Bonanza | N/A |
| Radar Riches | N/A |
| Super Happy Fortune Cat | N/A |
| Stretch Limo | N/A |
| The Beach Comber | N/A |
| Three Pandas | N/A |
| More Monkeys (stellar jackpots) | N/A |
| Dolphin Gold (stellar jackpots) | N/A |