The Lightning Horseman video slot comes to us from Lightning Box games. It's a five-reel, three-row slot based on the tale of the headless horseman who haunted Sleepy Hollow. The slot is uniquely themed with a brilliant visual design. The reels are cast against a dark, spooky background where the moon peers out of the sky from behind a tree. Don't turn and run just yet, though. There are some great bonus features that you'll want to stick around for.
The reels themselves are adorned with bold, colourful symbols that catch the eye and are easy to read on any device. Among those you'll find the headless horseman himself, who serves as the wild symbol, a beautiful but mysterious woman, a frightened townsman, chests full of treasure, and the infamous covered bridge where the horseman would appear and vanish.
The Lightning Horseman slot is a 40 (fixed) pay line slot. The minimum wager on this one is £.40 per spin and the maximum tops out at £50.00. As the top paying symbol on the reels, the horseman will reward you with 600 times your line bet for five of a kind. For a five of a kind match with the lowest paying symbol, you'll get back 20 times your line bet. Most of the symbols require at least three on a line to win, but there are two that will pay out a small amount for matching just two from left to right.
Yes – Why To Play The Lightning Horseman Slot
The visual design of this slot is exceptionally well done. Graphics and animations are smooth and detailed. Symbols are bold, colourful and easy to read on even the smallest devices.
In addition to some very high paying regular symbols, the game also includes four separate jackpots that can really put payouts over the top.
Where to Play
No – Why Not Play?
With high payouts comes high volatility. Some players may not be willing to ride out the inevitable gaps between big wins.
Unlike most games that require three scatter symbols to trigger a bonus, this one requires six and only awards three spins at that. It is, however, possible to land up to 15 at one time which greatly increases bonus payouts.
Three of a kind matches on all symbols pay almost nothing compared to the total bet. Players really need to hit four or five of a kind to see any sort of return.
The return to player rate on Lightning Horseman slot machines is 95.52%, which is somewhere average, for sure compared to Lightning's Arabian Rose and Moon Temple slots which stand on 97+%.
Lightning Horseman Slot Bonus Features
There are three bonus features built into Lightning Horseman. They're very straightforward, and not at all interactive, but they can lead to some hefty payouts.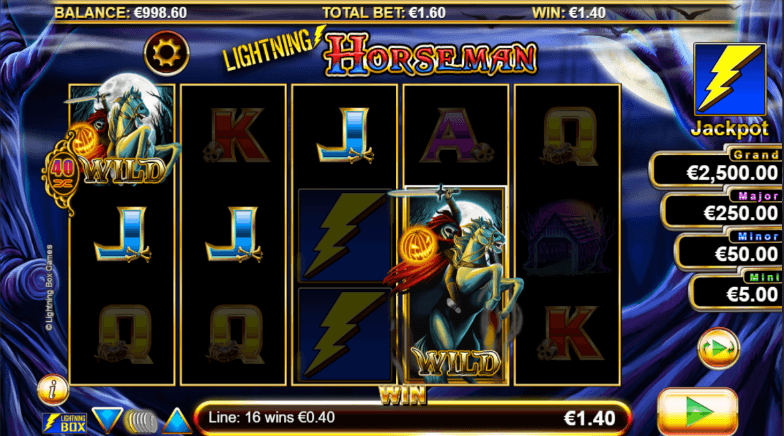 Lightning Respin
Lightning respin occurs when you land anywhere from 6 to 13 scatter symbols — the lightning bolt — on the reels. The initial award is three respins with all of the triggering lightning symbols being held in place as the others spin. When another lightning bolt symbol lands, it will also be held in place and the respin counter will be reset to three. When the lightning respins have completed, all lightning symbols will flip over and reveal a prize. The player will be paid the sum of all prizes.
Flippin' Retrigger
The flippin' retrigger is not quite another complete bonus feature, but more of an addition to the lightning respins. If, during the lightning respin feature, the player manages to collect 15 lightning bolts (all lightning bolts showing on the reels) they will all be re-flipped and guaranteed to win a prize.
Lightning Jackpots
The Lightning Horseman slot includes four different jackpots that can be awarded randomly at the end of any lightning respin or flippin' retrigger. Jackpot prizes are fixed, not progressive, but can increase as your bet increases.
There are mini, minor, major, and grand jackpots. The mini, minor, and major jackpots can be won more than once during a bonus. The grand jackpot can only be awarded once during a bonus.
Our Verdict
The Lightning Horseman is a very well put together slot. The audiovisual design is right on, with crisp, clear, bold graphics. The eerie sounds do their job well, too. You'll feel the hairs on the back of your neck stand up as you anticipate your next win.
The high volatility of this slot is probably not going to be for everyone, but there are chances for some great payouts on this one. The minimum bet isn't all that high, so those with a more conservative bankroll can get in on the action, and the maximum bet is just high enough that it should interest the high rollers who want to see if they can hit that huge grand jackpot.
This one is a definite yes. If you play at a casino that offers Lightning Box games, look for the Lightning Horseman slot. If your casino doesn't offer them, maybe it's time to find one that does.