The Annihilator slot from Play'n Go is the latest in their line of heavy metal branded slots featuring some of the biggest and best bands in the headbanging music genre. With a decidedly evil theme featuring wild axeman Jeff Waters, you can choose from several of Annihilator's most popular songs while you play. Brilliant graphics, banging music, big bonus features and an overall atmosphere straight out of a horror movie make this slot a must-see from the Play'n Go catalogue.
Annihilator is a five-reel, three-row slot with ten fixed pay lines. There are eight regular symbols on the reels. Five symbols are low value, three are high value, and then there is also a wild symbol which features an animation of Jeff Waters shredding on his guitar. The wild is actually the highest paying symbol on the reels if you can land five on a pay line.
You'll also run into scatter and bonus symbols as the reels spin. Scatter symbols will trigger the free spins feature and bonus symbols will take you to an interactive bonus feature that lets you pick from hidden prizes. Needless to say, either one can lead to some very handsome payouts.
Placing your bet on the Annihilator slot is about as easy as it gets. There are 23 preset wager amounts to choose from and you'll just need to pick the one that suits you. You can play for as little as £.10 per spin or take it up to a maximum of £100.00. Set your bet and you're ready to rock.
Play The Annihilator slot at These Play'N Go Casinos
Yes – Why To Play The Annihilator Slot
If you like games with dark and somewhat creepy themes, you'll probably like this one. Some of the imagery that comes up on this slot would make just about anyone's skin crawl.
Bonus features on this slot can pay off very well. Free spins can be retriggered and the interactive fun palace feature has some great prizes if you make the right picks.
The default return to player (RTP) rate on this slot is generous at 96.2%. It is possible for casinos to change the RTP, however. It can also be set at 94.2% or 91.2%, so be sure to check the game information where you play to make sure you know what you're dealing with.
Play'N Go games are present at most online casinos, therefore you can also find this slot at any UK casino site.
No – Why Not Play?
It should be fairly obvious that if you're not a big fan of heavy metal music, you might not like this one so much. The base game is still worth checking out though. Perhaps with muted sound, you'll still want to play even if the music doesn't suit your taste.
The lower paying symbols clearly outnumber the high-value symbols on the reels. It can get a bit frustrating waiting to hit a good combo with the symbols that actually pay out a good amount.
Annihilator is a high volatility slot. That means big wins are possible but there will be a lot of ups and downs in your balance as you play. If you're a conservative gambler, be prepared for downswings while you're waiting for big wins or bonuses to hit.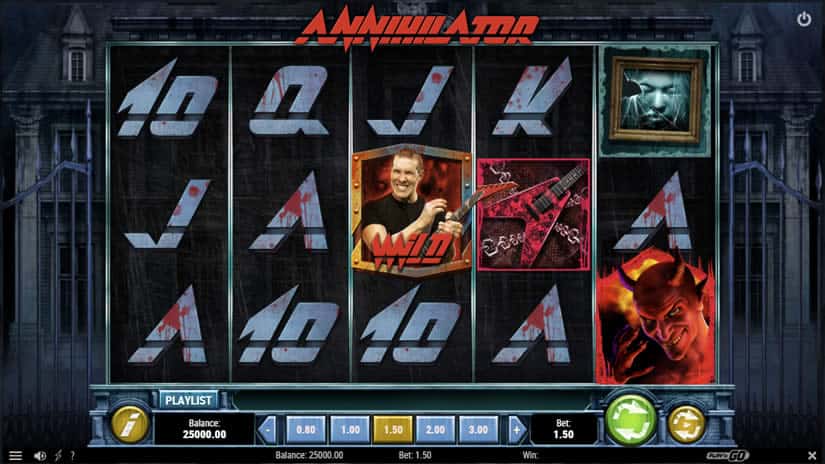 Annihilator Slot Bonus Features
There are plenty of bonus features built into this game that have the potential to come together and create some phenomenal payouts from just one spin. They may not hit extremely often due to the high level of volatility, but they're worth waiting for.
In Command Feature
The In Command feature triggers randomly and can happen on any spin. When it occurs, all wild symbols that land will expand to cover the entire reel. If there's no winning combination on the spin, expanded wilds will stay in place and the other reels respin with the possibility of adding more expanding wilds. The respins will continue until a winning match is made.
Fun Palace Feature
The Fun Palace feature is triggered when three bonus symbols land. You'll be taken to a dark stairway with children's dolls hanging all around the room. Each doll holds a prize ranging from 1x your bet up to 20x your bet. Make your picks and reap your rewards. Some dolls will give you a prize and let you pick again while others will end the feature. When it's over, you'll be paid for all of the prizes you uncovered.
There is also a scatter symbol hidden behind one of the dolls. If you happen to uncover it, you'll collect all of your prizes and then be taken directly to free spins.
Set The World On Fire Feature
The Set The World On Fire feature is free spins, but with some extras thrown in. You'll initially be given eight free spins. There will also be one expanded wild symbol on the reels at all times.
With each spin, the expanded wild symbol will move back and forth across the reels randomly. Each time it moves it will leave a trail of fire behind it that can be either one symbol or three symbols in height. If another wild symbol lands on a space that is on fire, the entire fire trail will convert to wild symbols.
You can also rack up more free spins if additional scatter symbols stop while the feature is active. For each scatter that lands, you'll get two more free spins up to a limit of 50.