The Arctic Valor slot is the work of Crazy Tooth Studio and released through Microgaming. As magnificent female Nordic warriors do battle in the icy world of the Arctic, their victories will lead to your spoils. There are big prizes to be won and plenty of adventure to be had, so get ready to make a few spins on this latest Microgaming video slot.
Arctic Valor is a six-reel, four-row slot that works with a 4096 ways to win payout system. If you're not familiar with this type of system, it means that there are no traditional pay lines. Any symbols appearing on adjacent reels count as a winning match. In the case of this particular game, symbol combinations don't even have to start with the leftmost reel. Any combination of at least three like symbols on adjacent reels will result in a winning spin.
Symbols are broken into three tiers with not too much difference between the payouts on each. Top paying symbols are the four female warriors. Middle-tier symbols are made up of their equipment, including swords, helmets and shields, and the three lowest paying symbols are different forms of snowflakes. There are also wild and scatter symbols to help add that extra something to your bottom line winnings.
Setting your wager on Arctic Valor is very simple and straightforward. There are 17 preset values to choose from. All you have to do is select the amount you would like to wager on each spin and you'll be ready to play. The minimum wager on this slot is £.15 and the maximum is £15. You can find this online slot at most UK online casinos.
Play Arctic Valor Slot at These Casinos
Yes – Why To Play The Arctic Valor Slot
The return to player (RTP) rate on Arctic Valor is 96.7% which is somewhat on the high end for slots put out by Microgaming. There is not a whole lot of variance in the RTP rate of their slots, but most are closer to 95%, which gives this one a bit of extra value for your money.
This slot has interesting bonus feature concepts that set it apart from the competition both in how some of the bonus features work and in their graphical presentation within the game.
The fact that symbol matches can occur anywhere on the reels, without the need to start on the first left or first right reel is also a very distinctive feature. This makes it possible to hit plenty of wins that wouldn't count as winning combinations on other video slots.
No – Why Not Play?
The concept and design of this slot cry out for smooth, high-definition graphics which, for some reason, it doesn't have. The graphics on this slot are of a noticeably less detailed than what you'd expect to see on a modern video slot release. More attention to detail in the graphics and animation would have made this slot absolutely beautiful.
Although the free spins bonus feature can produce considerable rewards, there is too much going on that really slows down the game and the results. Excitement from triggering the free spins bonus quickly turns to frustration as you wait for all the extras and animations to finish up.
The quite low maximum bet on this game will probably make it very unattractive to casino high rollers who like to play for larger amounts.
Arctic Valor Slot Bonus Features
There are two basic bonus features on Arctic Valor that will add to your wins from time to time. They are the Icicles Features and free spins. There are, of course, wild symbols that will land during regular spins as well.
Icicles Feature
You're most likely going to see the Icicles feature first. As you're playing, you'll notice that there are some rather large icicles hanging over the reels. On every spin, there is a random chance that one or more of the icicles will fall onto the reels. When this happens, they will cover one, two, or three of the bottom symbols on the reel. When you break the icicles, they will either display a prize amount that you win instantly, or they will turn the symbols under them wild.
Free Spins
Free spins are triggered — as with most other slots — by landing three scatter symbols anywhere on the reels during play. This is called the Arctic Valor bonus feature. You'll start with seven free spins. Every spin during this feature will also trigger the icicles feature. In addition, whenever you land a full-stack symbol of one of the four warriors, she will increase the icicle above her reel up to three positions.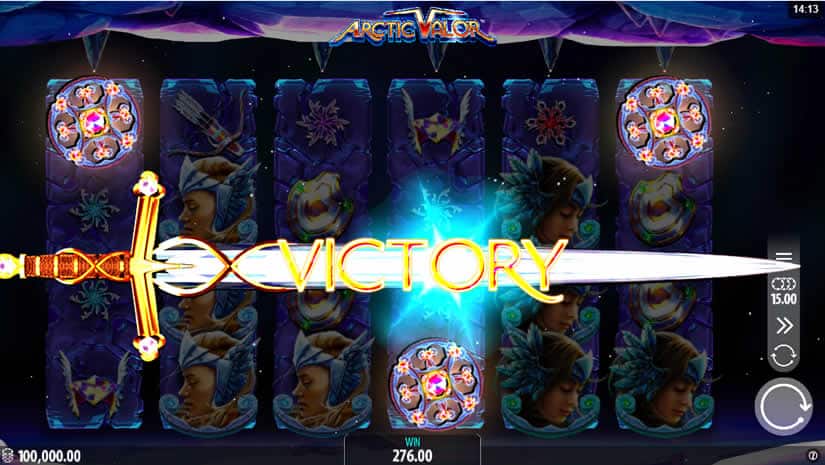 Additional Information
Microgaming slots are very popular, you can find them at reputable online casinos, including fast paying casinos. The Arctic valor slot has a great return to player, way above average. If you are looking for high RTP slots, feel free to check these 3 additional tittles:
Cheers!