The Aztec Gold Megaways slot from iSoftbet gives us a super-powered ancient Aztec themed slot with opportunities for truly colossal wins and plenty of action. With giant reels and massive amounts of symbols constantly on the playfield, you'll be racking up wins over and over on this highly detailed Megaways slot. If you've been waiting for a new slot that delivers loads of action and chances for huge prizes, you'll most definitely want to check this one out.
Aztec Gold Megaways is a six-reel slot with a variable number of rows that will change with each spin. Each reel is independent of the others and can stop with anywhere from three to seven symbols on it. Everything is rendered in brilliant high-definition graphics and looks super sharp. You'll see six low-paying symbols, four high-paying symbols, bonus symbols, and wilds.
For those who don't know how a "ways to win" slot works, there are no traditional pay lines where symbols must land. Instead, it's considered a win when like symbols land on at least three adjacent reels, starting from the left, no matter which row they are in.
Wagering & Payout
With a Megaways slot like this one, the exact number of ways to win is determined by how many symbols are on each reel when a spin is complete. With this slot, if all reels stop with the minimum of three symbols, there will be 729 ways to win (729 possible winning combinations). The maximum, if all reels stop with seven symbols showing, is an astonishing 117,649 ways to win. There are, of course, all sorts of combinations that fall in the middle of those two numbers as well.
Wagering on Aztec Gold is quite easy. You'll just need to set the coin value and that will be multiplied by 20 to set the total bet per spin. Possible coin values range from £.01 up to £1.00. You can, therefore, wager anywhere from £.20 to £20 per spin on this slot.
Play Aztec Gold Megaways Slot Here
Yes – Why To Play The Aztec Gold Megaways Slot
This slot has absolutely brilliant graphics. If you really insist on high-quality design work, Aztec Gold won't let you down. Everything is crisp and clear and just beautifully rendered in high-definition. It is definitely one of the more visually pleasing slots to be released recently.
For excitement and chances for huge wins, you just can't beat a megaways slot. When those reels stop in the right position, you'll feel your heart ready to jump out of your chest.
The Aztec Gold slot has a good return to player (RTP) rate of 95.99% which means that players can expect to win back about 96% of the money they wager on this slot over the long-term.
iSoftbet casinos are very popular, and you can find them also catering to UK casino players.
iSoftbet is also present in most reputable online casinos around the world, specifically at online casinos with fast payouts. So be sure to check if your favourite gambling site can offer a smooth banking experience too.
No – Why Not Play?
A common pitfall to megaways slots is that you'll hit lots of very small wins before getting anything substantial. Some players can find this very frustrating. You'll need to have some patience and be prepared to see a lot of low payouts, including quite a few that don't even return your bet, before you get larger rewards.
Another common drawback on these types of slots is that it can take quite a few spins before the free re-spins feature is triggered. Again, patience is required or you'll find yourself frustrated. This is a game you should intend to play for a while. Don't expect to sit down and see all the features within ten minutes.
There's a lot going on in this game, which means it can put some strain on your processor. Be prepared for a bit of extra battery drain on laptops and mobile devices if you like to play online casino on your tablet or phone.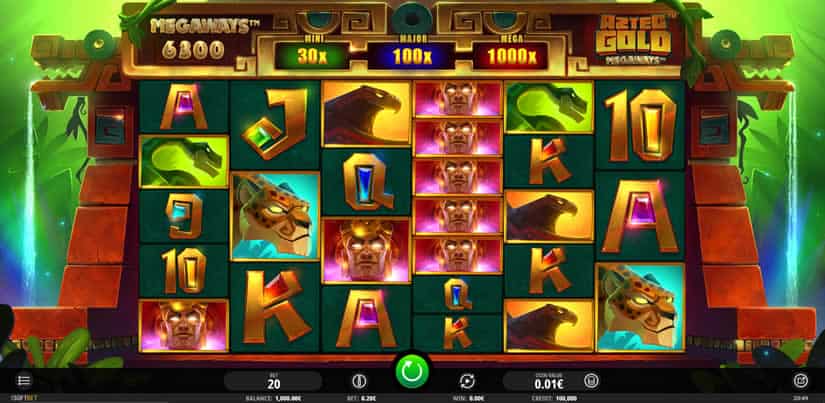 Aztec Gold Megaways Slot Bonus Features
There aren't a lot of bonus features on this slot, but what's there can lead to big payouts. The idea here is to keep spinning and give it time for things to combine and deal out the results we're all looking for when we play the slots. Here's how the two main bonus features work.
Symbol Cascades
The first bonus feature you'll likely see is the symbol cascades. Each time you land a winning spin, any symbols that are part of a winning combination will be removed from the reels and new symbols will fall in from the top. The process will continue as long as new wins are generated, so it's possible to get several different separate wins from a single spin.
Aztec Gold Cash Respins
Landing five or more of the bonus symbols on the screen at one time will trigger this feature. You'll start off with three respins and then whenever another bonus symbol lands on the reels, the counter will reset to three.
Each bonus symbol has a multiplier number on it. If you fill an entire reel with bonus symbols, the multipliers from that reel will be activated for upcoming spins. There are also "mini", "major", and "mega" bonus symbols that will award the corresponding values shown at the top of the reels.
When the respins feature ends, all bonus multiplier symbols visible on the screen will be paid out. Multiplier values will be paid against your overall bet.