The Baron Samedi slot is another in a long line of online video slot machines from the seemingly endless imagination of the design crew at Yggdrasil. Here they will take you on a wild and mysterious trip through the little known and hardly seen world of Voodoo. The spirit lord of the dead, Baron Samedi himself, will show you powers beyond the comprehension of mortal men. If you give the proper offerings and show real faith, he may also show you the way to great riches.
There is absolutely no mistaking that this slot is themed around the idea of Voodoo magic, spirits of the dead, and mysterious rituals. As we've come to expect with Yggdrasil slots, the graphics are impeccably done, with great detail put into the background as well as the foreground and symbols on the reels. Horned skulls, tarot cards, gemstones, Voodoo dolls, a Voodoo priestess, and, of course, the great Baron Samedi himself can all be found on the reels as they spin. Everything is crisp and clear and designed to look perfect on any size screen. As you imagined, you will find this game at most UK online casinos – and also at many Australian casino brands.
Game Dynamics
Baron Samedi has a very unique way of dealing out bonus features, with 36(!) possible features that can be triggered whenever two or more scatter symbols land. That has to be some kind of record. We'll get into more about all that below.
The Baron Samedi slot is a five-reel, three-row slot with 25 fixed pay lines. You'll find four high-paying and four low-paying symbols as well as wilds, mystery symbols, and scatter symbols on the reels. Setting your wager on this slot is easy as could be. 25 coins are bet on each spin and the coin value can be set between £.004 and £5.00. You will find, if you're counting along with me, that those values create a minimum and maximum wager of £.10 and £125 per spin, respectively.
Top Yggdrasil Casinos to Play at
Yes – Why To Play The Baron Samedi Slot
The high definition graphics and excellent design on this slot really stand out. It just looks amazing on any size screen. To say this slot is visually pleasing would be a huge understatement.
Yggdrasil shows some amazing creativity in the bonus features of Baron Samedi. There are so many possible combinations of features available, no other slot can come close.
The Baron Samedi slot comes with a 97% return to player (RTP) rate, which is among the highest available. This video slot will give players exceptional value for their money spent.
No – Why Not Play?
Obviously, when you get into things about religion (which Voodoo technically is) and spirituality, everyone has their own ideas about what's good and bad or right and wrong. Of course, this game is meant for fun, but some may find the concept behind it offensive.
Although there are plenty of bonus features built into this one, they are not interactive at all. If you prefer slots that have interactive bonus rounds, you won't find that on Baron Samedi.
Similar to some other Yggdrasil games, players must collect tarot cards (basically building up points) to fully unlock all bonus features, which can take some time — most likely several playing sessions.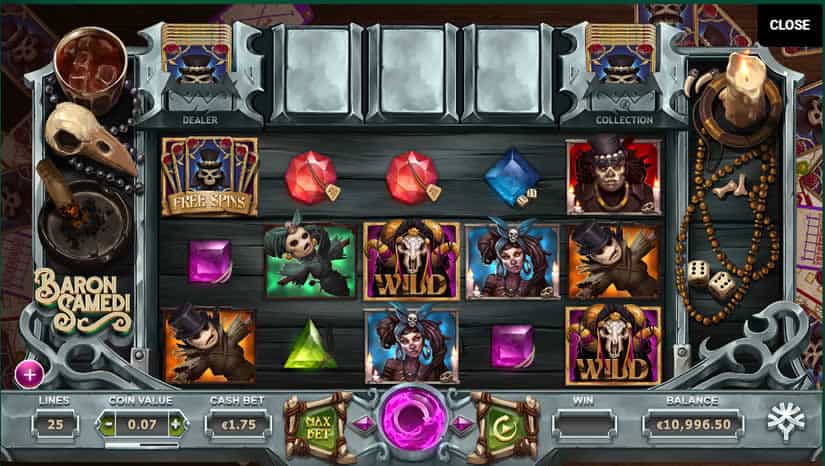 Baron Samedi Slot Bonus Features
As we eluded to above, this slot is just jam packed full of possible bonus features — 36 in all. Making it even more interesting, when bonus features are triggered, you will always get a combination of three of them.
Bonus features, as with most slots, are triggered by landing scatter symbols. Landing two or more on Baron Samedi will get you some extra goodies. So here's how it all works:
In the game there are 36 different types of tarot cards, each of which adds its own bonus feature to the game. On each free spin, three tarot cards are dealt, so you get a combination of three bonus features on each free spin. It's important to understand that the cards change on EVERY free spin. So if you get seven free spins, you'll be dealt three new cards seven times. The bonus combination you get will be different for every spin. The number of free spins you get will depend on how many scatter symbols you land. Oh, and you'll also get a good old-fashioned cash reward for landing three or more scatters along with your bonuses.
2 Scatters – One free "Voodoo Respin"
3 Scatters – 7 free spins plus 50 coins
4 Scatters – 12 free spins plus 375 coins
5 Scatters – 15 free spins plus 25,000 coins
Additional Information
Sadly, you won't find Yggdrasil slots at any USA online casino. But if you are located throughout Europe or Australia, you will be alright, with thousands of games available to you, most of them from top software providers.
If you like dark themes full of suspense and some mystery and magic, I have a couple of top picks for you:
Enjoy!