The Chicken Party slot from booming games delivers a fun combination of an unusual theme and some unique game mechanics. They will give players the chance to get away from the monotony of so many slots that seem like clones of one another with different skins slapped on. After just a few spins you're going to realize that you've never had so much fun with a flock of poultry—and you've never seen chickens that can party like these guys.
Where can you find the chicken party slot? at most reputable gambling sites, including UK online casinos.
Chicken Party is a four-reel, three-row slot with a special fourth row along the top of the reels that spins independently. All bets play on 20 fixed pay lines. There are three high paying symbols and five low paying symbols on the reels along with wild symbols and scatter symbols. There's also a special fox symbol that can award you up to 2,000 times your bet on a single spin. Wilds, scatters, and high paying symbols are various cartoon chickens and hens while the lower tier symbols are made up of playing card values ten through ace.
Both scatter symbols and wild symbols will come on the special top row of the game. Scatters will only land in those spaces and you'll be taken to free spins if either three or four of them stop on a spin. Wilds are produced when a hen lands in one or more of the top spaces. Hens can lay from zero to three eggs that will fall down onto the reel below and turn the symbols wild.
Wagering & Payouts
Wagering on the Chicken Party slot is not complicated at all. There are 13 preset bet amounts and you'll just need to choose the one that you'd like to play with. You wager anywhere between the minimum of £.20 and the maximum of £200 per spin.
Play the Chicken Party Slot Here
Yes – Why To Play The Chicken Party Slot
The action on Chicken party is easy to follow but the play keeps things lively and exciting. Even though it may not seem like there's much going on at first, that extra row on top of the reels can change your payouts in unexpected ways.
The theme on this slot is simple but well done. It sits just about perfectly between games with big 3-D graphics and more flat, simple designs. The graphics aren't over the top, but they are high definition and there is plenty of animation to please the eyes.
This slot has a very fair return to player (RTP) rate of 95.07%. For those who don't know, that means that over the long term you can expect to get back about £95 out of every £100 you wager on this video slot machine. This rate is not as good as you can find in other slot tittles.
I would suggest to combine the Chicken Party slot features with a good bonus offer, preferable a cashable casino bonus. That way you will be able to maximize the game outcome.
No – Why Not Play?
This game has some great features, both in design and in gameplay, but long-time players that are looking for lots of bells and whistles might feel that this slot is a bit too simple.
It's not a complete deal-breaker, but the symbols in this game are definitely slanted toward the lower-paying. Bonuses and wilds can help make up for this, but a few more of the birds and less of the playing cards would have added a lot more personality to a great concept.
The Chicken Party slot plays great about 90% of the time, but it seems to run into performance problems every so often (tested on Chrome with an i5 processor and 4 gigs of RAM). Again, it's not a complete deal-breaker, but you may find yourself needing to reload occasionally to keep everything running smoothly.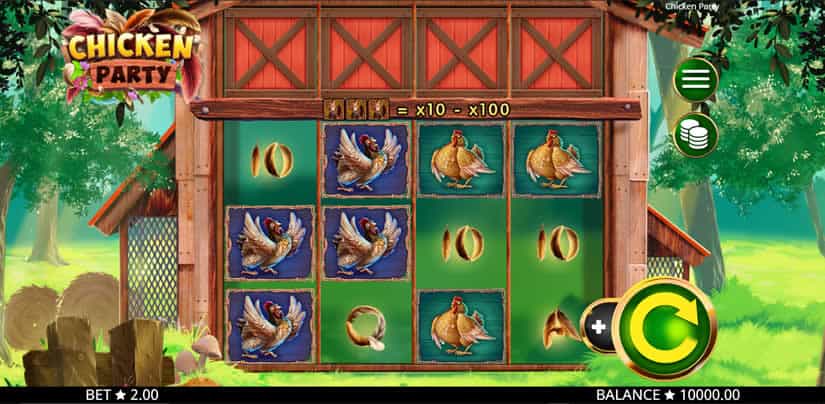 Chicken Party Slot Bonus Features
The bonus features on Chicken Party are very straight forward and easy to follow. They are all triggered by symbols landing within the isolated top row, so it's immediately clear if you've hit something or not. There are three basic features that can kick in to boost your winnings. Here's how they all work.
Wild Symbols
On each spin, there is a chance that a hen will land on top of the reels which can then produce wild symbols. Each time a hen lands, it can lay up to three eggs or none at all. If it does lay eggs, they will fall on to the reel below and change symbols to wild.
Free Spins
Like most other slots, the free spins feature on Chicken Party is triggered when three or more scatter symbols land. Three symbols will get you eight free spins and four symbols will get you ten. During free spins, the other bonus features remain in play, but free spins can not be retriggered.
Foxy Wins
Most farmers will tell you that it's bad when a fox makes his way into the henhouse but for you it's going to be a very good thing. If you get three fox symbols anywhere along the top of the reels you'll be given a random reward of 10 times, 25 times, 50 times, or 100 times your bet. If you get four fox symbols along the top, you'll receive a most happy payout of 2000 times your bet for that spin.