The Demon slot from Play'n Go has a very straightforward and simple name, but don't let that fool you. The intricacies of the theme design and gameplay make this one of the best video slots the company has released recently. Play'n Go also seems to have a special talent for games with dark themes, which this one most certainly is. Finding Play'N Go casinos is not so hard: you can play their beautiful games at any UK online casino.
Demon gets its name from the famous British band that has been listed as a strong influence by many of the bands that would go on to become some of the biggest from the period known as the new wave of British heavy metal.
This is a five-reel, three-row slot that plays on 30 fixed pay lines and comes with the opportunity to win up to 5,000 times your bet on a single spin. There are five high paying symbols, five low paying symbols and two different types of wild symbols. The high paying symbols feature Demon's demonic lead singer at the top with other evil entities like a winged gargoyle and a ghastly ghoul removing his own face. Lower paying symbols are made of playing card values ten through ace.
Wagers are easy to set up on Demon. The slot has several preset bet amounts and you'll just need to pick how much you want to put down on each spin. You can play for as little as £.30 or take it up to £90.
Where to Play the Demon Slot? Top 5 Play'N Go Casinos
Yes – Why To Play The Demon Slot
If you like music, heavy metal, and devilish themes, you should love this slot. The audiovisual aspects of the game are exceptionally well executed.
This slot goes over the top with the free spins feature. After one feature is triggered, it's possible to hit another. Things can be retriggered and there are all kinds of win multipliers available as well.
Demon has a generous return to player (RTP) rate of 96%, which means that over the long term, players can expect to get back about 96% of their wagers as winnings.
As usual, I recommend to go for online casinos with fast payouts, since they offer the best of both worlds: a great gaming experience plus smooth processing.
No – Why Not Play?
There's plenty of excitement to be had in this game, but the volatility level is high. In fact, Play'n Go lists it as ten out of ten on their scale. This means there are chances for big wins, but your balance is in for a rocky ride while you play, so you need to be ready for that.
The free spins features can be quite generous, but they don't seem to trigger very often, which gets a little bit frustrating after you've been playing for a while.
The theme is based on a band, but it's obviously a pretty dark theme that dances around symbolism that some people might find offensive. If you don't find the demon and devil stuff entertaining, you might want to avoid this slot.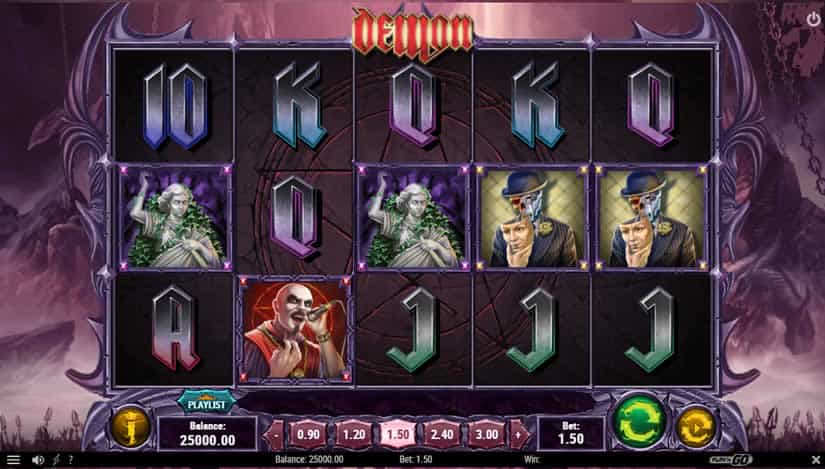 Demon Slot Bonus Features
At first glance, it might look like there isn't too much in the way of bonus features on this slot. Free spins seem to be about it. Once you play through and see how it all works, however, you'll realize that the free spins features on the Demon slot are not what you get on most other games.
One Helluva Night Free Spins
Wild amulets can land on the first and last reels and the wild mask can land on reel three. If two amulets and one mask land, you'll be rewarded with six free spins. If the wild mask lands in the centre of the middle reel, your reward will be bumped up to 11 free spins.
In addition, a win multiplier is randomly selected and applied on every free spin. The win multiplier can range from two times up to eight times.
Portal To Hell Free Spins
During the One Helluva Night feature, if two wild amulets land, it will trigger the Portal To Hell feature. You'll get up to eight spins during Portal to Hell, but if the wild mask lands along with the amulets, you can get up to ten.
The win multiplier for hell spins will be the same as the multiplier from the free spin that triggered the feature. If, however, hell spins are triggered with the wild mask in the center of the middle reel, that multiplier will be doubled.
After the Hell spins are complete, the regular free spins will resume where they left off. From there, it's possible to trigger hell spins again.