The Druid's Dream slot from NetEnt brings together some great slot gaming options along with a fairly unusual theme to make a new video slot that is sure to generate a good deal of interest among video slot enthusiasts everywhere. Right out of the gate we have to say that it has one of the best features to be found on any slot machine. It pays both ways. That means that you get paid for winning combinations that start on the left side or the right side—or even both!
The game itself, as you might imagine, uses a very tranquil colour scheme and audio background to generate a very serene setting. If you're looking for a somewhat unusual game that you'll feel comfortable sitting back and playing for a while, Druid's Dream could be the one that does it for you. The game also uses a full selection of animal and run-type symbols that fit in perfectly with the nature-druid theme of the slot. Where to play it? You can find this slot at most online casinos, except the ones catering to U.S or Australian players.
Wagering & Payout
The game is playing on five reels with four rows and 40 fixed pay lines. There are four high-paying plus four low paying symbols along with the wild and scatter symbols on the reels. None of the symbols pay out a particularly huge amount, but a line of wild symbols will give you the most, the animal symbols pay the highest, and the runes give back the lowest returns.
Setting up your bet is simply a function of setting up the coin value you'd like to use on each spin. Choose a value from £.01 to £20 and the amount will be multiplied by 20 to make your total bet. That's all there is to it. You can get into it for as little as £.20 or as much as £400.00 It's really a good deal if you think about it. Since bets are multiplied by 20 and there are 40 lines, it's like you're betting on 20 lines for free.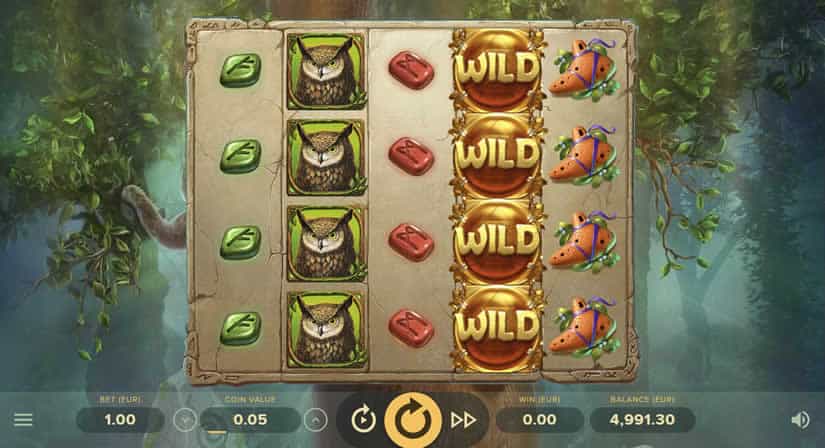 Top Rated Casinos to Play NetEnt Slots
Yes – Why Play Druid's Dream Slot
The theme on this slot makes for a nice relaxing experience while the both ways pay feature plus the buffet of bonus features makes sure there's enough excitement to keep you glued to the game.
It's a very straightforward and fast-playing game for those who don't like the video-gamish slots with 3-d characters and time-wasting animations.
As we've come to expect from NetEnt, this slot is put together with a generous return to player (RTP) rate of 96% and is ranked as a low to mid volatility games.
No – Why Not Play?
This game is definitely not for those looking for a lot of that on-the-edge-of-your-seat excitement and big ups and downs. The lower volatility makes it a game more for conservative gamblers that like to see a nice steady flow of wins, even if they might be for lower amounts.
Wild and scatter symbols are an important part of the game but they just don't seem to come up as often as you'd like them to. Seeing a few more wilds here and there would definitely make a player a little better.
Although the game contains a free spins feature, by default it gives you a relatively small number of spins compared to then you hit the right combinations on other slots.
Druid's Dream Slot Bonus Features
There's a lot going on here, but read over it a few times and you'll start to understand how everything works. The main thing is respins and free spins based combinations of scatter and wild symbols and where they land on the reels.
Wild symbols
During the regular game, wild symbols can land as single symbols on reels one, three, and five. They can also appear as stacks on reels two and four. They'll appear on reel three during respins, and on reels one and five during free spins. So you can get wild symbols on any reel. Where they will show up just depends on what mode the game is in.
Stacked wilds can also cover anywhere from just one space to the entire reel depending on how the reel stops.
Wild symbols will substitute for any symbol other than Scatter symbols.
Scatter Symbols
Scatter symbols will appear attached to the wild stacks. They can appear a the bottom of a wild stack on reel two or at the top of a wild stack on reel 4 during the main game and during respins. During free spins, they can also show up in the middle of a wild stack on reel three. Scatter symbols are also wild and will substitute for any other symbol.
Wild Charge Respins
During the main game, when a stack of wild symbols (two or three) plus a scatter symbol lands on either reel two or four, the wild symbols will charge and cause a respin. One respin will occur for each charged wild symbol. The wild and scatter symbols that triggered the respins will remain in place until the respins complete.
Respin Nudge Feature
If during the respins, another stack of wild symbols lands, but there is no scatter symbol attached, the nudge function will nudge the reel one more space to give you the chance to hit th other scatter symbol. The nudge feature will end either when another scatter symbol shows on the reels or the respins have completed.
Free Spins
If two scatter symbols land on the reels during regular play you will be granted at least six free spins. For each charged wild that also appears on the reels, you will have one free spin added.
All scatter and wild symbols that triggered the free spins feature will remain wild and stay in place on the reels during the entire free spins feature.
During free spins, it's also possible that a stack of wilds and another scatter symbol can stop on reel three. If a scatter stops on reel three, you will be granted three additional free spins to keep playing the Druid's Dream slot.