The Dwarf Mine slot from Yggdrasil is a winner all the way around—and hopefully you will be, too. This slot delivers the quality we've come to expect from this veteran real-money game design company in every aspect. The audiovisual presentation is excellent. From colours to animations, everything just seems to fit perfectly together. Big action and big bonus features are sure to have you on the edge of your seat. Where? Find this slot machine favourite at most UK online casinos.
Dwarf Mine is a five-reel, four row slot that uses the "ways to win" pay system. On the standard reels, you have 1,024 ways to win. During the game, however, the number of rows visible can expand from four up to seven. At five rows, you'll have 3,125 ways to win. At six rows there will be 7,776 ways to win. Then, finally, at seven rows there will be 16,807 possible ways to win.
There are three different sets of symbols that can show up on the reels. During regular play, you'll see four high-paying symbols and four low-paying symbols. During a special free spins feature, there are also four super-high-paying symbols added to the reels. The super-high symbols are four sparkling gems. The high-paying symbols are various mining instruments, and the low-paying symbols are four lesser gems.
The Dwarf Mine slot, like most other Yggdrasil slots, has a very simple betting system that makes it a breeze to set up your wagers. You simply need to choose from one of the 18 preset bet amounts and you'll be on your way. Your bet will be based on the coin value you choose multiplied by 25. Coin value can be set from £.004 up to £5.00. That gives a betting range of £.10 per spin up to £125.00.
Play the Dwarf Mine Slot at These Casinos
Yes – Why To Play The Dwarf Mine Slot
The action on this slot is fun and consistent. Bonus features come up with fairly regularly, keeping the player involved and avoiding that feeling of just watching the reels spin with nothing more happening.
The wide range of betting options makes this slot very accessible for everyone. At £.10, even the most conservative gambler shouldn't feel nervous playing while those who like bigger risks should find the £125 upper limit satisfying.
Dwarf Mine has a generous return to player (RTP) rate. Players can expect to win back at least 96.8% of their wagers over the long-term.
No – Why Not Play?
The smaller bonus features of this slot seem to come up with a good amount of regularity, but the biggest bonus feature requires a lot of play to finally trigger. It will most likely take several hours of play time to collect the symbols required to trigger it. This can be a bit frustrating.
Although the gameplay on this slot is very good, it doesn't contain much of the high level animation that Yggdrasil has become famous for. If you're looking for a slot that plays a bit more like a video game, you might want to check out some others in their catalogue.
The slot volatility level of Dwarf Mine is not published, but it certainly seems to be high. Players should be aware that there could be long cold streaks during play. Note, though, that high volatility machines can suddenly pay out high amounts in just a few spins.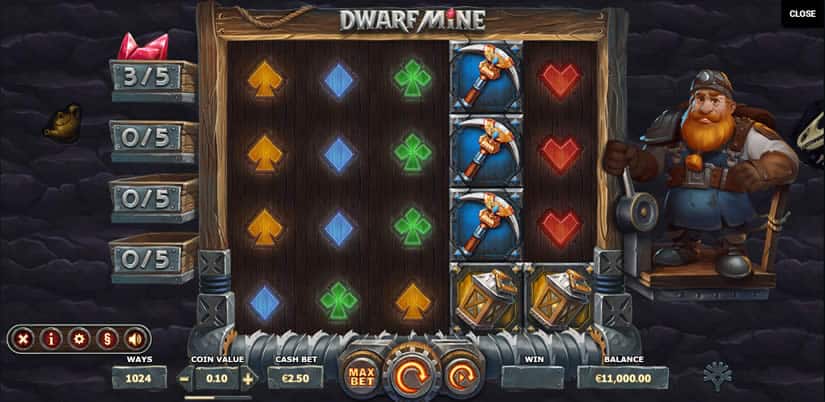 Dwarf Mine Bonus Features
At first, Dwarf Mine doesn't seem to have many bonus features. After a few spins, though, you'll see that Yggdrasil did a good job of building a system where several small features stack up to trigger bigger payouts. Here's how it all works.
Bonus Symbols And Expanding Reels
Bonus symbols can stop on any reel. Whenever one lands, it will expand the reels and add a new row at the bottom, up to a maximum of three extra rows. After the reels expand, you will be paid for any extra matches you get as a result. The reels will go back to the normal four rows for the next spin.
Collections
Along the left side of the game screen, you'll see space for four different collections of gems. These gems have a chance of showing up each time a bonus symbol causes the reels to expand. When you see one, it will be added to your collection. If you get five of each gem, it will trigger the collection free spins feature.
Free Spins And Collection Free Spins
The regular free spins feature triggers if three bonus symbols stop on the reels at one time. When this happens, you'll be given three free spins with the reels fully expanded to five by seven with 16,807 ways to win.
If you get all 20 of the gems needed to complete your collections, you'll trigger the collection free spins. These spins will also occur on fully expanded, five by seven reels. You'll get five free spins plus the super high paying symbols will be added to the reels.