The Extra Juicy slot from Pragmatic Play is a fresh, fruity, fun slot that uses a classic fruit machine theme combined with modern animation and game mechanics to bring players a solid slot experience and big potential payouts. With big symbols, bright colours, and a few twists to keep you off guard, you're in for a good time when you sit down to give this one a spin. As usual, you can find Pragmatic Play slots at most UK online casinos.
Extra Juicy is a five-reel, three-row slot with ten fixed pay lines. The reels are full of all the traditional fruit symbols you'd expect to see. There are grapes, cherries, plums, watermelons, oranges, and even a few diamonds. That payoffs run a wide range from not so impressive up to ear-to-ear smile for a month. Five cherries on a line are the lowest win, and you'll get back twice your bet. Grapes and plums pay right in the middle of top and bottom, and five golden bells will get you the top prize of 100 times your bet.
Setting the wager on this slot is a no-brainer. Just open up the menu and you'll see your current bet amount with +/- buttons. You have 40 preset choices between the minimum of £.10 and a maximum of £ 50 per spin. Pick your pleasure and get ready for the action. That's all there is to it.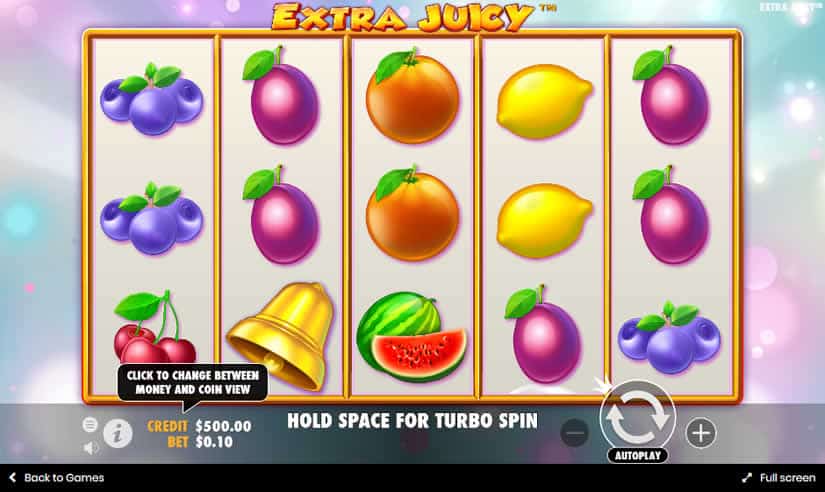 Play Extra Juicy Slot at These Casinos
Yes – Why To Play The Extra Juicy Slot
This is a wonderful slot for the players that love the classics. It's full of bright fruit symbols that conjure up memories of the original fruit machine slots.
This is a great slot for beginners with a very straightforward play system. There are only ten pay lines and bonus features aren't complicated so it's easy to keep track of what's going on.
The theoretical return to player (RTP) rate on this slot is 96.52%, which gives players great value for the money they spend on the game.
No – Why Not Play?
For those that like big flash and bonus features, this slot might not hold your attention. It's beautifully done, but it is a somewhat simple design as you'd expect from a slot that takes so much from the classic machines.
This is a high volatility slot. That means it's capable of making some big payouts, but it's also possible that you'll see some big cold streaks in between. If it makes you nervous to see your bankroll dropping for a while before big wins hit, this one might not be for you.
High roller casino players might not be able to reach the levels of excitement they are looking for with this slot. The maximum wager of £50 is a bit low compared to many other slots that go up to £100 or even more.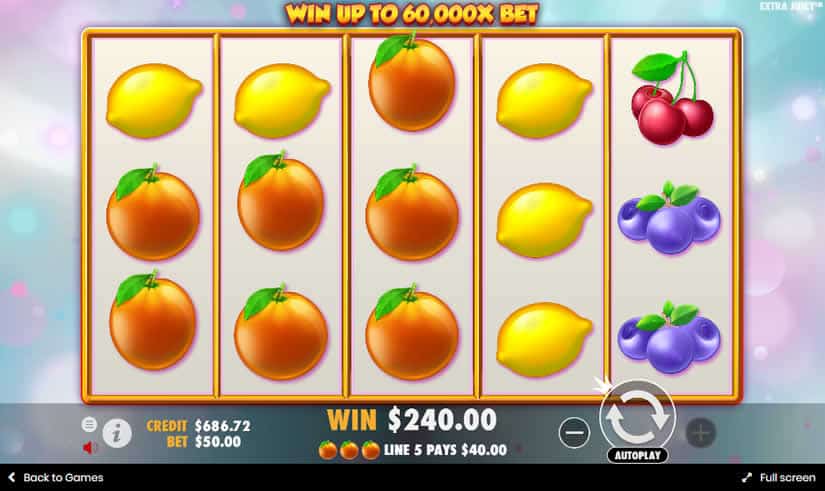 Extra Juicy Slot Bonus Features
As we alluded to above, there aren't a whole lot of bonus features on this slot, but what's there can really add up to some hot prizes from just a single spin. There's even a bit of a twist on standard wins that makes this slot stand apart from most other fruit machine tribute slots.
Match Wins From Middle Reels
One interesting feature of this slot is that you don't need to start matching combinations on the first reel. You only need to have at least three of a symbol on a pay line on adjacent reels. So, this means winning combinations can start on reels one, two, or three. This creates more ways to hit winning combinations than you would get on a game with ten standard pay lines that require matches to start on the first reel.
Progressive Multiplier Free Spins
The diamond symbols on this slot serve as the scatter symbols. Land one on each of reels one, three, and five and you'll trigger the free spins feature. You'll get 12 spins to start and a win multiplier that starts at 1x. With each successive spin, the multiplier increases by one. You can also retrigger the feature. If you land three more scatter symbols, an additional 12 free spins will be added on. All in all, you can get up to 60 free spins at one time. Keep in mind that if you do retrigger the free spins a few times, that progressive multiplier is going to reach a very high level.