I love this slot. I know many many players who hate it but I think it is very much geared towards the older generation who understand the retro feel and design. Plus this is a high variance beast where you really need to get to stage 3 at least during free spins and then you are going home very happy! Thunderkick really are one of the very best slot providers in the world.
In few words
Flame Busters, or to call it by its full name, Roasty McFry and the Flame Busters, is a highly unique video slot from Thunderkick. It's a 243 ways to win slot that looks like it was pulled straight out of the 1980s.
While most slot creators are falling all over themselves trying to outdo the 3D graphics and animations from whatever the latest release was, the crew at Thunderkick decided not just to do something different, but to go completely in the opposite direction. Flame Busters pays homage to some of the earliest video games and their 8-bit graphics and sounds. They even went so far as to put © 1986 on the title screen of the game even though it was actually released in mid-2018.
It's an interesting concept that stays true to form all the way through. The graphics, and even the sounds, are right in line with the true classics like Donkey Kong, Defender and Space Invaders. (For all you youngsters out there, if you don't know who Donkey Kong is, you need to brush up on your Super Mario history!)
The uniqueness of this slot is almost certainly a double-edged sword. While some might find it a fun trip back to childhood memories, others are sure to hate the design, which (intentionally) doesn't come close to anything released in at least the last 20 years.
The betting system on the Flame Busters slot is simple, there are several options between the minimum and maximum of £.10 and £100.00 respectively. The maximum possible win on one spin is not stated within the game, but the highest paying symbol will award ten times your bet for five of a kind. There are plenty of possible bonus effects to boost that number, though.
Yes – Why Play Flame Busters Slot
This slot is worth checking out just because of how unique it is. You've never seen another video slot like this one for sure.

The 243 ways to win payout scheme has always proven popular and makes it possible to get a fair consistency of winning spins.

The developers clearly state a 96.1% return to player rate, which gives plenty of value for your investment.  It's lower than the 98.6% 1429 Uncharted Seas has to offer, but still good.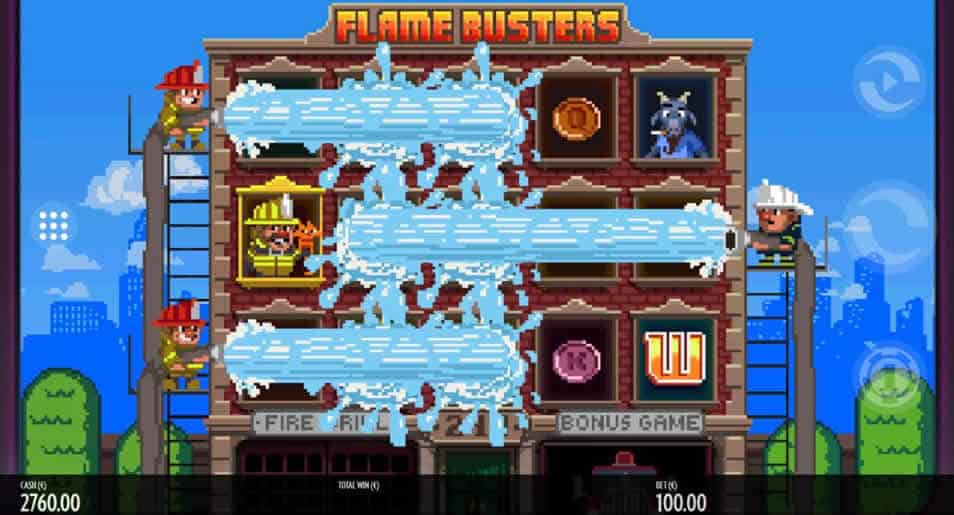 No – Why Not Play?
As stated above, this one is not for everyone. Some players will undoubtedly hate the 8-bit graphics and sound.

There are a few bonus features in this game, but nothing too exciting. It can get a little bit boring once the novelty of the design wears off.
Flame Busters Slot Bonus Features
There are a few bonus features built into the Flame Busters Slot to help players build up their base wins.
To begin, there are basically two wild symbols in the game with a slight difference between them. The "W" symbol is a true wild. It will replace any symbol on the reels except for the scatter.
You will also run into flame symbols. Flame symbols can appear in one or more positions during a spin. When the spin stops, all flame symbols will be replaced with the same symbol. So, for example, if you get four flame symbols, they will all be replaced with the same random symbol at the end of the spin. It can not be replaced by wild or scatter symbols.
Here's how the rest of the features work:
Fire Drill
The fire drill feature triggers randomly during the base game. When it hits, it will transform one to five of the lowest paying symbols into fire symbols for that spin. So, at the end of the spin, those fire symbols will all become the same symbol.
Alarm Bell Scatter Symbol
Understanding the alarm bell scatter symbol is easy. If you land three or more of them anywhere on the reels, you'll be rewarded with free spins.
3 Bells = 10 free spins

4 Bells = 15 free spins

5 Bells = 20 free spins
Free Spins Bonus Game
When free spins start, the player enters a bonus game of sorts. During the free spins, when alarm bells land anywhere on the reels, they will be collected. If you collect three alarm bells, a new floor in the building will be unlocked, the Flame Busters will move up, and you'll be awarded two more free spins.
Coin Ignition
During the free spins, in addition to getting more free spins with each floor you unlock, there is also a coin ignition feature. With each unlocked floor, the lowest paying coin symbol will be turned into a fire symbol. Once transformed into a fire symbol, that coin symbol cannot replace fire symbols. This basically means that with each coin ignition, the lowest paying symbol is removed from the reels, giving you more chances to make higher winning combinations.
Our Verdict
There's no denying that the Flame Busters slot is a highly unique game that represents some very out-of-the-box thinking. It's probably also a very polarising game, though, meaning that you're either going to totally love it or completely hate it.
As far as the game mechanics go, it falls a bit flat. It appears to be a low volatility slot where you're going to hit fairly frequent low paying wins, which doesn't inspire a lot of excitement. The bonus features, too, are somewhat lacking. It's a shame that some of the creativity that obviously went into the graphic design didn't spill over into the gameplay.
I'd say this one is worth a look. If you're of the crowd that likes it, it could be one that you'll play for quite some time. It's certainly a very accessible game for modest bankrolls, too. For the majority of slot enthusiasts, however, I'm guessing this one isn't going to spark a love affair.
Best Thunderkick Casinos to Play:
Updated on July 18, 2018