The Golden Colts slot from Play'n Go is a wickedly wild western-themed video slot machine. It's a dark and stormy night in a dusty one-horse town and as you make your way through the game you'll encounter everything from rough and tumble gunslingers to ghostly sheriffs ready for a showdown. Packed full of bonus features, there's a little bit of something for everyone on this slot.
Golden Colts is a five-reel, four-row slot with 40 fixed pay lines. Symbols on the reels are divided up into four higher-paying characters and six lower-paying playing card values made up of nine through ace, plus wild and scatter. The highest regular payout you'll get is for matching five wild symbols on a pay line, which is a bit over 12 times your bet. The lowest payout you'll hit is for one-tenth of your bet when you land three nines.
Even though these prizes might not seem too high, there is still some impressive money to be won on Golden Colts. When the bonus features kick in, and if your luck holds up, it's possible to win up to 2,500 times your bet on just one spin.
Setting up your bet on Golden Colts, as with most Play'n Go titles, is about as easy as it gets. You can choose from one of 11 different preset betting amounts and once you do so you'll be ready to start spinning. The minimum wager on this game is £.20 per spin and the maximum you can drop on a single spin is £100.
Play Golden Colts Slot at These Casinos
Yes – Why To Play The Golden Colts Slot
If you like western themes, this slot is sure to become a favourite. Play'n Go has done an excellent design job on the audiovisual elements of this game. Symbols are drawn with great detail and the animations when you hit winning combinations brings everything to life.
If you like bonus features, you'll absolutely love Golden Colts. The scatter symbols on this one don't just trigger free spins. Whenever you land three scatters, you'll be taken into one of seven different bonus features, some of which are interactive.
Select from 20 different wanted posters in one of the bonus games and you can win up to 2,500 times your bet. Not a bad payday for just a few moments of work.
No – Why Not Play?
There are a lot of bonus features available in this game, but quite a few of them only give you one spin with some extra options enabled. When you hit a few of these in a row it can get a little frustrating.
The somewhat lopsided division of symbols creates a game where you're much more likely to match low-paying symbols. It feels like this one would play better if the symbols were divided more evenly. The return to player (RTP) rate is 96%, however, so players are not being cheated by any means. 96% is actually a very good return to player rate.
Although the 2500 times bet award is there, it seems extremely difficult to actually win based on how many correct picks you'd need to make on the wanted poster bonus feature to get there. Still, there are some significant prizes to be won there.
Golden Colts Bonus Features
There are seven different bonus features on the Golden Colts slot, some of which can combine with one another to build up some impressive wins. All bonus features are triggered by landing three scatter symbols on the reels and then one of them is chosen at random.
Ace-High Gang Feature
The Ace-High Gang feature will award three free spins. During these spins, there will be 4×4 mega symbols placed on reels two, three, four, and five.
Wild Bull Feature
The Wild Bull feature will also award three free spins. During this feature one or two of the reels will become completely wild on each spin.
Law of the Wild
Law of the Wild awards one free spin, but if the sheriff symbol covers reels two, three, and four, or creates a 3×3 block anywhere on the reels, a second free spin is awarded.
The Gunslingers Features
The Gunslingers features awards one free spin with a random multiplier of up to 30 times activated.
Poker Play
During Poker Play, one free spin is awarded and a 2×2 gambler symbol sticks on the reels. If an additional gambler symbol lands, another free spin is awarded, and all gambler symbols are wild.
Furies Feature
The Furies feature is another that awards one free spin. Two 2×2 female gunslinger symbols will appear and stick on the reels. You'll continue to get free spins until you hit a winner.
Most Wanted Game
And finally, in the Most Wanted game, you'll be presented with 20 posters to choose from. Posters can contain cash rewards or game symbols. Some of the symbols will take you into the bonus games listed above and then bring you back to let you choose again, others will end the round and force you to collect your reward. Making the right choices will surely lead to some celebration.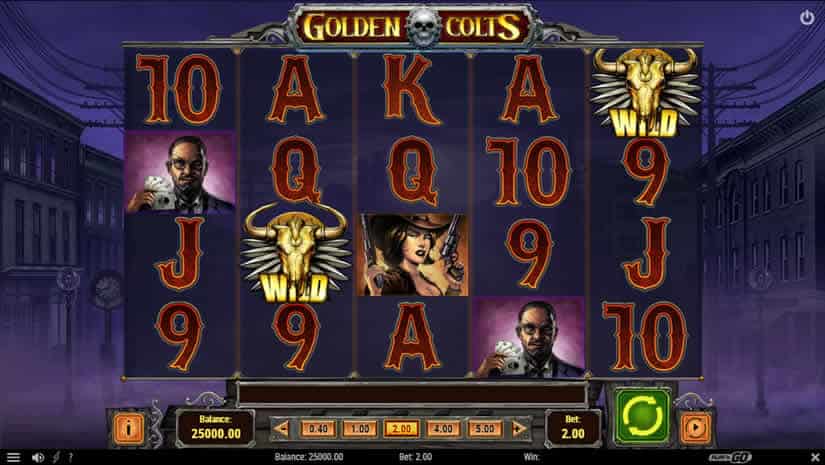 Bottom Line
You can play this online slot at most UK online casinos. But the best option is to choose a fast paying online casino, to avoid issues with delayed withdrawals. Most casino brands catering to European players offer fast payouts, but there are some gambling sites that may take longer processing your payment. We listed the best sites for you, so you can enjoy the best of both worlds.
If you are looking for the best Play'n Go slots, check out these alternative tittles, which we loved:
Cheers!