The Faerie Spells slot is the latest real-money video slot release from veteran game creation company Betsoft. Players are transported into a fantasy world full of mystery and magic where endless treasures lurk just out of view. You'll be mesmerized by the big, bold, and colourful symbols on the reels as you play. Leaving twinkling trails of light, the Faeries will guide you on a journey full of riches and wonder where you have a chance to double every reward you find.
Faerie Spells is a five-reel, three-row slot with ten fixed pay lines. In the base game, there are five high-value symbols and six low-value symbols on the reels, plus wild and scatter symbols. The highest paying base-game symbol, the purple fairy, will give conjure up a reward of 75 times your bet for five of a kind. The lowest paying, the Jack, will give you back seven and a half time your wager.
Features & Payout
There are also plenty of extra features built into this slot to help boost the bottom line on your wins. To start, there is a double up option that will let you gamble every win for a chance to double it. Then, when you win up to 25 free spins, the playfield will change to a five by four layout with a 1024 ways to win system with its own set of symbols, and when scatter symbols win, they will explode and cause a cascade for a chance to win even more. On top of it all, there are four progressive jackpots to be won, with truly magnificent payout potential.
The Faerie Spells slot appears to be a high volatility slot, so be prepared for some big ups and downs along the way as you play. Don't let that scare you off, though. With a very good return to player (RTP) rate of 96.03%, this slot gives players plenty of value for the money they wager.
Setting your bet on Faerie Spells is quite simple. The game offers you seven preset bet amounts ranging from £.10 up to £10.00 per spin. Just select the amount you'd like to play on each spin and you'll be ready to go. There is also an option to buy into the free spins feature which will allow you to buy 25 free spins for 86 times your current bet amount.
Top Rated Betsoft Online Casinos
Yes – Why To Play The Faerie Spells Slot
This slot has an absolutely beautiful visual design. Colours are soft and deep and symbols are big and bold, easy to see on any size screen.
For conservative gamblers who don't like to play a lot of money on each spin, this game is very accessible with the minimum bet set at just £.10. It's getting more and more difficult to find any games that will let you play for less than £.20 or £.25 per spin.
The four progressive jackpots on Faerie Spells make opportunities for some extremely large wins. It is also logical that with four jackpots instead of just one, players will win these prizes more often than on slots with a single progressive jackpot.
You can find this slot at most multiplatform online casinos, all over the world.
No – Why Not Play?
Faerie Spells is a high volatility slot. This means that most wins are going to be for pretty low amounts with the larger wins only coming every so often. Players will need to have a stable stomach and sufficient bankroll to ride out possibly long losing streaks before big wins hit to make up for losses.
While the graphics and audiovisual design of this slot are top-notch, it's not exactly what you would call a masculine theme. For the guys out there, this game might be just a little bit too pretty to play for long.
The jackpots on this slot will undoubtedly be a big draw, but the maximum win in the base game is limited to £12,252. While that's not terrible, most modern slots have a much higher maximum win.
Faerie Spells Slot Bonus Features
The main bonus feature on the Faerie Spells slot is the free spins. When three or more of the Faerie Queen symbols land on the reels, the feature will begin. Landing three, four, or five symbols will grant 10, 15, or 25 free spins respectively.
When free spins start, the layout of the play grid will change to five reels and four rows and the payout system switches from the ten fixed pay lines to 1024 ways to win. During free spins, there is also a second set of symbols present on the reels. There will be six regular symbols plus a scatter symbol and four special symbols that you must collect to win one of the four jackpots.
A secondary feature during free spins is the cascading symbols effect when you win with scatter symbols. Scatter symbols will explode and new symbols will fall to fill in any open space, allowing for additional chances to win.
Players also have the option to gamble winnings after each winning spin, or buy directly into the free spins feature. The gamble function will let you gamble some or all of any win for a chance to double the amount by predicting if a coin will land on heads or tails. The feature-buy function will let you jump right into 25 free spins by putting up 86 times your current bet. For example, if the bet is currently set at £.10, you'll be able to start free spins for £8.60.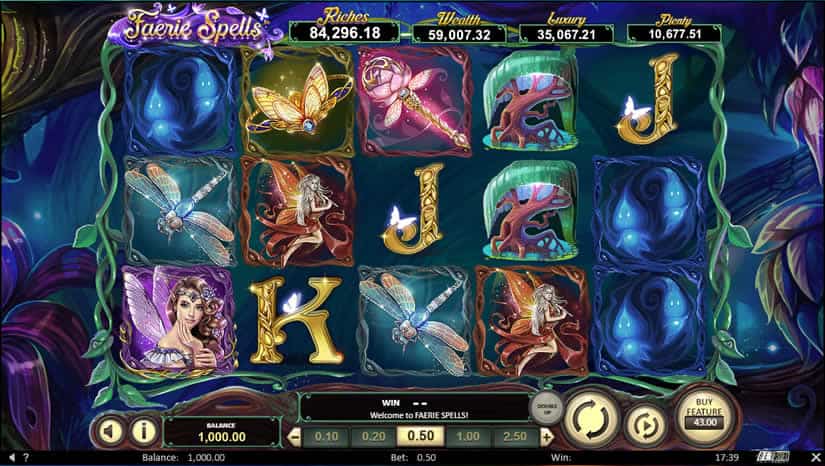 Additional Information
You can find the Faerie Spells slot at any Betsoft online casino. You will be happy to know that Betsoft powers casino brands around the world, including USA and UK online casinos. This brand is quite popular due to the high quality of their games.
I personally love this online slot, but feel a little threatened by the high volatility. If you are a more conservative type of player, check these tittles instead:
Cheers and Enjoy!